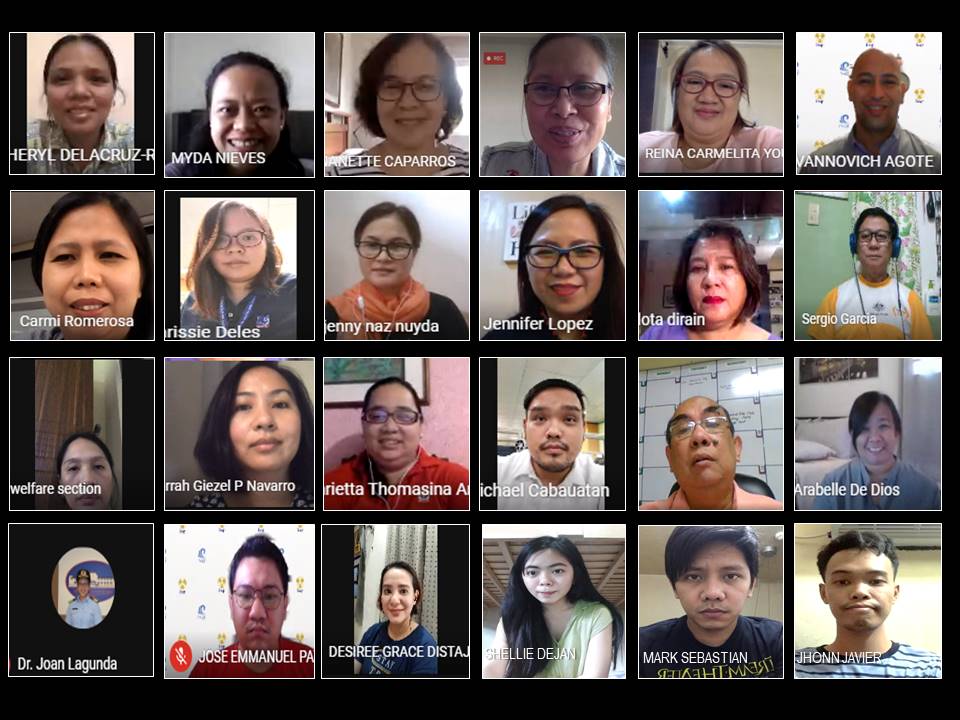 While the next batch of scholars ready to receive their training, other services of PMDP remain uncertain. Aspirants await advice on how recruitment will proceed with the current restrictions in place. This transition brought about by the current global public health situation has placed questions of PMDP's admissions process at the forefront of the discussion. Fortunately, with the help of modern advancements in technology that have since become readily available, several online platforms have become usable as media to continue the vital services of DAP's flagship program.
Same process, new mode
Ms. Carmelita F. Young, Program Manager for Promotions and Advocacy as well as Recruitment and Admissions, discussed the details of PMDP's new online admission process in a meeting with Human Resource Managers from different government agencies held last May 11th. The process will follow the same steps where the shift to an online mode of delivery being the only difference. This was decided to ensure that the mode of delivery would not adversely complicate the process of application.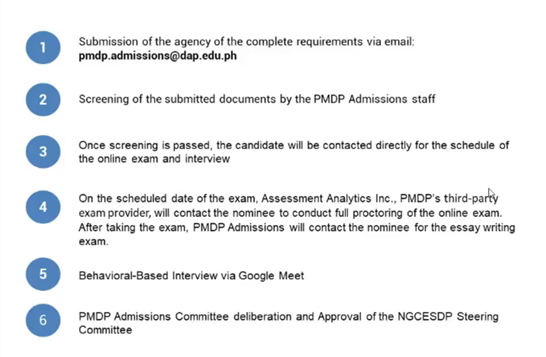 Partnership for online test administration
PMDP partnered with Assessment Analytics Inc. to administer admission examinations to candidates online. Before taking the exam, applicants will be asked to sign a Privacy Statement and Consent Form to ensure the integrity of the results. They will also be proctored virtually. Their cameras are to be turned on and their screen shared while the exams are being administered. Candidates will also have their Behavioral-Based Interview conducted online through Google Meet.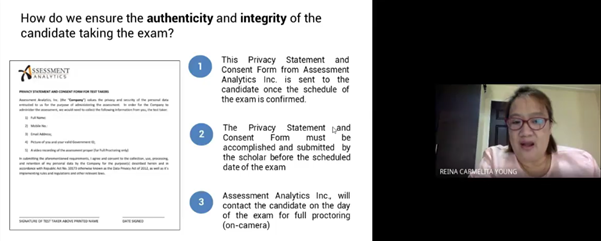 Strengthened online presence
As many are still unaware these transitions to ensure PMDP's continuous services, the center also looks to boost its online presence through the use of various social media platforms as well as their newly revamped website. Mr. Ivannovich T. Agote, Project Officer for Promotions and Advocacy of PMDP, detailed PMDP's plans to widen its reach online to disseminate information more expeditiously. PMDP will focus on adapting its marketing strategies to fit the virtual spaces available. This includes the development of online calls for nomination, e-brochures, e-posters and advisories to be released through PMDP's official website and social media accounts on Facebook, Twitter, and Instagram. With the cooperation of the agencies present during the meeting, PMDP also hopes to link with the online spaces available to its partners.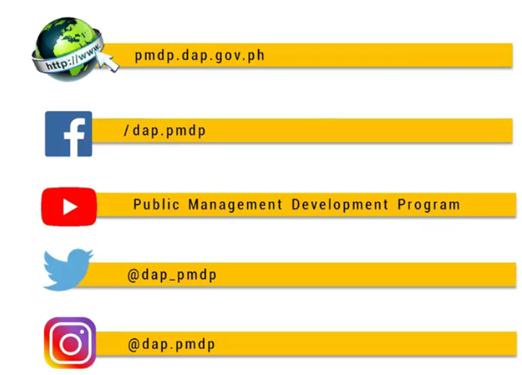 PMDP thrives despite pandemic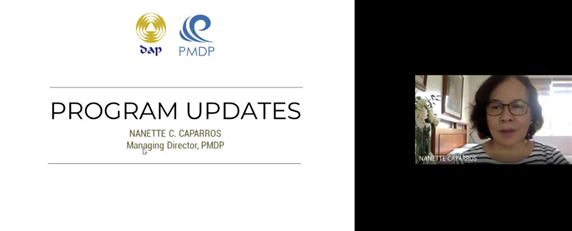 Managing Director Nanette Caparros shared updates and the progress made in several activities of the Program. From June 2019, PMDP held five Opening Ceremonies for MMC 21 – Silhig, PLC 2, SEC 8 – Awanggan, MMC 22 – Uhay and PLC 3, four Sensing Journeys for MMC 20 – T'nalak, MMC 21 – Silhig, SEC 8 – Awanggan, and MMC 22 – Uhay, two Capstone Project Orientation for MMC 21 – Silhig and MMC 22 – Uhay, and two Foreign Study Mission for SSC 1 – Optimus and SEC 8 – Awanggan. PMDP also conducted its 17th Graduation Ceremony for MMC 18 – Sibol and MMC 19 – Hinirang, Behavior-based Interviewers Orientation and, the 2020 NGCESDP Steering Committee Meeting. With the addition of the most recent batches, PMDP's total number of graduates now totals to nine hundred and fourty nine scholars. MD Caparros also introduced new class directors, Ms. Aurma Manlangit and Ms. Gigi Aldea, as well as Dr. Hideki Kawada, Dr. Lizan Perante-Calina, Ms. Winnie Encallado, Dr. Jalton Taguibao, Mr. Cesar Garduque Jr., Mr. Leon Dacanay Jr., and Mr. Justine Valle as new members of the skilled pool of PMDP faculty.
Due to the delay of some events, PMDP adjusted its academic calendar and pushed the opening of classes back to later dates. MMC 23 is now set to open on June 1st while SEC 9 will open on August 1st.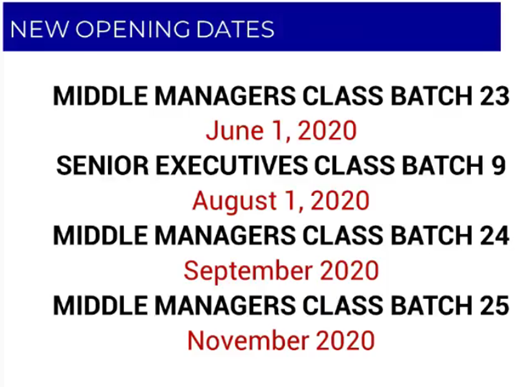 HR Managers Meeting adjourns with high hopes
HR Managers and their representatives who participated in the meeting included Ms. Maria Virginia Tipace, Ms. Mary Christine Therese Deles, and Ms. Crisel Carlos of the Development Bank of the Philippines, Ms. Joan Lagunda of the Department of Environment and Natural Resources, Ms. Jennifer Lopez of the Department of Education, Ms. Jenny Nuyda and Ms. Kristina Laborte of the Department of Interior and Local Government, Ms. Arabelle De Dios of the Department of National Defense, Ms. Maria Carmela Romerosa of the Department of Finance, Ms. Rowena Dirain of the Department of Transport, Mr. Leonardo Reynoso, Ms. Marietta Thomasina Porio, and Ms. Sarrah Giezel Navarro of the Department of Social Welfare and Development, Ms. Yesly Corazon Jaen of Governance Commission for GOCCs, Ms. Ma. Monica Pagunsan and Mr. Sergio Garcia of the National Economic Development Authority, Ms. Cheryl Peña of the Philippine Health Insurance Corporation and Ms. Maria Theresa Laranang and Ms. Vanessa Karis Mesina of the Public-Private Partnership Center.