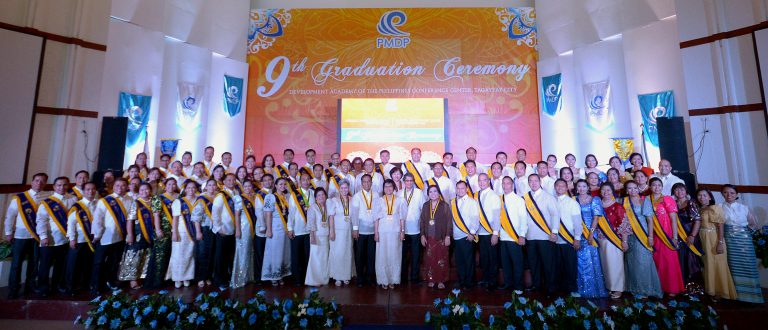 The Public Management Development Program (PMDP) under the Development Academy of the Philippines held a joint graduation for Middle Managers Class (MMC) Batch 8 – Siklab and Senior Executives Class (SEC) Batch 4 – Alab-lahi. PMDP celebrated its 9th Graduation Ceremony on January 29, 2016 at the DAP Conference Center in Tagaytay City.
The graduates comprised 40 high-performing, high-potential middle managers and 28 senior government leaders who came from their respective national lines and attached agencies.
According to Director Nanette C. Caparros, PMDP Program manager, she is truly proud of the batch because "they are driven, active, and really dedicated to their careers as public servants".
Achievements and Deserving Awardees
The PMDP awarded MMC 8's Rhemilyn Z. Relado of the Philippine Rice Research Institute (PhilRice) with Highest Honors, and Alvaro F. Fabon Jr. of the Department of Interior and Local Government (DILG), with Honors.
Selected scholars from MMC 8 also received awards for their remarkable Re-entry Projects (RePs):
Best ReP: Sailila E. Abdula, Philippine Rice Research Institute (PhilRice)
Most Citizen-Centric: Wilfred G. Hernandez, Philippine Health Insurance Corporation (PhilHealth)
Most Collaborative: Gilberto A. Altura, National Economic and Development Authority (NEDA)
Most Relevant: Rhemilyn Z. Relado, Philippine Rice Research Institute (PhilRice)
Most Innovative: Susana S. Santiago, National Economic and Development Authority (NEDA)
Most Visible: Alvaro F. Fabon Jr., Department of Interior and Local Government (DILG)
SEC 4 scholar Irene S. Resurreccion of the Department of Justice swept multiple awards – Highest Honors, Leadership, and Outstanding Capstone Paper. Other recipients of the latter award are Josephine T. Canlas of the Development Bank of the Philippines, and Oscar B. Abadu Jr., Philippine Health Insurance Corporation.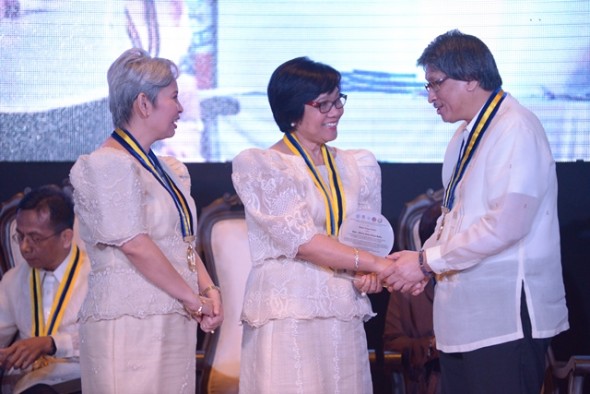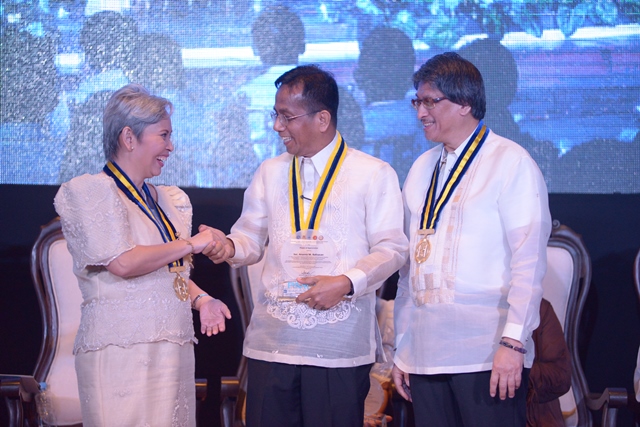 The Challenge: Good Governance and Excellent Leadership
In Relado's valedictory address, she explained the importance of choices. She shared some life experiences as examples of how certain decisions mold a person. The scholar from PhilRice urged her batchmates and the guests to "make a conscious effort to always adhere to excellence", an overrated word yet a misunderstood concept.
DAP affirmed me as a high-potential, high-performing individual… DAP has given us the bird's eye view of what public governance and management is. So, may we walk out of DAP's portal, transformed from graphites to diamonds. And truly, people will understand the meaning of purification by fire – "Siklab na Siklab", she said.
SEC 4 valedictorian Resurreccion also challenged her batchmates individually. In her class address, she said that "If we wanted change in this country, let us open the floor to criticism whether it be academic or political – only then can we get the best out of the best".
In her 23-minute speech, the prosecutor also summarized her learnings from DAP: "Pwede kang maglingkod kahit wala kang titulo; pwede kang makagawa ng pagbabago" (You can serve [the country] regardless of your entitlement; y­ou are capable of making a change").
Inspirational Speaker Commissioner Alicia Dela Rosa-Bala, Chairperson of the Civil Service Commission, agreed to the valedictorians' messages. The CSC Commissioner told the graduates to push for excellence. She also inspired them to become exemplars of dedicated and compassionate leadership, as she stated what some people would say: "With all the qualifications and certificates throughout their career, but if people do not see a positive change in themselves, these credentials will not mean anything at all".
Sec. Balisacan, Director of the National Economic Development Authority (NEDA) who served as the Keynote Speaker emphasized that the graduates should commit to the values of integrity, accountability, work ethics and good governance. "I challenge you to do your best to be able to sustain or even surpass the kind of government that we have today", Balisacan said. He encouraged them to be participatory and critical in terms of policies. His speech also indicated the concepts of inclusive and sustainable economics.
The secretary represented NEDA for the last time in this administration, during the said graduation ceremony. The Inter-Agency Steering Committee Chairperson and PMDP Faculty Member now acts as the first Chairperson of the Philippine Competition Commission.