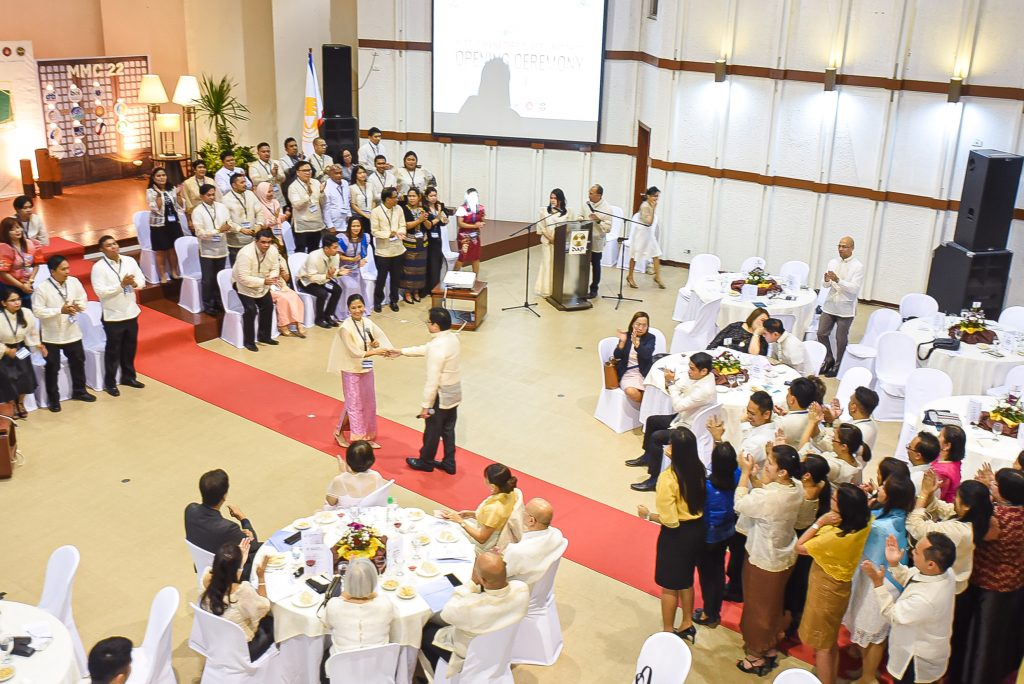 Public Management Development Program-Middle Managers Class Batch 21 President Joseph Richard S. Garay (right) leads his class in welcoming the members of MMC Batch 22 represented by Reynalyn Padsoyan (left) at the opening ceremony for new set of scholars last September 30 at the DAP Conference Center in Tagaytay City.
The Development Academy of the Philippines' (DAP) Public Management Development Program (DAP-PMDP) marked a milestone with the entry of its 1000th scholar, Denesse A. Olegario of the Tourism Infrastructure and Enterprise Zone Authority, after seven years of implementation. Olegario belongs to the Middle Managers Class (MMC) Batch 22 which is comprised of 48 scholars from 23 government agencies and 14 regions. The new set of PMDP-MMC scholars were formally welcomed to the program last September 30 at the DAP Conference Center in Tagaytay City.
National Economic and Development Authority Undersecretary Jose Miguel de la Rosa, who also serves as alternate chairperson of National Government Career Executive Service Development Program (NGCESDP) Steering Committee, delivered the keynote address. He said that the collaborative nature of the PMDP classes fuels a healthy network of public leaders. He expressed his high regard for the excellent resource persons sustained by the program, and the wisdom that materializes even outside the classroom setting. "Although there are other defining factors in our makeup as public servants, I must say that the courses that you will be taking under the PMDP will be very critical in your work. You were called by your department to shape up because, after all this investment that you're making […] is intended to improve the services we give to our people," he added.
MMC 21-Silhig Class President Joseph Richard Garay challenged the new batch of MMC scholars to stay resilient as the rigors of learning transform them to be better leaders. Reynalyn Padsoyan of the Department of Education (DepEd), on behalf of the new scholars, accepted the challenge and pledged to forward their learnings to their respective agencies.
Moreover, PMDP-MMC 17 alumnus Dannie Clark Uguil, who recently won as Region VI's CSC Pag-asa Award 2019 Search for Outstanding Government Workers, in his inspirational speech, shared how he and his class grew together collaborating and motivating each other despite being the most diverse batch with 34 scholars representing 22 government agencies from 10 regions. Uguil has been a teacher for more than 10 years before eventually becoming the officer-in-charge of the DepEd's Curriculum Implementation Division in Region VI. He shared their batch's daily pledge that resonates beyond his teaching experience: "Kami ay Pilipino/Puno ng pangarap at katapatan/ Propesyunal na may integridad, at tunay na makabayan/ Kami ay pinagbuklod ng kataas-taasan/ Para magsilbi at inyong maging sandigan… and encouraged them "to learn every minute and every day that you will be spending in the silent halls of the DAP where silent revolutions are born."
The DAP was commissioned by the NGCESDP Steering Committee to revive the CESDP, giving birth to the PMDP. The PMDP takes after the purposive design of the CESDP and currently operates along the tracks of the Philippine Development Plan (PDP)–the government's collective long-term vision which aims for the development of human capital and public sector productivity, among others. This has driven the PMDP to continuously recalibrate and boost its relevance to produce a corps of innovative leaders who are able to serve a technologically smarter public sector.From rolling out in 2012 with two offerings, MMC and senior executives class, the PMDP has since revised its curriculum, added a Phronetic Leadership Class for undersecretaries and assistant secretaries, and the SEC Shuttle Course.
The PMDP's vast network of alumni–now with 824 members–have progressed in various government posts in various regions and are vocal about their commitment to Philippine public service.