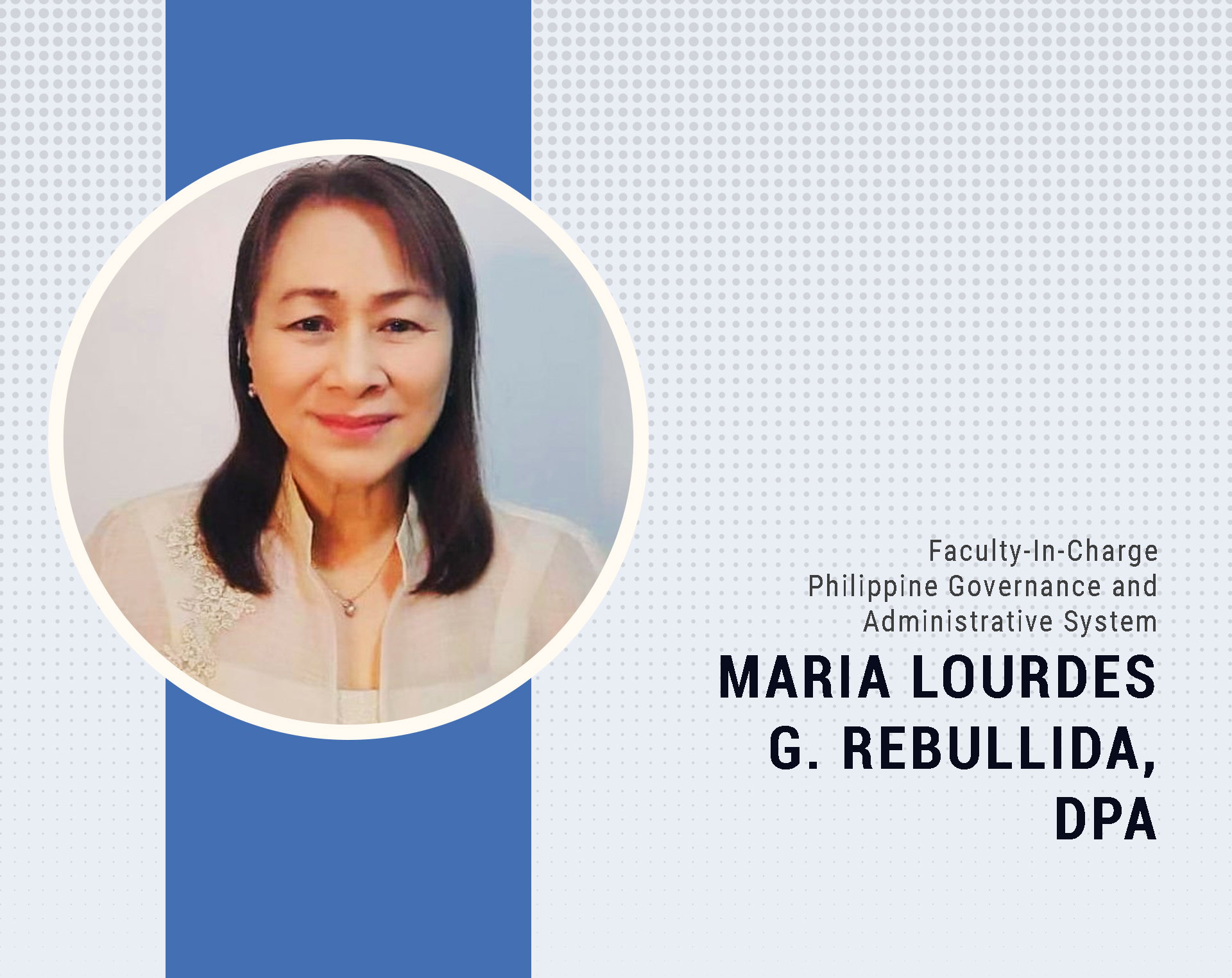 Dr. Maria Lourdes G. Rebullida is the current Faculty-in-Charge of the Philippine Governance and Administrative System in the Middle Managers Class of PMDP. She is also a Co-faculty in the Capstone Paper of the Senior Executives Class, teaching Research Methods and being one of three advisers.
She is a Professorial Lecturer in the Department of Political Science, College of Social Sciences and Philosophy, University of the Philippines Diliman, and one of the Academic Council members in the Development Academy of the Philippines. She is also Professorial Lecturer in the Graduate Program of the UP National College of Public Administration and Governance. Dr. Rebullida was Full Professor at the UP Department of Political Science until her retirement. She served as Chair of the Department of Political Science, Associate Dean at the UP College of Social Sciences, and Deputy Director at the UP Center for Integrative and Development Studies.
Dr. Rebullida was a Visiting Research Fellow at the East West Center, Institute for Culture and Communications in Hawaii; Visiting Scholar at the University of Michigan Center for Political Studies, the Institute for Social Research, and the Inter-University Consortium for Political and Social Research; also Research Visitor at the American Political Science Association, Washington, DC and US Library of Congress.
She has been a recipient of various awards such as UP Faculty Grant Centennial Awards 2009, the Metro Manila Commission Professorial Chair 2011, UP Diliman Gawad Paglilingkod 2013, and the UP International Publication Award (2000). She has authored and co-authored several books, monographs, journal articles, policy briefs and research reports; also served as peer reviewer in various journals and research organizations.
Dr. Rebullida has intensive involvement in international and national technical working groups, advisory groups, task force, committees, multi-sectoral groups; and has served as technical consultant and adviser to government, NGOs, and international organizations. She has been extensively engaged as research, policy, and management consultant in various research, policy and service programs funded by various international development organizations, and particularly the World Health Organization. She was Program Convenor, Research Fellow and Member of the Steering Committee at the UP Center for Integrative and Development Studies.
She is a graduate of A.B. Political Science, M.A. Political Science, and Doctor of Public Administration at the University of the Philippines. She also completed graduate units in Ph.D. Political Science Program and cognate graduate units in Management at the University of California, Los Angeles, USA.