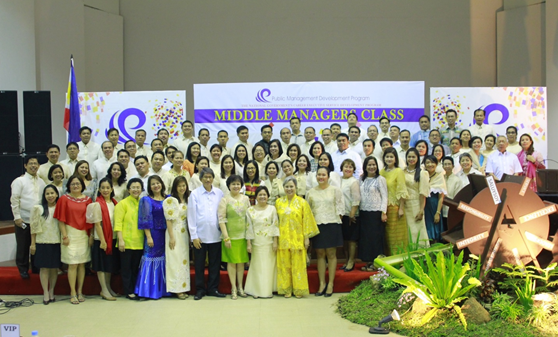 A RIPPLE OF CHANGEMAKERS. The Public Management Development Program opened its doors to high performing, high potential public servants during the Opening Ceremony of the Middle Managers Class Batch 8 on February 20, 2015 at the DAP Conference Center in Tagaytay City.
Forty outstanding public managers coming from various national agencies in the country were welcomed to the Public Management Development Program (PMDP) on February 20, 2015 at the DAP Conference Center.
The ceremonial activity called the Passing of the Tradition of Excellence was led by the ongoing batch, MMC 7– Saluysoy.
Keynote Speaker, Department of Budget and Management (DBM) Assistant Secretary Tina Rose Marie L. Canda and PMDP alumna, Ms. Karen Dagñalan, Middle Managers Class Batch 3 – Bulawan inspired Middle Managers Class Batch 8 (MMC 8) – Siklab in their speeches.
DBM Assistant Secretary Canda, who has been serving in the government for 33 years now, shared with the scholars the reasons why she chooses to stay in public service for a long time.
"There is no sector in the country where the capacity to do good is tangible and immediate. At kahit gano kababa ang position mo, kahit ano ang salary grade, ang kahusayang ginagawa mo ay may magandang epekto sa nakararami," Canda said.
"Life is about choices. You chose to be here, to be a member of Batch 8. I hope you will not regret it but you chose. Your reasons for staying in government and in taking this course would reach from the pedestrian to the profound, from the altruistic to the calculating. Whatever your reasons are, you made a choice. One can only pray that the choices that we make are correct and beneficial to you, to your agency and to the stakeholders," she added.
Asec. Canda closed her speech by saying, "As government employees, we should never stop dreaming. Hand in hand with the dreams is the sense of fun that we'll always have while we are working. Isang karangalan ang maglingkod sa bayan."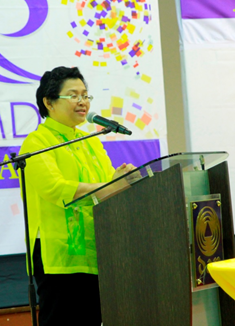 As DBM Assistant Secretary Canda relates her topic to PMDP's imagery, she told the scholars: "You may think that you are just a mere drop. But that small drop is important because of the ripple effect. What you do has an impact."
On the other hand, PMDP alumna Ms. Karen Dagñalan, currently a Planning Officer III of the Philippine Commission on Women, in her speech said, "Very soon you will discover that PMDP will infuse you with knowledge and skills you can readily apply and replicate in your agencies. You and your respective offices will benefit immediately from the technical know-how you have learned from PMDP and from the implementation of Re-entry Projects that do not require huge resources; that are visibly felt by Juans and Juanas; and that create immediate, relevant and desirable results for your agencies. I must say that this is the core strength of PMDP and this is what sets it apart from the rest."
"The Public Management Development Program is your launching pad – towards a stronger, better and greater you, that is yet to become. I dare you to take the plunge," Dagnalan added.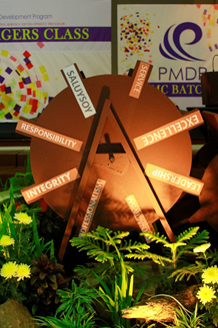 As part of the Passing of the Tradition of Excellence, the PMDP Middle Managers Class Batch 7-Saluysoy used a water wheel as a symbol of the 7 vital values of public service that they espouse: Excellence, Leadership, Pro-activism, Professionalism, Integrity, Responsibility and Service itself.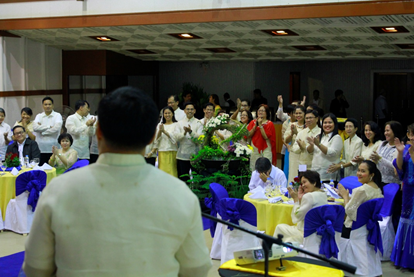 Middle Managers Class Batch 8-Siklab, led by Class President Paul C. Yu, faces MMC Batch 7-Saluysoy as they accept the challenge during the Passing of the Tradition of Excellence.