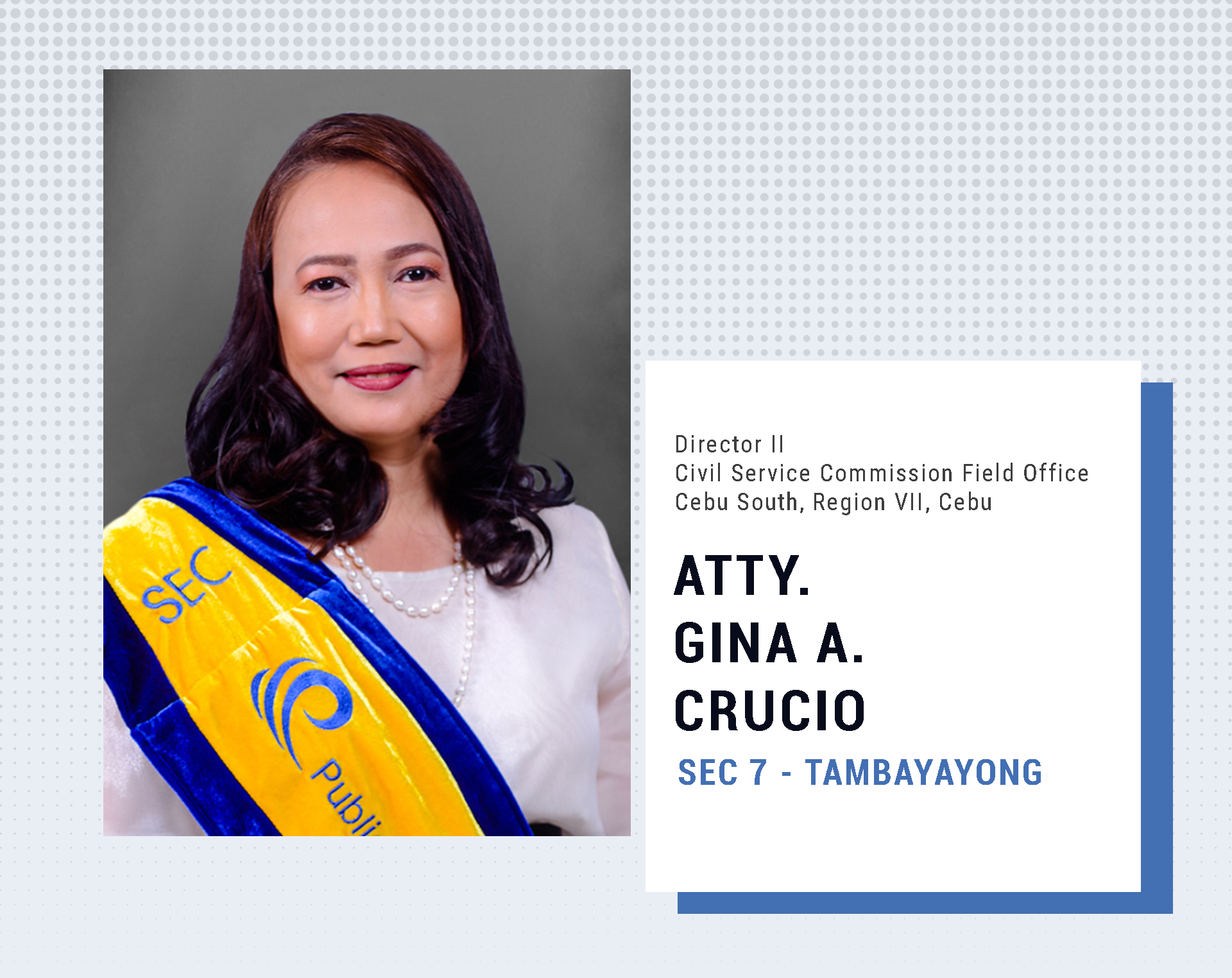 Just recently, PMDP alumna Atty. Gina A. Crucio returned from the US after completing a Master of Science in Human Resource Development degree with a 4.0 GPA at Rochester Institute of Technology in New York, USA which she attended as a  Grantee of  Fulbright Foreign Student Program 2020-2021. She did an international research on the best practices and common barriers in performance management systems in the public sector in Southeast Asia with the informed and much-valued participation of eight countries namely, the Philippines, Singapore, Brunei, Indonesia, Vietnam, Laos, Thailand, and Timor Leste.
Public service has never been more vital in the lives of people than in these fast-changing times. Worthy of praise are civil servants who have demonstrated virtues of excellence, zeal, and integrity to support their organizations in coping with evolving demands. Truly we are grateful for civil servants like ATTY. GINA A. CRUCIO, a cohort of the Senior Executives Class Batch 7-Tambayayong (2018), and to date, Director II of the Civil Service Commission (CSC) Field Office-Cebu South, Region VII, Cebu, who genuinely embodies those virtues and ensures that trust and joy quotient are alive and nurtured in her team, "for these create the fertile ground for peak productivity, are a potent impetus for voluntary professional mastery and stimulate a contagion of excellent service toward our clients and partners", Atty. Crucio eagerly enthused.

At present, Atty. Crucio would want to deep-dive into ways to improve the current Strategic Performance Management System (SPMS) of the public sector, to make it effective within the varying contexts of the different government organizations. This, she said, has been among the issues and trends she deals with currently, "The improvement of the performance management system in the public sector is intended to ensure that: (1) public officers become their best, (2) they consciously contribute to the attainment of the strategic goals of their respective agencies and level up the brand of service and operations of the Philippine public service, and (3) be accountable for, and optimize the value of, the finite resources of the government. We have internalized our mission to make every civil servant a servant hero, as CSC strives to be globally recognized as a center of excellence for strategic HR and OD, fueled by the love of God and country, the drive for excellence, and, most of all, integrity."
As Cum Laude (Top 1), Leadership Awardee, Most Outstanding Mass Communication undergraduate at St. Theresa's College in Cebu City (1990), and Bar Passer in 2009, Atty. Crucio has spent 16 years in the HRMD field, almost 10 years of these were spent at CSC where she was and still is heavily involved in HR policy review and formulation, administrative investigation, and legal writing work – all these on top of her leadership roles and duties in Human Resource Management and Development (HRMD). Atty Crucio's other astounding accomplishments would include Third Level Eligibility on Career Executive Service Eligibility (CESE) conferred by Career Executive Service Board (CESB) (2009), Eligibility for Honor Graduates Equivalent to Second Level or Professional Eligibility conferred by the CSC (1990), and earned titles Accredited Assessor/Validator through CSC Leadership and Management Certification Program and from the CESB, respectively.
She went on to complete other courses such as a Master of Arts in Organization Development at Cebu Doctors' University, Cebu City (2005), Bachelor of Laws at the University of San Jose – Ricoletos, Cebu City (2009), Diploma in Development Management at the Development Academy of the Philippines Pasig City (2019) where she graduated With Honors (Top 2) and her Capstone Paper entitled "To Greatness or To Grief: The Strategic Performance Management System (SPMS) Experience of Two Local Government Units (A Management Case)" was adjudged Outstanding Capstone Paper. Atty. Crucio's DAP-PMDP studies have broadened and deepened her understanding of things. She remarked how it consequently changed the way she behaved and did things, "I have become a better and humbler civil servant after the Program." Being the only one from the Visayas from among the admitted scholars of 19 senior executives from 10 public agencies throughout the Philippines, she fondly recollects the 6-month intensive Residential Training with PMDP – how she optimized the peer learning process of her unforgettable and most cherished grassroots immersion experience at Mt. Banahaw and the Foreign Study Mission to learn International Governance. She shares the importance of having focus and zeal, working smart, and manifesting the single-minded intent to apply learnings in one's sphere of influence to make it better, as she connotes that the premise for further studies/learnings is not just for self-development but, foremost and eventually, to improve the brand of government service in our country.
Atty. Crucio who relishes reading, nature trips with family, and silent reflections has a soulful quote for her kindred spirits, "We are all temporary sojourners in this world. One day we will go and be forgotten. What matters most is the enduring good that we have done while we hold our ranks (in trust for the taxpayers who pay our salaries) and that we have given the best that we can – authentically, selflessly, and effectively. In the meantime, let's live and love fully, and make life better for our fellow sojourners."