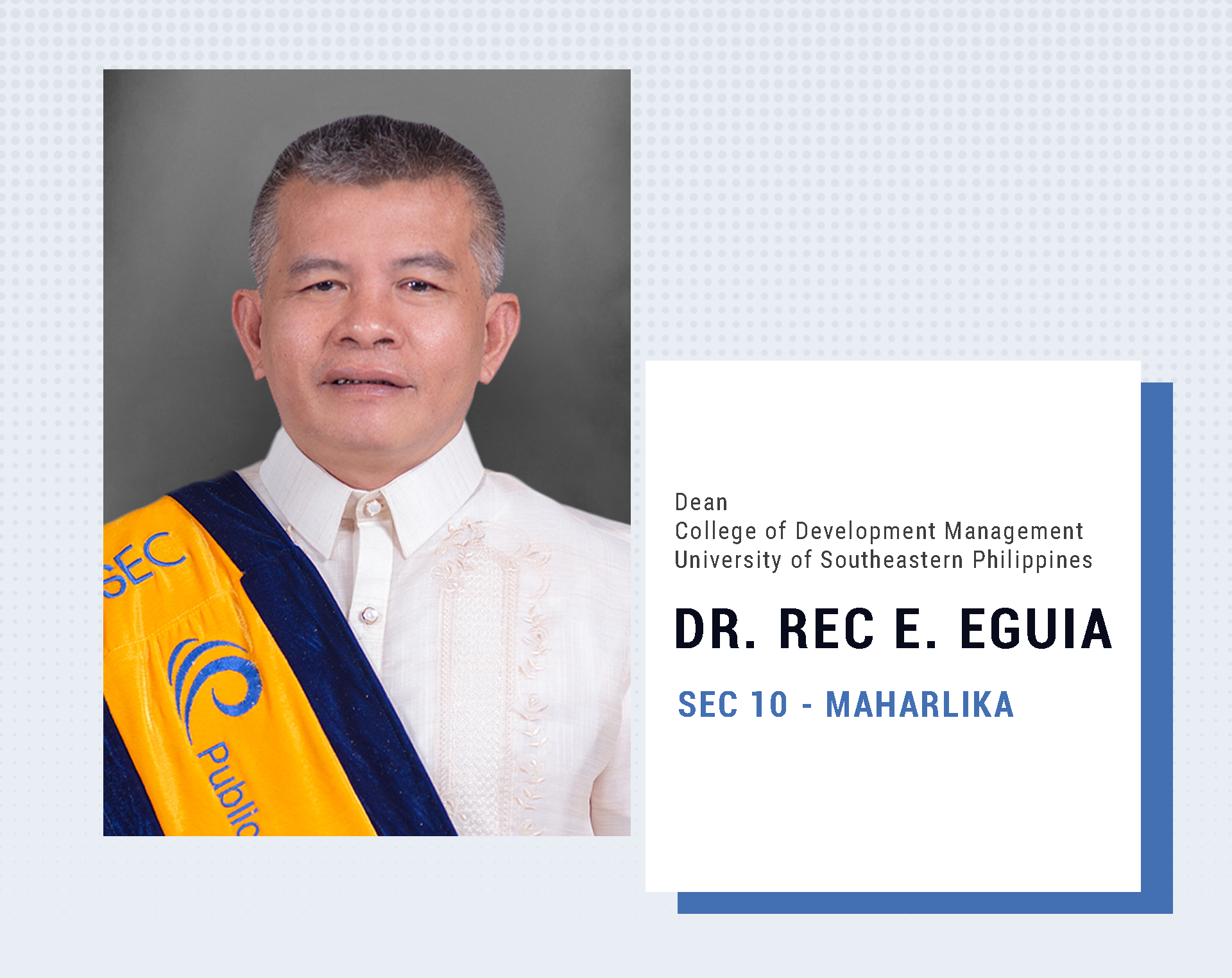 "I always consider myself a generalist, not a specialist." This was the first thing Dr. Rec Eguia described himself when asked about how his academic journey started.

A proud alumnus of the Senior Executives Class Batch – Maharlika, he has a long line of academic accomplishments, beginning with his Bachelor of Science in Agricultural Economics and a Ph.D. in Philosophy Majored in Development Management at the University of Southeastern Philippines (USEP). He also took up a Master's degree in Public Safety Administration – Executive Program from the National Police College (NPC), Philippines Public Safety College (PPSC), and a Master in Management, Majored in Development Management (MM-DM) at the School of Management (SOM), University of the Philippines, (UP) – Mindanao. He also took up courses and fellowships from top-tier universities such as Regional Development and Mining from the International Mining for Development Center (IM4DC), University of Western Australia (UWA), Perth, Australia, and Workshop on Women, Peace, and Security from the Center for Women, Peace and Security Studies Georgetown University, USA, a Fulbright Hubert H. Humphrey Fellowship at the Massachusetts Institute of Technology and the list goes on.

Being a by-product of the public education system and a true believer in its capacity, he found himself going back to his alma mater where his academic journey started. In 1997, he began teaching at the University of Southeastern Philippines and soon became the Chair of its Department of Agribusiness and Agricultural Economic at the College of Development Management in 1999. He since then held more leadership positions at the same university such as being the Program Coordinator of the Doctor of Philosophy Program under the School of Government and Management and Director of Research in the Development and Extension concurrently in 2006. He also held various deanships in different colleges such as in College of Governance and Business and College of Development Management but one of the most notable positions was when he was assigned as the Assistant to the President on Graduate School Concerns at the Office of the President of the USeP. At present, he is serving as the Dean of the College of Development Management at USeP.

Being a dean and educator at USep during the Covid-19 is no easy feat for Dr. Eguia. But he sees the pandemic as a "black swan" because it was the immediate driving force to the transformation of the higher education to a digital or SMART institution. He also emphasized that the tertiary education system cannot return to the conventional or classroom-based (only) instruction. Most especially at his university, he learned that "there is a need to redesign or redefine the business model of higher education or state universities will not only be responding to the needs of the present but also make this model responsive and relevant to the future." Adding that, "faculties need to change their mindset an orthodox mentality of instruction towards a global knowledge entrepreneur. " And for it to materialize, there is a need to invest on faculty and digital infrastructure which will help the faculty become a global knowledge entrepreneur and gain the mindset, "You are not only a faculty of the university, but you are also a faculty of the global school, the global university."

Taking courses while juggling as an educator and dean are not the only things that keep this PMDP alumnus busy. This year alone, he was able to publish two papers. Last January, he published a paper entitled, "Collective Knowledge and Skills of Planning and Executing Future-proof Curriculum Design of Outcomes-based Graduate Education." the paper that hopes to provide the solution for the need of faculties, most especially curriculum planners, to develop a future's thinking literacy and foresight capacity to help develop future graduates relevancy in the next ten years.

In addition, last March he produced his capstone paper after finishing the Senior Executives Class at the PMDP in March with the title, "From Lab to Market: Creating Innovation Orchards at the University of Southeastern Philippines (USeP) and Beyond." Aiming to cultivate the "innovation ecosystem" at his university which idea initially started when he was still a scholar taking up courses at the Massachusetts Institute of Technology (MIT). Aspiring to make his university be on top or at least be part of the top 10 or 100 universities in the world, he wanted to make it easier for ideas or innovation to easily be translated into technology that is commercialized or at least produce impact on different aspects of society. The solution he came up with was to create a "innovation orchard" at his university. He defined innovation orchard as "a collaboration of internal and external stakeholders by mapping them into this innovation ecosystem." Stakeholders are state and non-state actors with each role to play from the university to government institutions to non-profit organizations, startups and many more.

Months after he finished his paper, he has since applied for it to be copyrighted. He has also built a coalition of ambassadors of the ecosystems at USep, shared his findings and started working with other universities and startups in the Davao Region. Adding, "the only thing remaining is making it mainstream or institutionalizing it through policies. But if given the chance, the trajectory of my plan is to have it internalized in the form of a policy. "

In 2021, when the PMDP opened the call for scholars for its Senior Executive Class Batch 10, Dr. Eguia took a gamble and tried his chance to be part of the crème de la crème. He succeeded have faced with various challenges such as learning to wear the "student" hat again despite being an educator for 25 years, learning to listen to his colleagues and classmates who have diverse backgrounds and experiences, and being a dean at the same time. All of these did not hinder him but rather led him to graduate the class with flying colors and build friendships along the way.

Being a "PMDP alumnus," a lesson he learned that he still brings to this day is, "You need to be ambitious. DAP-PMDP gave me the ingredients or raw materials of starting to think of having that great mindset. 'You are great and therefore you are an executive leader'. " Another added bonus for him is the 'social capital' or network he was able to build from different agencies in his batch and in DAP.

When asked what he would tell current, upcoming, and aspiring PMDP scholars, "I encourage you to explore, experiment, and enjoy. Have fun. For those who want to advance and be part of the global knowledge entrepreneurship and have a great mindset as a senior executive leader, you have to take a program from DAP. Because the DAP has no short-fire formula, that will transform you overnight. But it will provide you with the seed that you'd want to start thinking of shifting from an older sensibility of leadership to a newer sensibility of leadership."