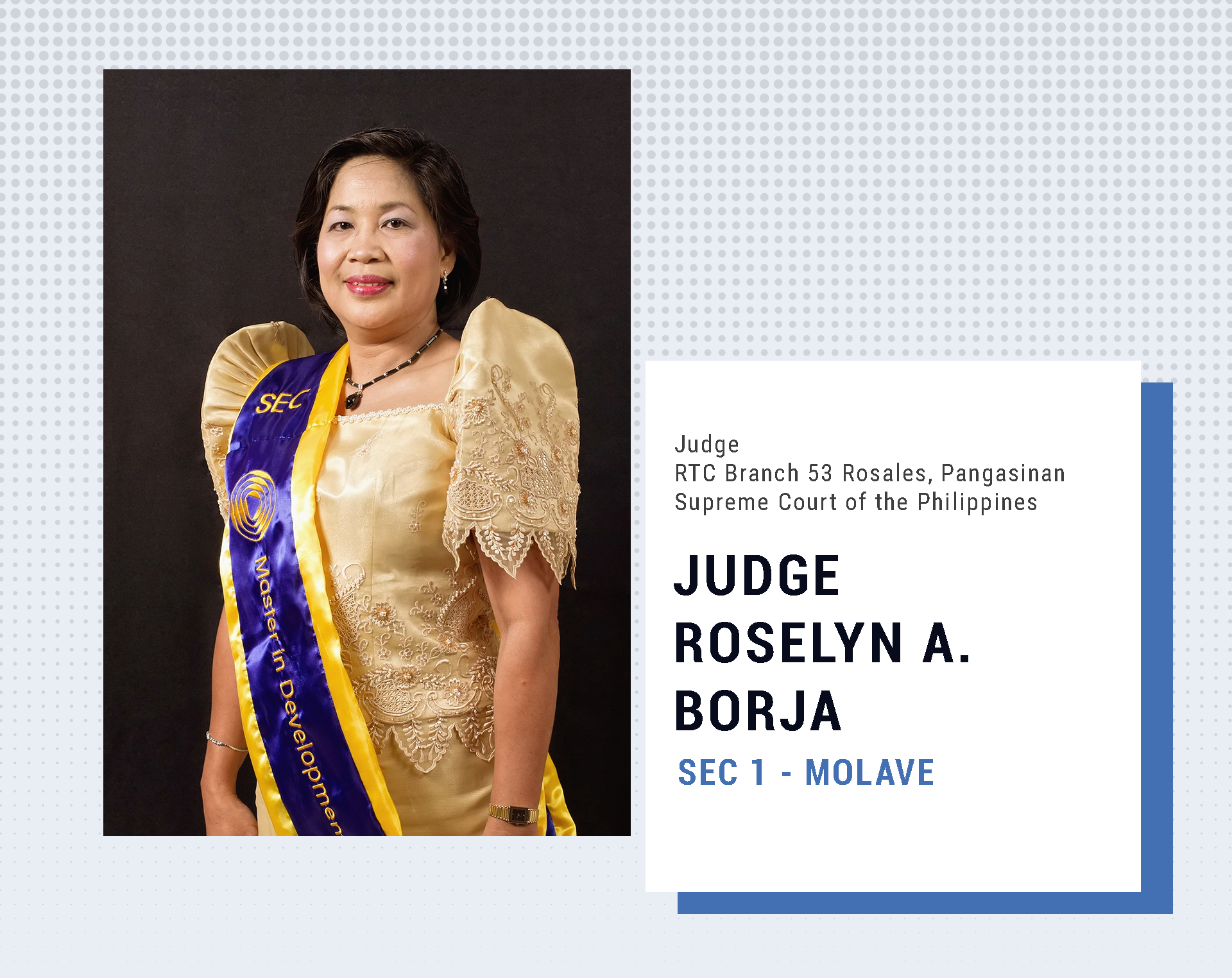 Even though justice systems  have been disrupted by the COVID-19 crisis, this did not discourage JUDGE ROSELYN A. BORJA from ensuring everyone uninterrupted access to courts, most especially to maintain the vital function of the judiciary to attend to urgent legal matters and scrutinize emergency legislation. A Certified Public Accountant (CPA)-Lawyer and recently appointed to the Judiciary as Regional Trial Court Judge of Branch 53, Rosales, Pangasinan last April 20, 2020, Judge Borja admittedly experienced a lot of pressure to guarantee organizational success in the time of pandemic.
As Judge Borja stated, "There are no known best practices to solve the unknown. But, we have to adjust to the situation and continue with our mission in the 'new normal'." The Supreme Court readily came up with new policies to move swiftly to delivery of services through online platforms. Work-flexibility was granted to court employees, and the conduct of video conference hearings has been allowed so that the constitutional provision on accessibility of courts and rights of the accused to speedy trial will not be impaired.
Judge Borja's sublime confidence to collaborate and communicate effectively not only with her team but also with local officials resulted in notable improvements in the workplace. She remarked, "Establishing a culture of celebrating even the small wins is essential, as this would affirm and recognize the efforts of my staff for a job well done. They are the ones who actually deliver results for the organization."
The capacity to quickly think of and yield robust solutions is among the finest attributes of Judge Borja; her sturdy bulwark is the reason for the imminent successes that started early on in her career. A native of San Jacinto, Pangasinan, Judge Borja was Class Valedictorian in elementary and high school, and a consistent member of the Accounting Honors Class in college at the University of the East, Manila. She obtained her law degree from the Pamantasan ng Lungsod ng Maynila in 1995 and passed the Bar in April 1996. She was Accredited Auditor of the National Electrification Administration [NEA] from 1985 to 1988, a Senior Accounting Specialist at the Department of Budget and Management from 1988 to 1995, and was a City Legal Officer of Caloocan City and Manila. She also earned two Master's degrees namely, Master in Development Management from the Development Academy of the Philippines in 2013 and Master in Government Management Executive Program from the Pamantasan ng Lungsod ng Maynila in 2011. She held various positions at the Philippine Drug Enforcement Agency (PDEA) from 2010 to 2020 and was Director III of the said agency up until her appointment as Judge of RTC Branch 53.
An alumna of the 1st batch of PMDP's Senior Executives Class – Molave, Judge Borja took a trip down memory lane and provided a vivid splash of memories of the Program Immersion. Interacting and living with her host family in Sitio Taiben, Parang, Bagac, Bataan enhanced her understanding of the plight of farmers and the marginalized. Given the bouts of challenges, Judge Borja still ardently expressed how grateful she was for the experience, as it taught her the real value and meaning of interpersonal relationships and communication- that public service must not be solely confined to the four corners of one's office but extends significantly to the peripheries of the community.
Another challenging yet pivotal aspect during Judge Borja's time as scholar of PMDP was the completion and implementation of her Re-entry Plan (ReP) entitled, "Reinventing Philippine Drug Enforcement Agency (PDEA) Public Service Program." Her ReP created an awareness among PDEA key officers about the need to provide more opportunities for career and professional growth to the employees. Her ReP was instrumental in reforming policies, placing a premium on employee welfare which resulted in an increase in productivity and greater morale among workers.
The PMDP journey was indeed cathartic for Judge Borja as it honed further her leadership, managerial, and even the soft skills. It paved the way for other opportunities to represent her agency and speak in international conferences such as: Narcotics Commanders Course at the International Law Enforcement Academy in Bangkok, Thailand in 2013; George C. Marshall Center's (GCMC) Program on Countering Transnational Organized Crime – European Center for Security Studies in 2016, GCMC Alumni Workshop on Counter Threat Finance in 2017, and GCMC Alumni Field Study Program in Washington DC, USA in 2018.
And as a parting message of Judge Roselyn A. Borja to the hopefuls of PMDP, "Learn everything you can while you still can; otherwise, you will stagnate. Share what you have learned because in sharing, you also learn in the process.  In everything you do, give your best and keep on raising the bar of excellence. Wherever you are planted, grow and  never let adversities deter you from doing what is right and what is good – because in due time, you will reap the harvest."