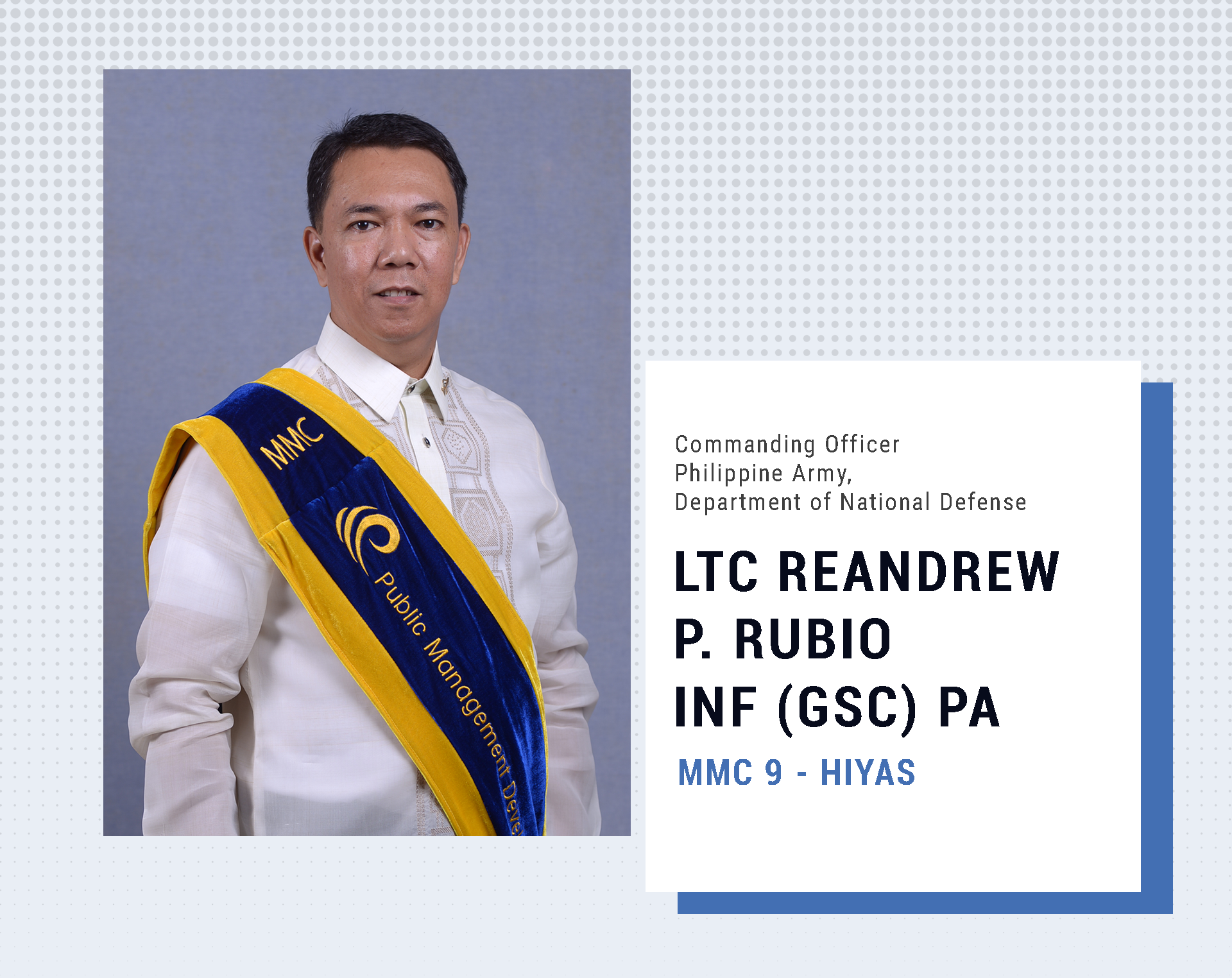 Recently promoted Lieutenant Colonel, appointed Commanding Officer of the Philippine Army and awarded the prestigious Combat Commander's (KAGITINGAN) Badge, LTC REANDREW P. RUBIO, INF (GSC), a graduate of the PMDP Middle Managers Class Batch 9 – Hiyas commits to continue having a higher level of preparedness and resilience in this era of Great Reset, ensuring that national defense goals and security remain unchanged. Despite the world's current intentness with the pandemic, LTC Rubio unwaveringly expressed, "defense and security concerns cannot be put on a standstill". Being at the helm of his battalion, he represents a team of skilled men and women genuinely devoted and valiantly determined to provide round the clock protection for the well-being and safety of the Filipino population. 
LTC Rubio who spent 6 years as a Major doing mostly administrative work candidly shared what he considers his biggest success indicators, "The Dismantling of KILUSANG LARANGAN GERILYA (KLG) SIERRA MADRE, the threat group that we are confronting;  Recovery of 64 firearms; Surrender of 157 individuals composed of NPA regular members and Milisyang Bayan members; Withdrawal of support of 1,023 NPA supporters/contacts/couriers; and  the Construction of Multi-Purpose Hall and repair and renovation of camp facilities thru the National Government's BUILD, BUILD, BUILD Program are perhaps the determinants of my promotion."
For those in the military profession, he emphasized the importance of adhering to qualities such as determination, diligence, dedication, self-discipline, optimism, focus, teamwork, and systematic nature in order to competently address the challenges that affect the organization. "Preparation is very important in every mission. Positive results entail thorough planning and good execution", LTC Rubio remarked.  On top of having command and control of the Battalion, he is also responsible for the prompt and proper implementation of policies, directives, SOPs and other policies/directives from Higher Headquarters, as he serves as the Official Representative of Commander in the supported/assigned area of responsibility.
A native of Toril, Davao City, LTC Rubio earned his Bachelor in Agricultural Technology from the Rizal Memorial Colleges in Davao City, and finished the course of Advance Reserve Officers' Training Corps (ROTC) at the Ateneo de Davao University. In 2019, LTC Rubio completed his postgraduate studies at the Development Academy of the Philippines (DAP) Graduate School of Public and Development Management (DAP-GSPDM) with the degree Master in Public Management Major in Development and Security,  and Master in Development Management from DAP's Public Management Development Program (PMDP) in 2016. LTC Rubio was enthralled by the prospects of attending the courses offered by DAP, and to this day, he considers the learning he had with PMDP very relevant, useful, and significant in his profession. He regards PMDP's Transformative Leadership course as one of the most memorable and notable because he was able to establish a network of contacts, maintain good relationships with the different government agencies, and contribute to the Whole-of-Nation-Approach (WNA).  Being a scholar of PMDP is not without its challenges. LTC Rubio mentioned working as Deputy G7, 10ID when he was admitted to the Program. The implementation of his  Re-Entry Project (ReP) and finding support proved to be the most gruelling, but was the most rewarding when he eventually completed the Program course. His ReP entitled, "Effectively Mainstreaming Former Rebels on Livelihood Opportunities in Mabini and Pantukan of Compostela Valley" (implemented between October 2015 and June 2016) immensely enhanced their Civil-Military Operations programs and activities through stakeholders engagement and in winning peace. He is hopeful that the ReP remains sustainable through close collaboration and partnership with different units involved who deal with former Rebels. 
With twenty-six (26) years of PA career under his belt, LTC Rubio started as a Candidate Soldier in Camp Capinpin, Tanay, Rizal on December 15, 1995. He held significant positions ranging from CO Alpha Coy, 43IB, 8ID, PA, to Commanding Officer, 91IB, 7ID, PA, and received numerous military awards and recognitions such as Gawad Sa Kaunlaran, Silver Wing Medal, 2 Bronze Cross Medals, 40 Military Merit Medals, 41 Military Commendation Medals, Military Civic Action Medal, 2 Army Transformation Roadmap Stakeholder Pins/Emblems, Marksmanship Badge (Rifle and Pistol Expert), Personnel Readiness Badge (Gold Category), Luzon, Visayas and Mindanao Anti-Dissidence Campaign Medals and Ribbons, Northern Maritime Frontier Campaign Medal and Ribbon, Disaster Relief and Rehabilitation Operation Ribbon, and Award of CGSC Badge among many others. He was also given special awards such as Plaque of Recognition from COL RONALDO A FRIGINAL PA (Ret) – 13 May 2017, Command Plaque from BGEN ERNESTO C TORRES JR AFP – 06 August 2018, Command Plaque from COL ANDREW D COSTELO INF (GSC) PA – 31 December 2019, and the AFP Campaign Streamer Award from GEN CIRILITO E SOBEJANA PA, Chief of Staff, AFP for the successful dismantling of KLG Sierra Madre – 21 May 2021. These astounding achievements personify LTC Rubio as a trailblazing and venerable professional soldier; thus, LTC Rubio is worthy of recognition for his continuous active role and participation in the government's efforts in ensuring national peace and security. He intends to further professional growth by pursuing a Masters in National Security Administration (MNSA) and envisions being assigned in Higher Headquarters (GHQ and HPA) in the not so distant future.
As an alumnus of PMDP, LTC Rubio attributes his successes to the support given to him by his family, agency, and colleagues. As a soldier, his valor comes from having a strong spiritual core, citing with sincerity that "Prayer is the best armor and shield to maintain resilience in these challenging times."