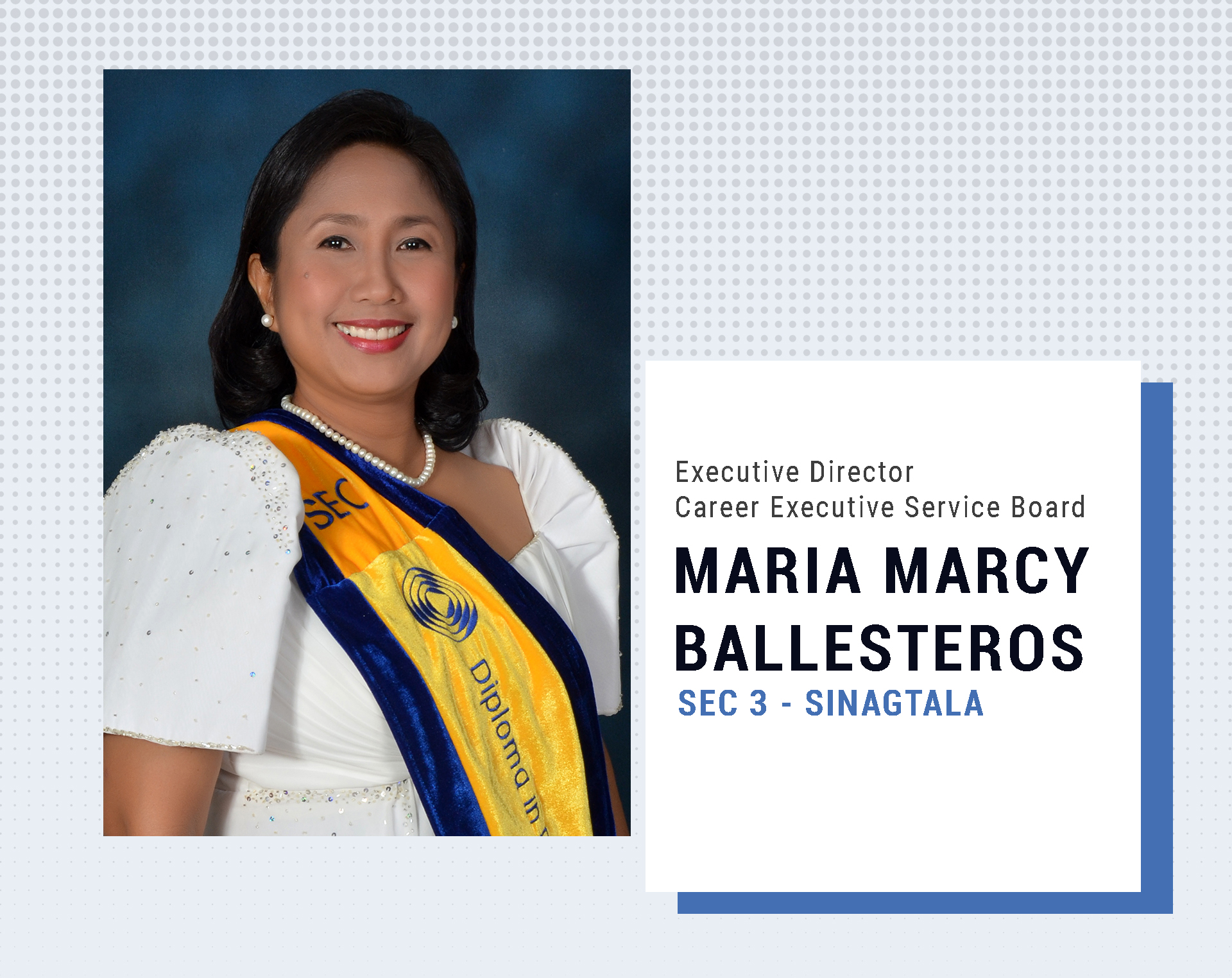 This April, DAP-PMDP salutes Ms. Maria Marcy C. Ballesteros, the new Executive Director of the Career Executive Service Board (CESB).
A native of Daraga, Albay, ED Ballesteros earned her AB Economics degree at the University of the Philippines, and her MBA at the Ateneo De Manila University, respectively. Her career in government started in the early 80s with the National Economic and Development Authority. She eventually joined the Department of Agrarian Reform where she served for 20 years.
ED Ballesteros was technically a Division Chief in the Department of Agrarian Reform (DAR) though designated as OIC in one of the departments of DAR when she joined PMDP as a scholar of the Senior Executives Class Batch 3 – Sinagtala. As ED Ballesteros fondly recalls, being a scholar of the PMDP was a life-changing experience to her, and in fact one of the most important milestones in her journey as a public servant. Though confined in the agrarian reform and rural development sector for two decades, she found inspiration in the company of executives and managers from different agencies of the Senior Executives Class Batch 3 during their residential training. Spirited class discussions widened her horizon to the work done by the different sectors of government.
She challenged herself to internalize various perspectives on development and governance through the modules delivered by the eminent PMDP faculty. ED Ballesteros found the Sensing Journey and the Foreign Study Mission the most memorable. Her illustrious mentors in the Program infused critical thinking skills, encouraged the scholars to remain resolute for morally tenable beliefs, but at the same time challenged them to be open to learning how to navigate the ubiquitous changes in the society.
The closeness and the bond formed in the Senior Executives Class Batch 3 – Sinagtala propelled ED Ballesteros and her classmates to be in constant communication, even up to this time of the pandemic. She wishes to share with fellow alumni and the current scholars of the PMDP the mantra of SEC3-Sinagtala, "when we know each other, half of the work is done." Having been hailed as the new Executive Director of the Career Executive Service Board, ED Ballesteros earnestly pledges to be at the helm of a more inclusive, responsive, and digital ready CES eligibility and rank appointment processes. Affirming the valuable lessons learned from the PMDP, ED Ballesteros feels a strong need to reassess the way public leaders set goals and priorities. She places utmost importance in being more agile responders and future ready public servant leaders knowing that business as usual may no longer work in the so called "new normal".