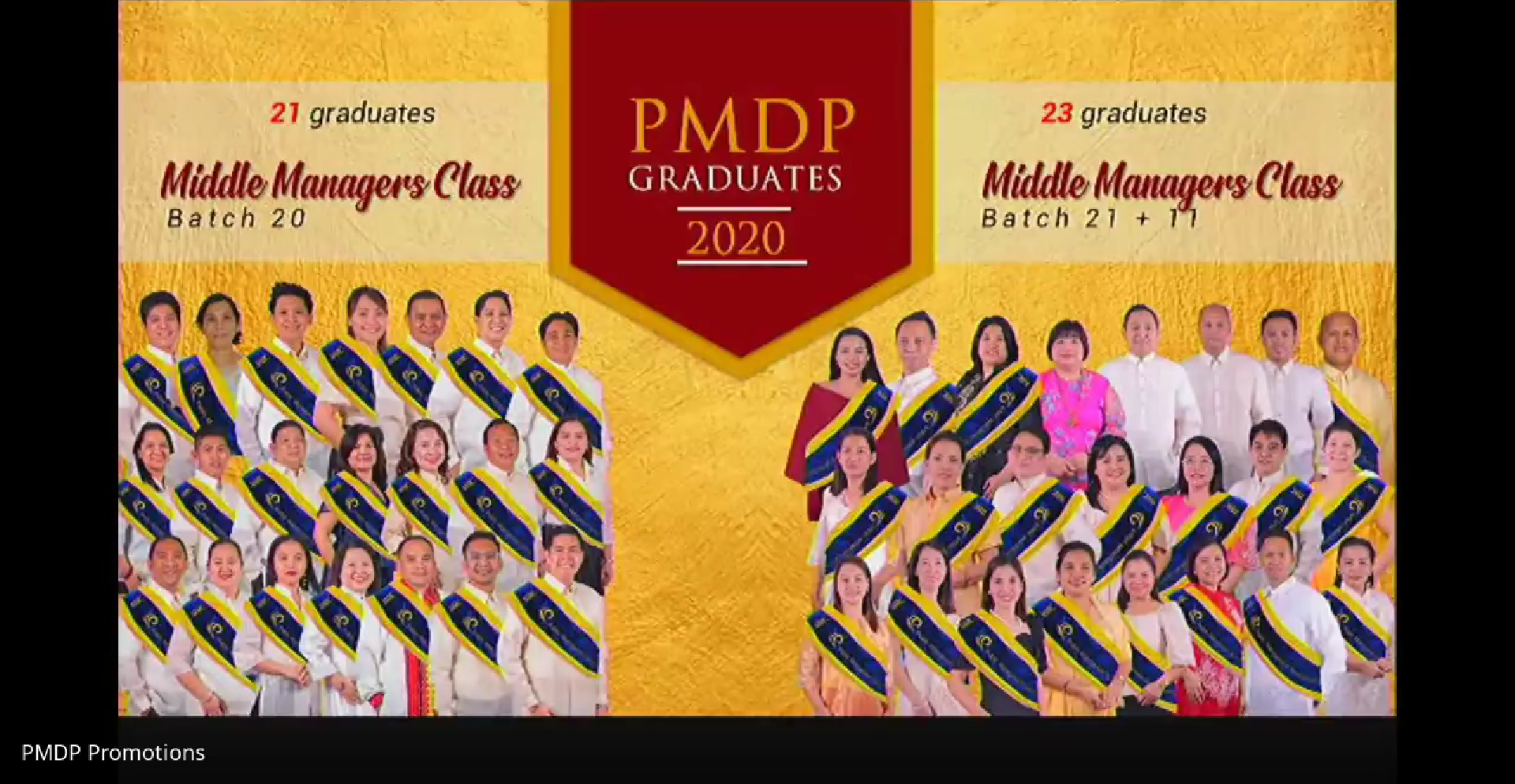 25 September 2020 – Forty three division and section chiefs and promising specialists from the 20th and 21st batches of the Middle Managers Class and one from the 11th batch capped their academic journey with PMDP in the successful 19th Graduation Ceremony held virtually via Google Meet.
In his welcome remarks, DAP President and CEO Atty. Engelbert C. Caronan commended the graduates for their hard work and resilience having finished the Program even during these unprecedented times. According to Caronan, not only did they complete all the academic requirements and acquired new knowledge, but they were also compelled to immediately adapt to and learn from a larger life lesson — "the uncertainty of tomorrow". He encouraged them to apply what they have learned from the Program, especially in their Capstone Projects, to give back to the public. He emphasized how critical thinking capability counts more in the real world than just learning theories and techniques. Caronan highlighted the importance of developing one's flexibility, adaptability, and empathy during these trying times. He advised the scholars to nurture these skills in order to be ready for all the challenges that lie ahead.

Thereafter, SVP for Programs Magdalena L. Mendoza presented the candidates for graduation andCaronan conferred their respective academic equivalencies. A total of 23 graduates received their Masters in Development Management, 17 a graduate Diploma in Development Management, and 4 a Certificate of Completion of Residential Training. The diplomas and certificates were awarded by MMC20 Class Director Ms. Aurma M. Manlangit and MMC 21 Class Director Ms. Carolyn E. Espiritu respectively.
Managing Director Nanette C. Caparros recognized the recipients of academicand special awards.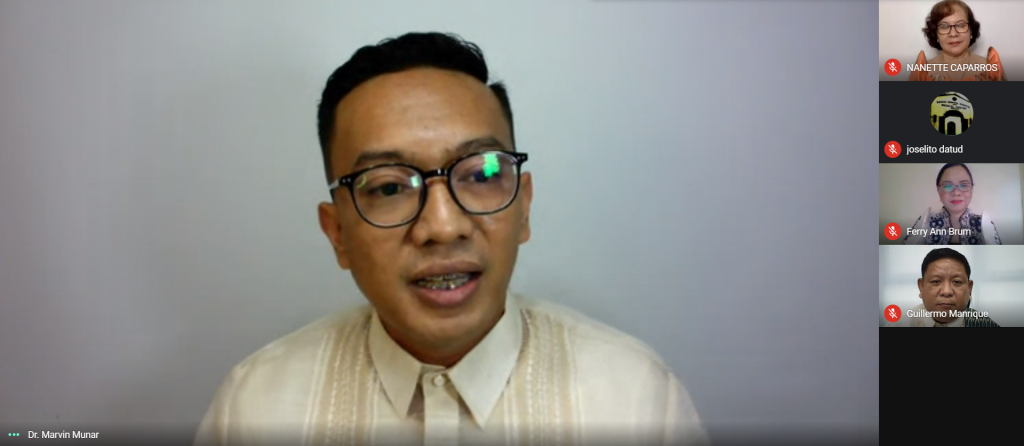 Mr. Jean Redi T. Briones (Department of the Interior and Local Government – NCR), Mr. Guillermo R. Manrique, Jr. (National Economic and Development Authority – Region XII), Ms. Lorena Jasmin D. Lerio (National Mapping and Resource Information Authority – NCR), and Ms. Marie Camille B. Castillo (Department of Trade and Industry – NCR) of MMC 20-T'nalak graduated with honors with Dr. Marvin F. Munar (Ilocos Training and Regional Medical Center – Region I) as their class valedictorian.
Mr. Joselito M. Datud (Baguio General Hospital and Medical Center – CAR) was given the Leadership Award while Dr. Marvin F. Munar, Mr. Guillermo R. Manrique, Jr., Ms. Maria Flor V. Montil (Social Security System – Region XIII), and Mr. Nur N. Hussien (Department of Education – Region IX) were recognized for their Capstone Projects which garnered the Best Organizational Productivity, Best E-Government, Best Citizen-Centric, and Best Capstone Project, respectively.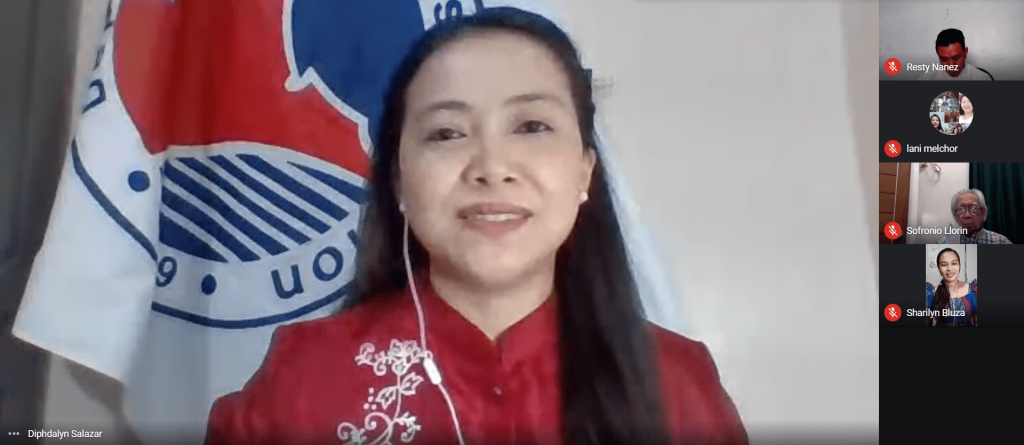 As for MMC 21-Silhig, Mr. Henry D. Caseres (Landbank of the Philippines – Region XII), Ms. Ferry Ann G. Brum (Department of Trade and Industry – Board of Investments), Ms. Jennifer P. Ande (Department of Education – CAR) and Ms. Maya V. Tumalon (Department of Education – Region VII) graduated with honors. Ms. Diphdalyn A. Salazar (Department of Transportation) was hailed the batch valedictorian and the recipient of both the Leadership and Best Organizational Productivity Capstone Project awards.
T'nalak valedictorian Dr. Marvin F. Munar, in his class address, highlighted the concepts and knowledge that they have learned under the Program and how they are vital in their role as the new scientists who will lead the changes needed by the nation today. Munar acknowledged the people who helped him throughout his academic journey, as well as the health workers who are in the frontlines of the battle against COVID-19. He used VUCA as a definition of today's situation and leadership and how it posed the challenge of innovative thinking. He also emphasized personal efficacy, good governance and transformational leadership. Munar described the Program as a "platform for psycho-emotional preparedness on social realities" as it equipped them with essential skills through its real-life modality. He ended his speech describing the new graduates as role models with refined directions and declared that they all share one aspiration- to help the country wave its flag again.
Silhig valedictorian Ms. Diphdalyn A. Salazar pointed out the importance of giving one's full commitment and service to the public. She recalled the batch's training experiences and took them as a way to fulfil this duty. She further described how the batch withstood and overcame the challenges and struggles that they encountered in their journey through teamwork. Salazar lauded her fellow graduates, telling them that they are all achievers in their own way that even she cannot compete with. She closed her speech by expressing her gratitude to those people who have helped her complete her PMDP journey.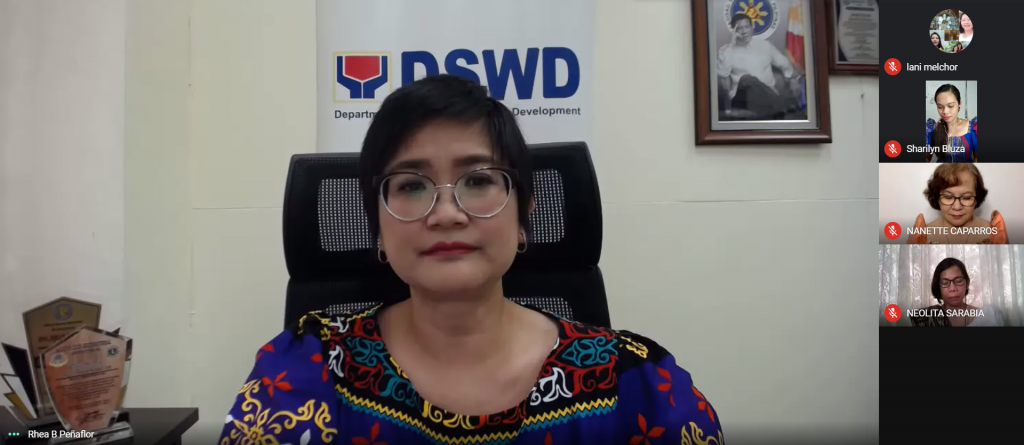 The scholars were awed by the sharing of Department of Social Welfare and Development Assistant Secretary Rhea B. Peñaflor who has proven that there is no undefeatable challenge for someone who perseveres for success. Asec. Peñaflor revealed the reason behind her sense of urgency: a disease that is a constant threat to her life. She spends each of her days to the fullest, turning her weakness into her biggest strength. She learned to do things which she thinks are purposeful, always mindful about giving her best. Despite her condition, she persevered and went on to receive countless accolades and scholarships. She hoped her story would encourage the scholars to never get tired of serving the public and to always give their best in everything that they do. According to Peñaflor, they are expected to uphold integrity, dedication and love for the country and asked the graduates to ponder their contributions to the betterment of the lives of the Filipino people, as well as the country.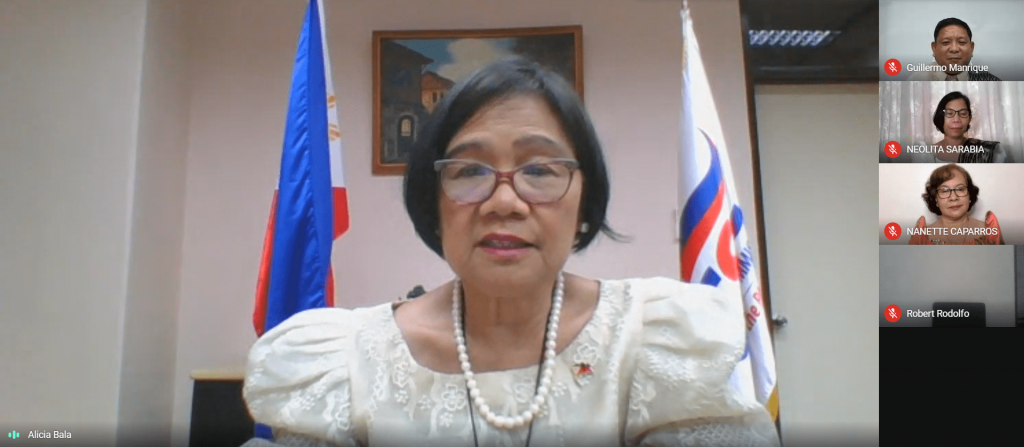 Civil Service Commission Chairperson Alicia Dela Rosa-Bala closed the ceremony by congratulating the graduates on behalf of the NGCESDP-PMDP Inter-Agency Steering Committee. She reiterated to them that completing the Program is only half of the pie and encouraged them to use what they have learned as fuel to carry out their duties in their respective agencies.  Bala expressed her hope for the graduates to keep their passion for public service alive especially these trying times as they are now needed more than ever. She also thanked them for their continuous service to the people, giving due recognition to their Capstone Projects, and wished that they continue to develop more innovative plans.