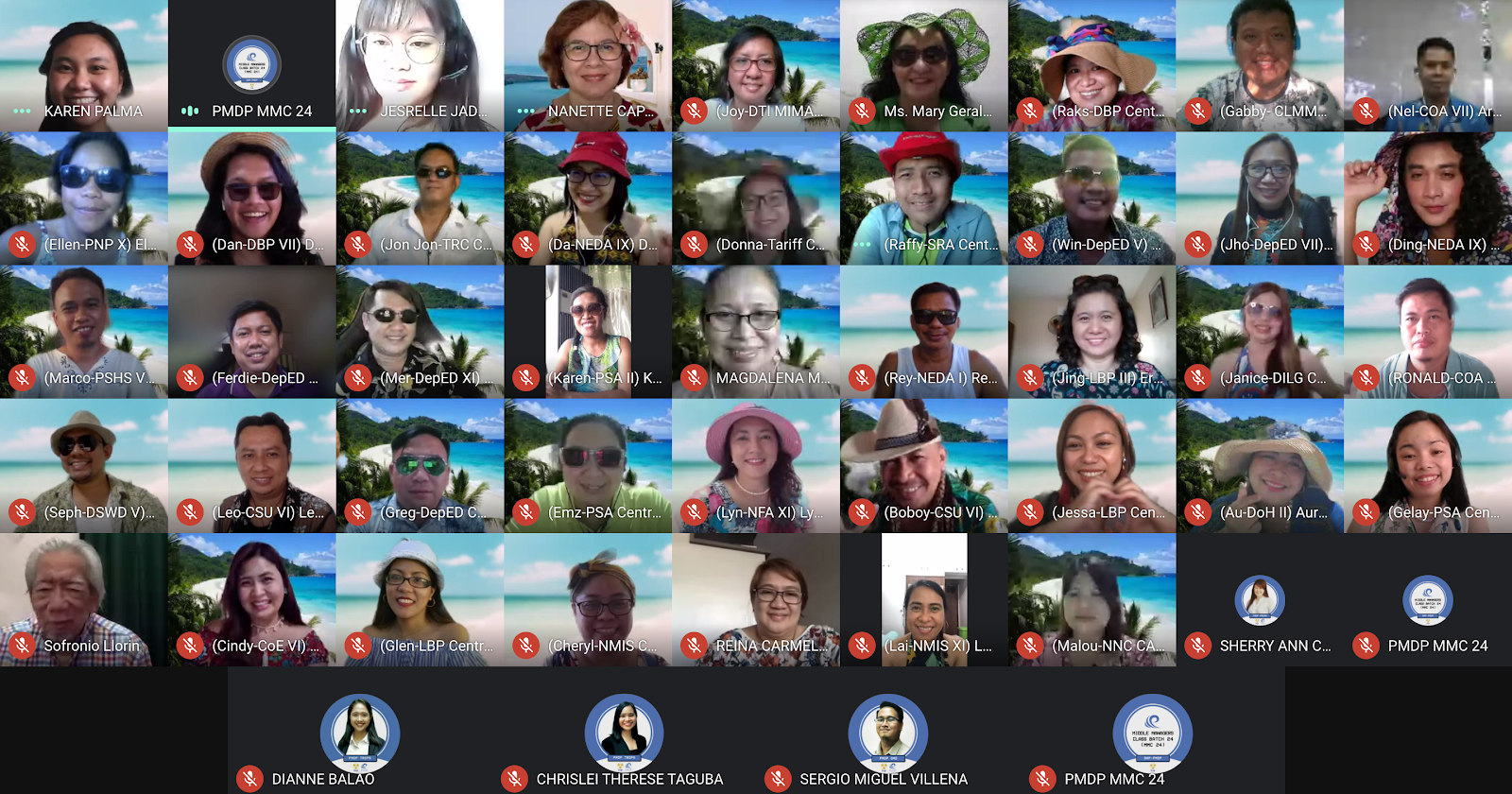 MMC 24 Kawayan comprising of 37 scholars from 21 government agencies concluded their PMDP training phase last 26 March 2021 with a summer party-themed closing program. Like their sessions, this was held virtually via Google Meet.
The event was kicked off by PMDP Managing Director Nanette C. Caparros honoring the tenacity, determination, diligence, patience, and excellence of the scholars. She also expressed appreciation to all those who were there to see the scholars through and finish a very tough virtual training. Lastly, she proudly announced that the scholars have just earned their Certificate of Training Completion and bragging rights of having their names forever etched in a gleaming brass marker in one of the pillars in DAP Tagaytay.
Class President Raphael Henri B. Mundo of the Sugar Regulatory Administration-Central Office delivered a message on behalf of the class. While he found the virtual training to be very challenging, he said that the class was very grateful for being part of the PMDP family and for the overall experience the program provided. Now, they are more equipped to better serve their stakeholders with hope and enthusiasm. He also expressed that the class will surely miss each other but he believed that "this is not the end but only the beginning of their journey as public servants".
Gregorio I. Racelis of the Department of Education-CALABARZON proudly shared that they feel very honored to have been taught by their PMDP mentors who are experts and the best of the best. He said that they learned how to support and lift each other up during the program during this journey which will never be forgotten. He assured all that everything they have learned in PMDP will be carried forever. 
Erwin B. Barrios of the Department of Education Region V described their journey as a rollercoaster ride and a rocky road due to the struggles they faced. He personally shared that he gave up law school and that his wife encouraged him to pursue PMDP instead which was all worth it. He said the Program pushed them to their limits and was able to unleash their full potential. To him, this part of the PMDP journey was very fulfilling and life-changing.
Monrey Isaiah C. Mancilla of the Department of Health Region V said that this journey is proof that he can do multiple things. He shared that it was a huge challenge for him to be a full-time DOH employee in the morning and do his requirements with the Program at night. He almost gave up but through his classmates who were his source of strength he persevered. 
Arnel R. Patatag of the Commission on Audit Region VII said that PMDP exceeded his expectations. He was pushed to his limits and was able to utilize his brain fully. As a public servant, he developed and acquired new skills and perspectives beneficial for his role. He proudly said that DAP's faculty are top-caliber professors who effectively coached them. He also shared that their respective learning teams became their comfort zones as they freely share their thoughts, frustrations, and other things with one another. Lastly, he described that their journey was not a walk in the park but very rewarding. 
The scholars also looked back and reminisced their PMDP training phase through the AVP shown during the program. Exciting games were also played and prizes were awarded to the winners.
Fun peer and serious Class Director awards were handed to the standout members and learning teams of the batch as shown below:
DAP Senior Vice President for Programs Magdalena L. Mendoza delivered her Pabaon message for the scholars. She expressed that she was glad that the encouragement of their classmates made them persist instead of quitting. She commended the scholars for finishing the Program despite the challenges of the virtual training and the pandemic. She said that with all the obstacles they faced, they have lived up to their class name Kawayan, with the resilience and tenacity they exchibited. She is very excited for the scholars to implement their capstone projects as this would trigger positive change to their agencies. She looks forward and expects that in the future, the scholars will rise in their positions and responsibilities. She also expressed her gratitude to all the people behind PMDP who helped the scholars in their journey amidst the pandemic. 
Class Director Mary Geraldine C. Naraja closed the program by delivering a heartfelt message to the scholars. She said that the class proved that even with the challenges in online learning, they were pioneers who showed that this can be done successfully. She recognized and applauded the scholars' hardwork and efforts to finish the Program. She is also a firm believer that this batch will continue to make a difference in the bureaucracy and will continue to soar.