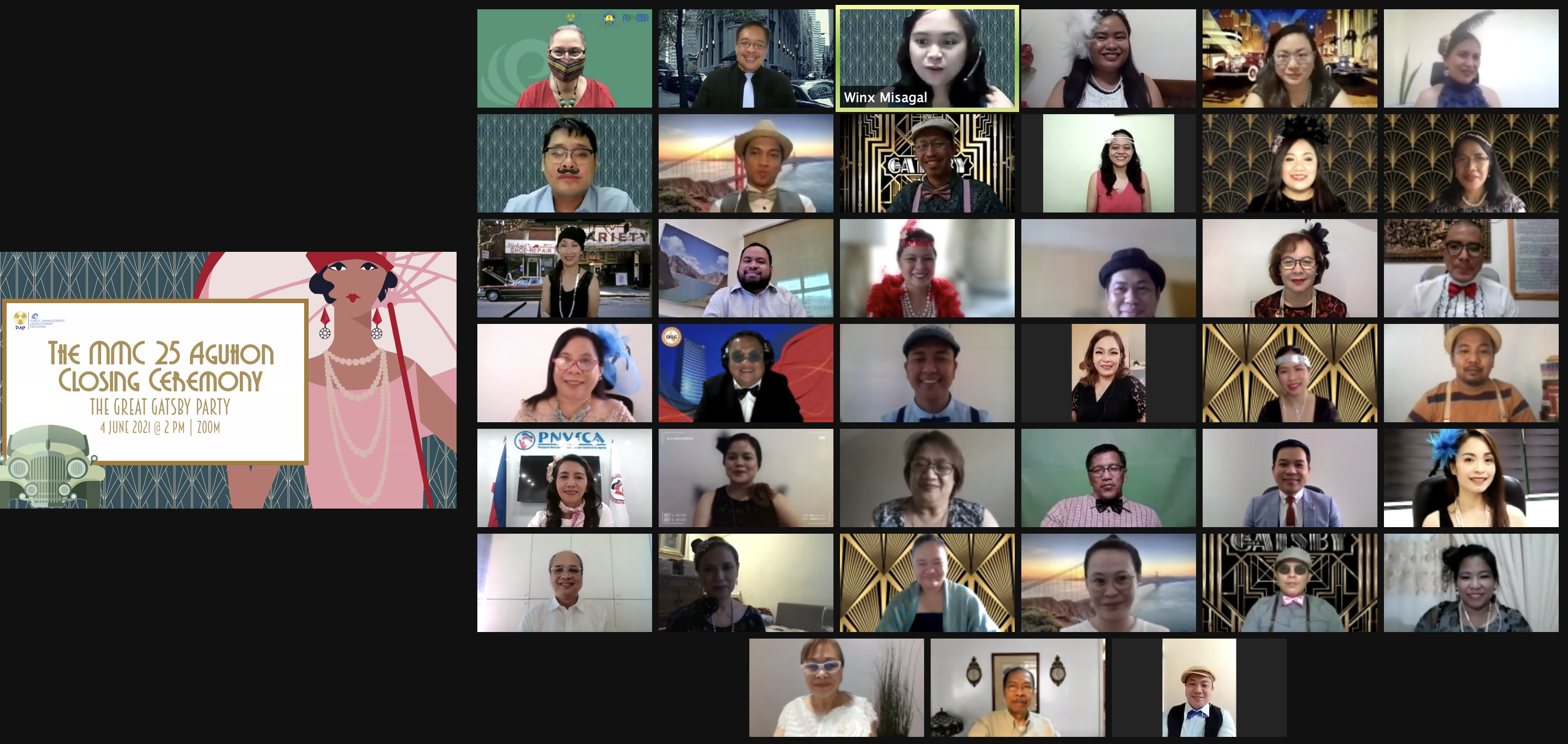 MMC 25 Class Aguhon wrapped up their PMDP training phase last 4 June 2021 with "The Great Gatsby" as the closing ceremony's theme. The scholars flaunted their roaring 1920's costumes in the virtual event held via Zoom.
The ceremony started with PMDP Managing Director Nanette C. Caparros commending the scholars for completing their 12 modules with Capstone Project sessions, and congratulating them for successfully dealing with the challenge of online learning, with some being at the beck and call of their bosses, while dealing with all the emotions arising from the pandemic. She also shared how proud the PMDP team is every time a class reaches this milestone, recognizing the many challenges of running one.
Class President Filbert Bryan Sollesta of PhilHealth delivered a message on behalf of the class. He looked back on how they started their PMDP journey and the support they lent to each other despite their diverse backgrounds. He proudly shared that the class committed to being a true "aguhon" and learned to collaborate and compromise to turn simple ideas into amazing results. Sollesta also expressed their gratitude to the people who touched their lives and made their PMDP journey worthwhile.
Notable testimonials on their PMDP journey thus far were given by selected scholars. Fely M. Baday of the Philippine National Volunteer Service Coordinating Agency highlighted three important values she learned from their PMDP training phase. She described it as "TLC" or Teamwork, Love, and Collaboration. She said that they accomplished every challenge because of love, their love for real change for themselves, their organization, and the country. This love moved and bonded them bringing to fore the value of teamwork and collaboration. She added that everything they have done in PMDP is for their dreams of a better and stronger nation.
Kristi Ann P. Rutab of the Land Bank of the Philippines said that her PMDP journey is not as scary as she thought it would be but rather a very long, winding, and exhilarating rollercoaster ride. Throughout this ride, they have been exposed to different perspectives that forced them to go outside of their comfort zones. It has stretched them in ways they never expected they could handle. She said that PMDP did not just hone them academically but also paved the way to the discovery and improvement of their talents.
Carmina P. Nave of the Development Bank of the Philippines shared that her PMDP experience will have a long-term impact on her personal and professional life. She said that she met expert resource speakers and the best professors and mentors in PMDP, whom she would not have had the opportunity to encounter if she had enrolled in a regular management class at a university. They encouraged and sustained student engagement and sparked the passion for good governance and strategic public management. She also expressed that the culture of excellence is a common theme across the different modules, which require personal efficacy, honing skills, paradigm shift, and leading innovation with a heart. PMDP effectively used a good mix of innovative teaching methodologies using digital technology. It provided experiential training, frameworks, and toolkits that will enable her to respond and reshape outcomes towards progressive change.
The scholars reminisced their training phase and paid tribute to the PMDP team who guided them through an AVP shown during the program. Exciting games were also part of the ceremony.
Fun peer and serious class director awards were handed to the standout members of the batch. Several awards handed were: Team Spirit Award (Filbert Bryan L. Sollesta), Male Buddy Awards (Mark Gregory A. Basilan and Ivan Brian L. Inductivo), Female Buddy Award (Carolina B. Manzano), Cahoots Awards (Fely M. Baday and Carolina B. Manzano), and many more.
Serious Class Director Awards, the best Male and Female Learning Journals were handed to Kristi Ann P. Rutab and Elino C. Bardillon.
The most awaited Mr. and Ms. Gatsby Awardees were voted live by the attendees among six nominees who were dressed lavishly and most fashionably in their 1920's outfits. They are Mark Gregory A. Basilan and Carmina P. Nave.
Class Director Virginia C. Aldea then delivered a heartwarming pabaon speech to the scholars. She expressed how proud she is of the scholars and she is confident that with the knowledge and skills they have learned, they are now well-equipped to do their jobs. She advised the scholars to be mindful of themselves and still do reflections daily. She ended her speech by expressing that Class Aguhon is in her heart always.
DAP Senior Vice President Magdalena L. Mendoza closed the ceremony by delivering an inspiring message to the scholars. She said she is comforted in the thought that PMDP has enkindled in the scholars the same spirit and sensitivity to the situation of ordinary people and invigorated their dedication to public service. She commended the scholars' commitment to the program and hopes that they will maintain good spirits while doing their Capstone Projects. She further said that she has no doubt that their projects will make a positive difference and create a deep impact on the people they serve. She also expressed her gratitude to all the people behind PMDP who helped the scholars in their 6-month journey.