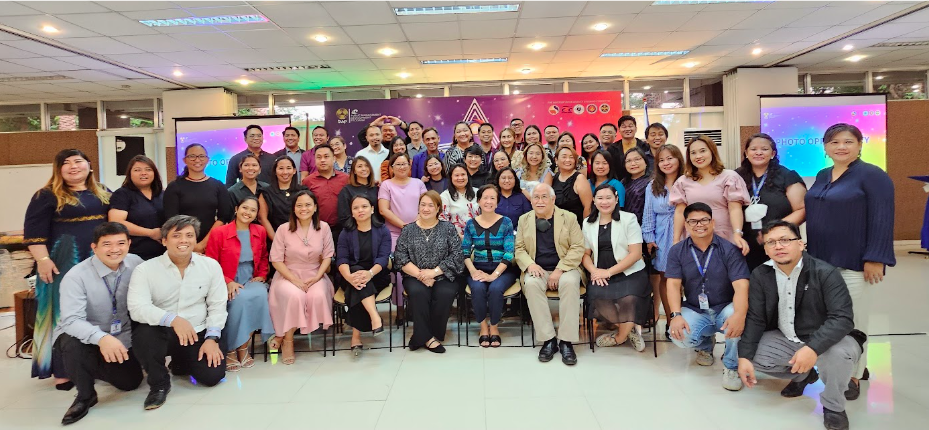 MMC 31 – Karakoa class, Program Director Myda Nieves, Program Director Sheryl D. Reyes, Program Director Reina Carmelita F. Young, MMC 31 Class Director Lisa Inez C. Antonio, DAP Faculty Mr. Tomas P. Africa, and MMC 31 LMTs.
The Center for CES Development (CCD) feted Middle Managers Class Batch 31 – Karakoa with a Residential Training Closing Program themed "PBB MMC Edition" at the DAP Conference Center in Tagaytay City last 8 July 2023. All of the MMC 31's 47 scholars successfully survived the challenges of the Program, specifically finishing 11 modules, defending three (3) CP ideas, and immersing with a 5th class municipality of Nagbukel, Ilocos Sur for 11 days.
Program Director Ms. Sheryl D. Reyes, opened the event by congratulating the scholars for finishing the first half of the program. She shared the lessons from an essay by C.S. Lewis,  "The Four Stages of Riding a Bicycle," which she said is akin to the scholars' journey in the MMC, starting from the Unenchantment, Enchantment, Disenchantment, then up to the Re-enchantment stage. She expressed hope that they will be able to keep their happy memories and Re-enchantment in the Closing Program as they return to their respective agencies.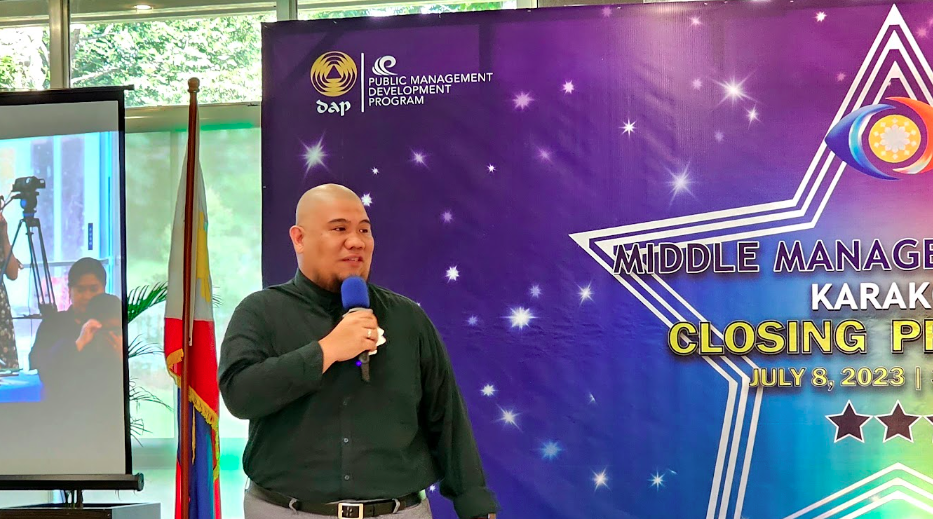 Class President Fermo B. Avila II delivered an emotional speech.
Class President Fermo B. Avila II thanked the DAP management and faculty, and their Class Director, Lisa Inez C. Antonio, for making their PMDP journey memorable and for guiding them and helping them transform into phronetic leaders and development managers. He also thanked his fellow Karakoans for the memories they made together. He concluded his talk with, "And lastly, I'll be praying that you'll be imbued with a deep sense of mission to upgrade the life of every Filipino. Ah! I wish na hindi ako umiyak,  but I am very thankful  that I was able to cry it out and that I've shown you how deeply touched I am because you became part of my life."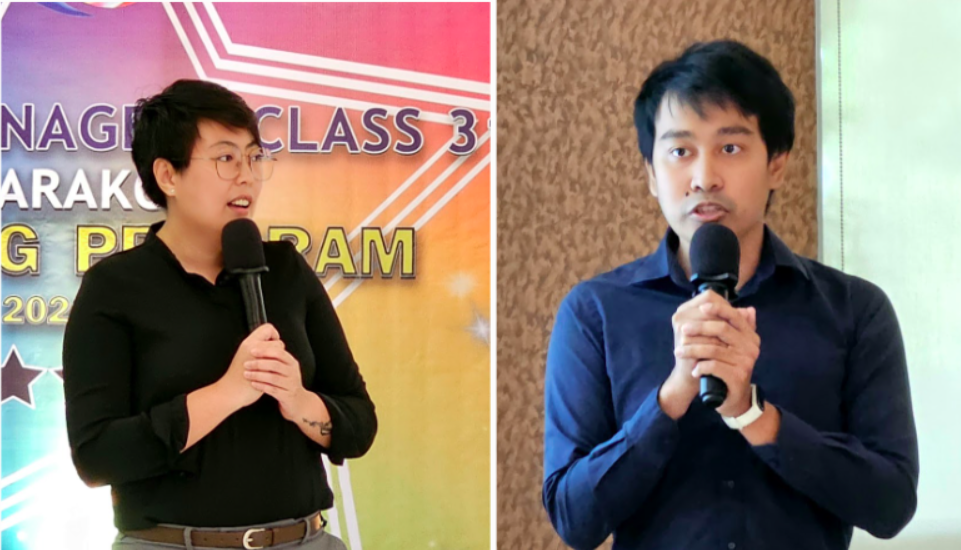 Some of the Learning Team representatives, starting from the left, Ms. Romarie Comillas-Libranda, and on the left, Mr. John Christopher Lorenzo in their sharing.
Learning Team representatives were called to share their experiences. One of the representatives, Mr. Ramon Ramon started with excerpts from a song, "'What a journey it has been but the end is not in sight. We're only halfway' but I must say without the learning teams, I can say that I am nothing. Kung hindi dahil sa kanila, I don't think I would have finished my residency. For this, I want to thank my teammates." Other representatives also mentioned the camaraderie they have made, how their differences created a synergy that helped them produce their individual and group outputs, how they would not have survived without their teams, and the guidance of their Class Director, faculty, and module teams.
During the program, peer awards were given out by the Learning Management Team (LMT), and Class Director Antonio. Rommel O. Auditor won the Melason Award for being the Class Jester; Lucky C. Manguera was handed the Fumiya Sankai Awardfor being the most congenial in their class;  Nadine Aica A. Aduviso seized the Kim Chiu Award for displaying the most exceptional transformation during the program; Mark Anthony E. Viernes won the First PBB Housemate Award for consistently being  the earliest to arrive in both onsite and online classes; Aura Malene T. Ragaodao successfully grabbed the Maymay Entrata Award for being the scholar who showed remarkable talent in the performing arts; Mc Christian Julius A. Macaranas and Mary Cherry Lyn D. Mencias-Tabernilla captured the Nap Almario and Keanna Reeves Awards respectively for consistently inspiring their fellow scholars to be peak performers; Mc Christian Julius A. Macaranas and Joven T. Bahil landed the Daniel Matsunaga Awardand Laila C. Castillo and Jujilla A. Nacionales achieved the Beauty Gonzales Award for being the most well presented scholars for both onsite and online classes; Fermo  B. Avila II secured the Big Brother Award for serving as the voice and serving as the role model of their class; Laila C. Castillo and Mr. Joven T. Bahil grabbed the PMDP Choice Awards for being the best dressed at the event; Lastly, the whole Karakoa class was awarded with the MMC 31 Moving Up Award for finishing their residential training one hundred percent by Class Director Lisa Antonio.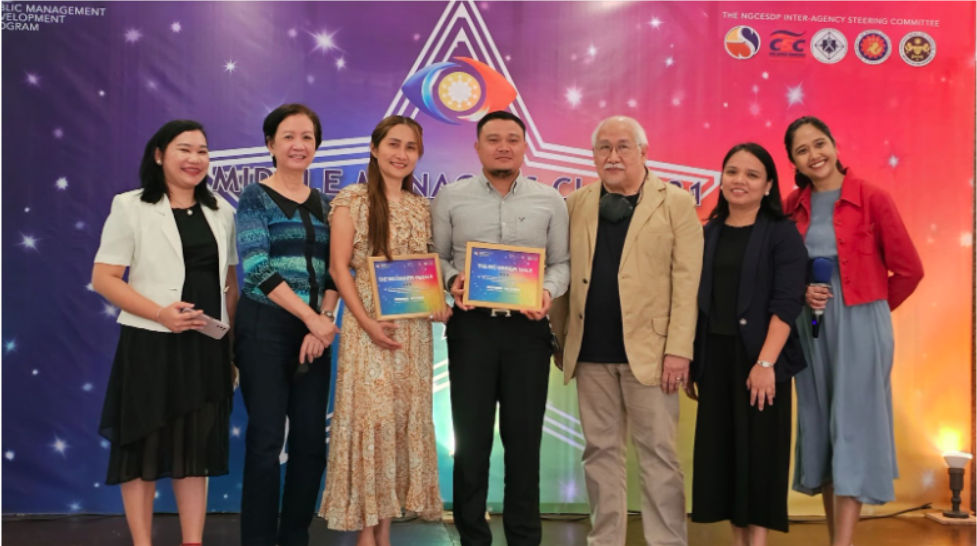 MMC 31 LMTs, MMC 31 Class Director Lisa Inez C. Antonio, DAP Faculty Mr. Tomas P. Africa, Program Director of MECK, Ms. Sheryl D. Reyes, and PMDP Choice Awards Recipients, Ms. Laila C. Castillo, and Mr. Joven T. Bahil pose for posterity.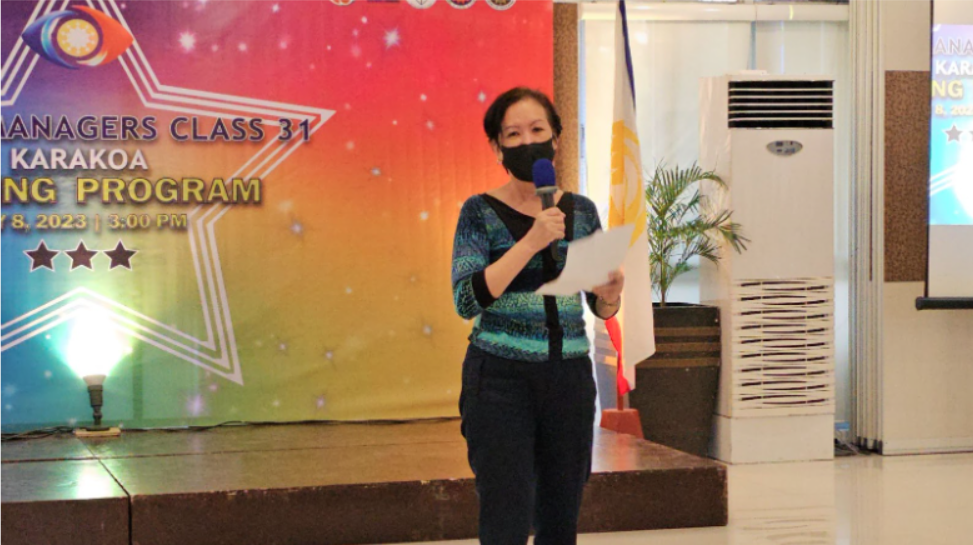 MMC 31 Class Director Lisa Inez C. Antonio delivering her Closing Remarks.
Class Director Antonio delivered the Closing Remarks, where she thanked the LMTs and CCD-PMDP, and DAPCC Tagaytay staff. She also thanked the Karakoa Class for trusting her with their reflections and trusting the process, especially by keeping the faith despite adversities. She also shared all of the firsts with the MMC 31 class, such as having a scholar attending a module virtually whilst getting married. She wrapped her speech with her final wishes or pabaon, starting with wishing them all the best for the final stage of the program, the Capstone. "So guys, per aspera ad astra, in English, 'through hardship to the stars.' Long live Karakoa. Long live PMDP. Mabuhay kayong lahat!"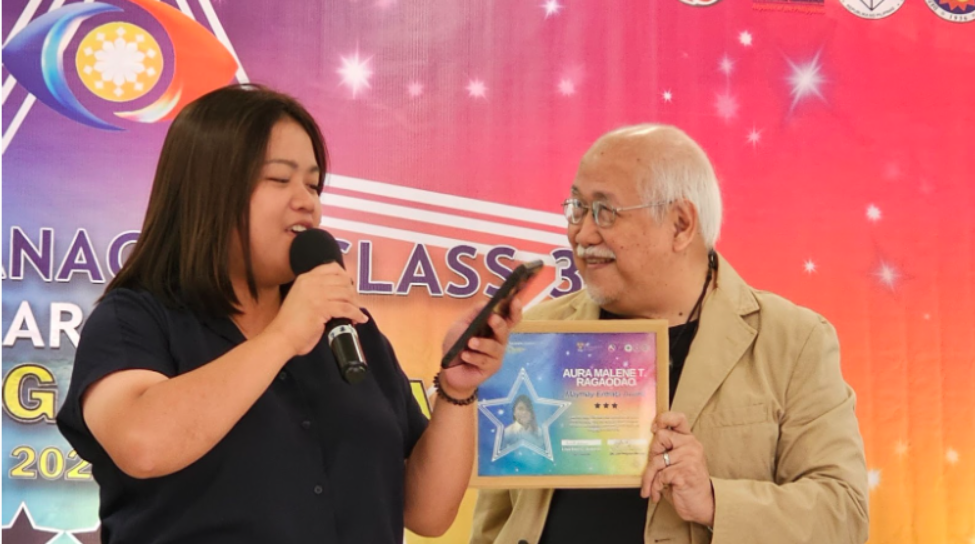 Maymay Entrata Award recipient, Aura Malene T. Ragaodao, serenades the event participants while receiving her award from DAP Faculty, Mr. Tomas P. Africa.
Lively performances from the Karakoa Class and the CCD-PMDP directors and staff brightened up the afternoon for everyone.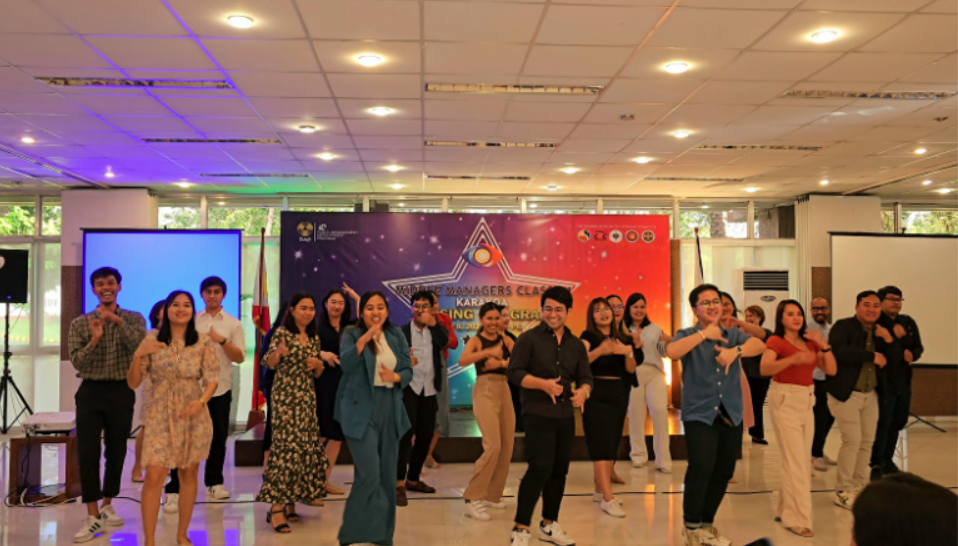 CCD-PMDP program directors and staff performing a dance number.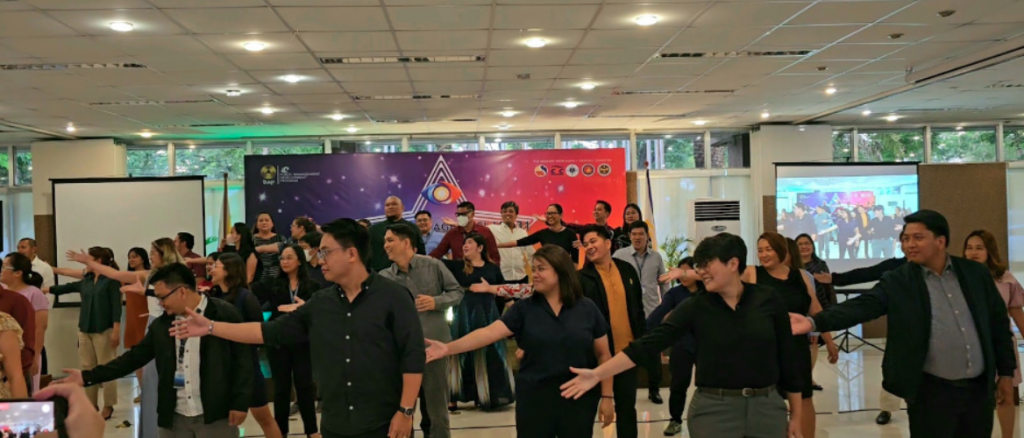 MMC 31 – Karakoa performing their final dance performance.
For more information, visit the following: