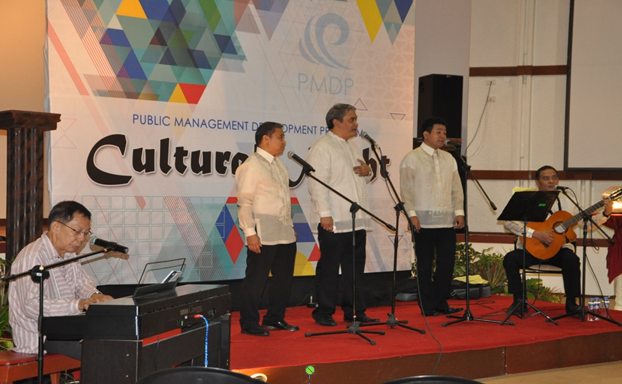 HARANA NG KASARINLAN. An all-male quartet, led by DAP Vice President Trygve Bolante, graced the Middle Managers Class Batch 8 – Siklab Cultural Night under the direction of Dr. Felipe M. de Leon, Jr., NCCA Chairperson and PMDP Faculty.
The Middle Managers Class Batch 8 – Siklab was in for a musical treat during the Cultural Night on March 5, 2015, Thursday, at the Auditorium, DAP Conference Center in Tagaytay City.
Through the musical direction of PMDP faculty member Dr. Felipe M. de Leon, Jr., currently the Chairperson of the National Commission for Culture and the Arts, the scholars and guests were serenaded by Harana ng Kasarinlan, an all-male quartet known for their heartfelt renditions of original Filipino pop, ballad, and folk songs.
The Cultural Night is an activity under the Program's Development Perspectives module which aims for the scholars to gain a wider understanding of the concept of development and its impact on Philippine society. Furthermore, the module aims to help the scholars identify and explain the roles that culture and cultural values play in defining, enabling, or hindering development. By exposing the scholars to multi-sensory experiences like this, they are able to fully appreciate our rich and unique culture amidst the presence of developmental challenges in the society.
As the module syllabus states, development can be analyzed from economic, sociopolitical, and cultural perspectives, with emphasis on its problematic relationship towards culture and its implications regarding cultural continuity and change. Culture is treated as a wellspring of local and national well-being, a value and vehicle of expression, and the genius of a people. It also considers arts as its most lucid mirror.
Dir. Nanette C. Caparros, the PMDP Program Manager, Senior Fellow Arsenia S. Gavero and some faculty members were among those who attended the special night.