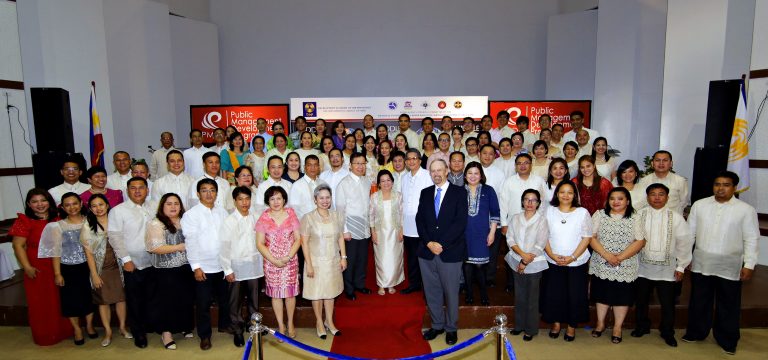 The Public Management Development Program welcomed its 10th batch of 38 remarkable and high performing Middle Managers on September 5, 2015 at DAP Conference Center, Tagaytay City.
Comprised of exceptional and high potential individuals from different national agencies in the Philippines, the new batch is driven to continue the tradition of excellence as passed on by the ongoing class, Middle Managers Class (MMC) Batch 9 –Hiyas during the Opening Ceremony.
Keynote speaker, Eastern Regional Organization for Public Administration (EROPA) Secretary General Orlando S. Mercado inspired the new batch in his speech by giving emphasis on leadership and skills.
"There are two important concepts of leadership: discipline and empathy. Discipline requires your focus despite of everything. You have to check if public policies being implemented in the community are useful to them", Mercado said.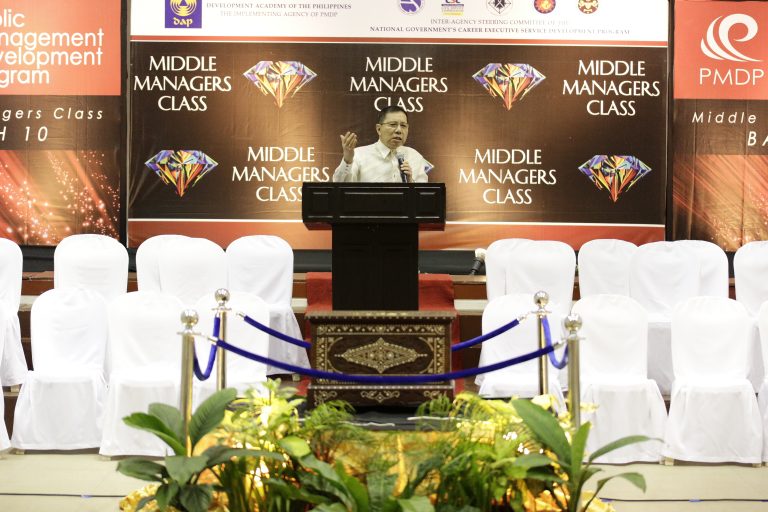 "Skills improve actually as you age. In fact you gain new perspectives as you age." he added.
On the other hand, MMC Batch 3-Bulawan Alumna Ms. Ma. Lourdes T. Aganon from the Department of Budget and Management heartened the new class with words of encouragement and inspiration as she shared her memorable experiences during her time with PMDP.
"To the members of MMC Batch 10, welcome to PMDP! Waste not this great opportunity! Walk tall! Dream big!Let us make PMDP the crème dela crème of public managers – Para sa Bayan!" Aganon said.
The Public Management Development Program (PMDP) is an intensive program that provides comprehensive and multi-modal learning opportunities for public managers. It aims to foster careerism in government and promote stability in the bureaucracy by producing a corps of public managers that embody competence, integrity and commitment.
PMDP is set to open 3 new MMC batches next year by February 19, April 22 and September 9, 2016. The 5thbatch of Senior Executives Class will also start by the 2nd quarter of next year.