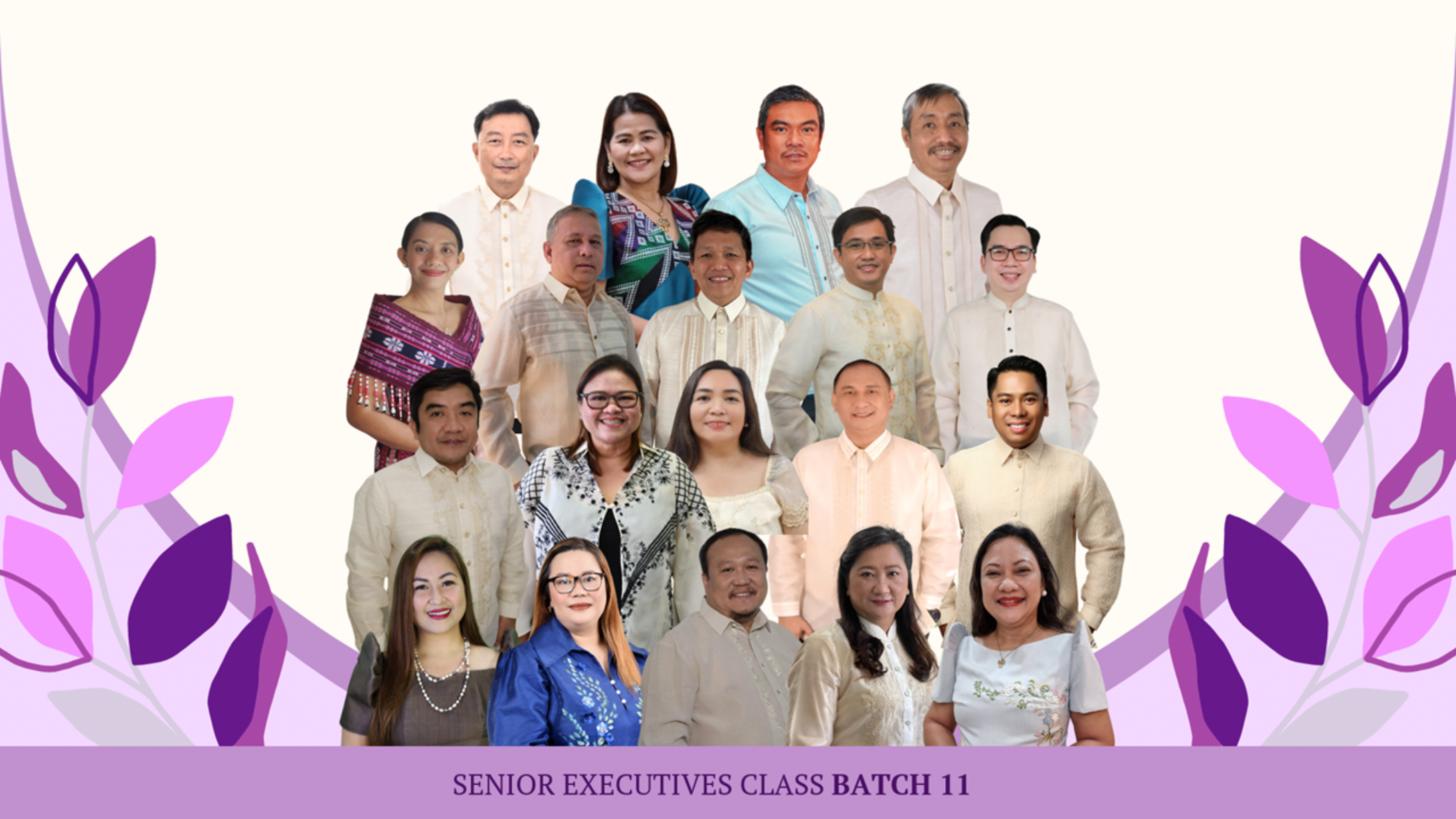 A new set of high-performing high-potential senior officials took the challenge of excellence as they joined the 11th batch of the Senior Executives Class. Nineteen scholars from different government agencies across the country were officially welcomed during the Opening Ceremony last 21 February 2022 held via Zoom and streamed live on PMDP's Facebook page.
DAP President and CEO Atty. Engelbert C. Caronan, Jr. commenced the activities by gladly receiving the members of the class, stating that their presence in the ceremony proves that they are the few chosen individuals who are being given the opportunity to undergo PMDP's extensive training program that aims to transform leaders into peak-performing, development-oriented, ethical and committed government executives. He encouraged them to seize every learning opportunity and realize the potential that they have as public servants. He urged them to take this chance to spark genuine human connection with their colleagues beyond creating professional networks. This ability to form good relationships with the people that they work with in the bureaucracy will lead them in understanding the essence of building authentic ties with the citizens.
The PMDP faculty, team, and the new batch of scholars were introduced by DAP Senior Vice President for Programs Magdalena L. Mendoza, PMDP Managing Director Nanette C. Caparros, and SEC 11 Class Director Dr. Josefa Rizalina M. Bautista, respectively.

As part of PMDP's tradition, the previous batch led by SEC 10 Class President Jay D. Telen challenged the new batch and gave inspirational pieces of advice. He started by recalling his journey sharing that he initially planned on declining the opportunity but eventually picked up the gauntlet and carried on. He shared that while only a few members of their class were technologically adept, they were fortunate to have had a nurturing Class Director, Ms. Knoy Bite and assigned learning managers who were ever patient and accommodating. Their determination paved the way for the successful completion of their class sessions and module requirements. He attested that their PMDP journey has certainly strengthened leadership potentials and managerial skills that have contributed much to bolstering the institutional integrity of the agencies where they are connected, sustaining the credibility, and gaining respect from the community as they eventually became exemplars of quality, excellent, and transparent governance in the service of the Filipino people.

On the other hand, SEC Batch 11 represented by Abigail N. Andres, accepted SEC 10's challenge saying that despite the situation now, as professionals and as managers of government, they passionately yearn for more knowledge and wisdom to change what needs to be transformed. The new batch humbly accepted the challenge and expressed their commitment to continue the ethical service for good governance. They assured that they will encourage and influence each other to embody the wisdom and knowledge that they will acquire in the process of completing their training.

SEC Batch 3 alumna and Executive Director of the Career Service Executive Service Board Maria Marcy C. Ballesteros served as the program's keynote speaker. She shared some of her biggest takeaways from her experience working with public servant leaders, giving emphasis on what it would take to navigate the governance terrain in the new normal. She focused on three key takeaways: self-mastery as a fundamental leadership attribute; collaboration and synergy as winging leadership strategies; and people-centered innovation as important principles in the new normal. She highlighted that as leaders, they should have a growth mindset that can tackle the challenges of the present and face the unknowns of the future with confidence. To be able to lead effectively, they must continuously learn, adapt, and actively nurture networks in communities. Inevitably, they will commit some mistakes but what's important is for them to understand what they know and don't know and to be willing to collectively learn from their mistakes for the improvement of their goals as public servants.

The ceremony was concluded by a special message from the Former Chairperson of the Civil Service Commission Alicia Dela Rosa-Bala. She said that being part of SEC Batch 11 is something that the scholars should be proud of because, as what people say, many are called but few are chosen. This will give them a space to reflect, reboot, rethink, and be ready to introduce transformational initiatives that will address the needs of the people. She urged the scholars to continue to be more creative, innovative and be part of the solution always. Lastly, she stated that this training will not be a walk in the park but it will open new horizons to get new tools that will enable them to fulfill their respective responsibilities.