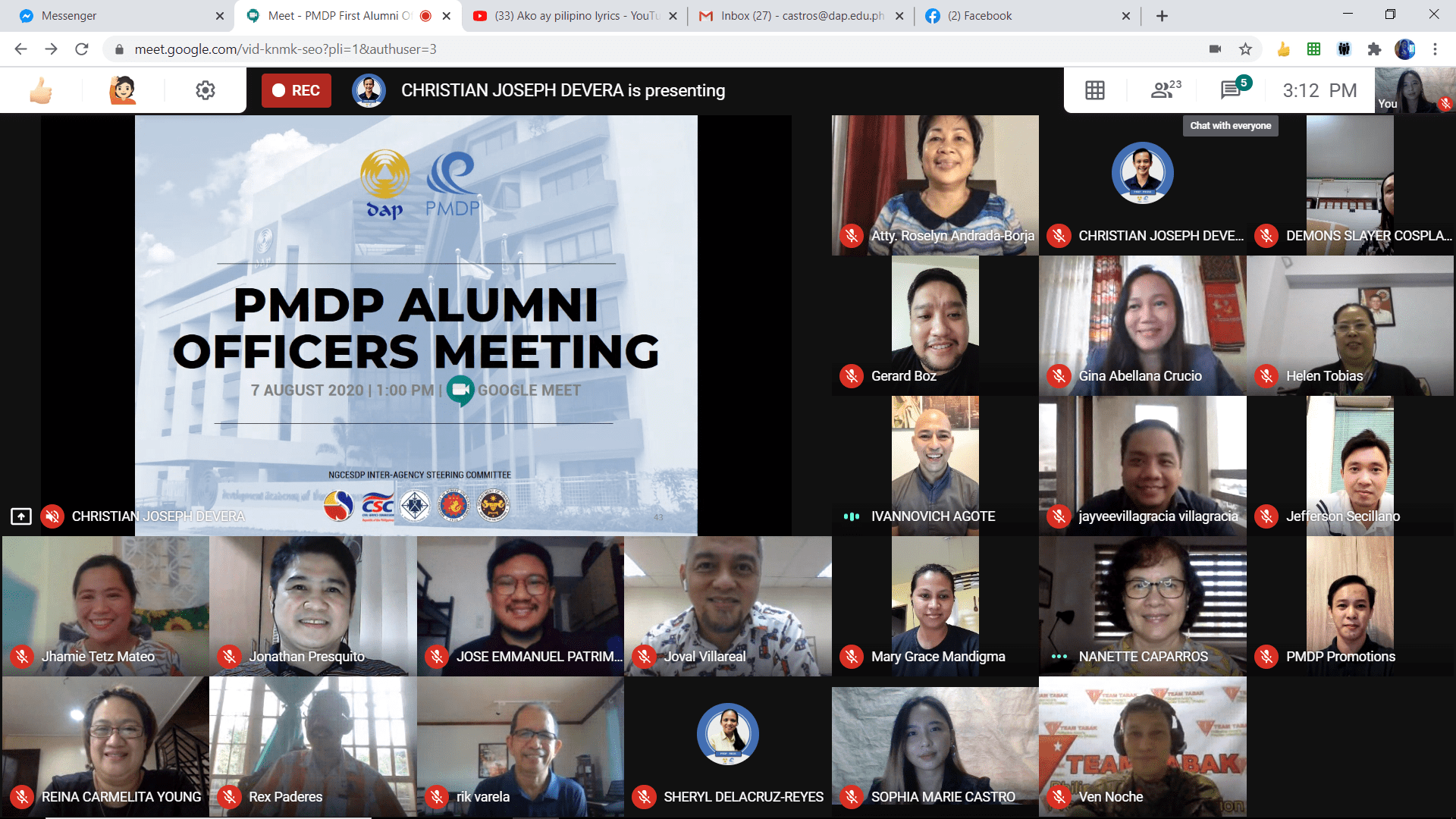 7 August 2020 – The Public Management Development Program Alumni Club officers, together with 11 batch presidents and representatives of Middle Managers Class and Senior Executives Class, convened online for the first time this year for an Alumni Officers Meeting to update the Club's plans presided by the Club's President Atty. Roselyn A. Borja.
The Club also looked to finalize its articles of incorporation, by-laws and its registration to the Security and Exchange Commission. Atty. Jayvee Villagracia, the Club's Treasurer, presented a report on the funds accumulated from membership fees and annual dues collected for the organization's activities. Atty. Borja also opened the idea of creating an alumni directory to streamline communication among the PMDPAC, and to provide updates on their current agency as well as their recent achievements. The Club aims to recognize PMDP's outstanding alumni yearly.
PMDP sought the participation of the alumni officers in the conduct of the Program's outcome evaluation by the Philippine Institute for Development Studies, as well as in the reinforcement of promotional and recruitment efforts for its upcoming classes. Ms. Jannis T. Montanez, the officer-in-charge of the Center for Governance, also discussed the progress of the Local Government Executives and Managers Class set to pilot run later this year.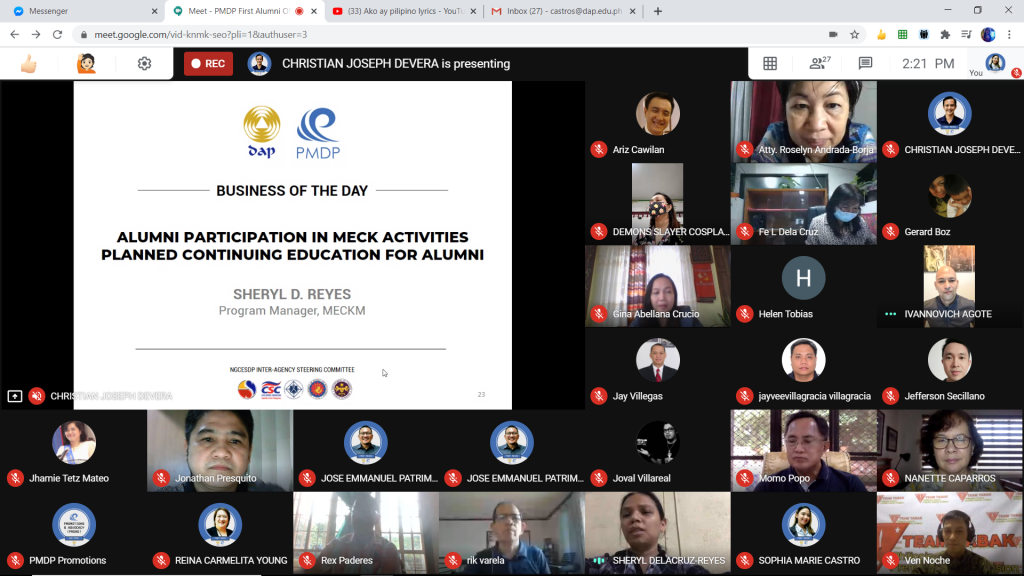 PMDPAC Officers in attendance were Internal Vice-President and MMC5-Dagitab President Mr. Gerard Boz Tungol, Board Member and MMC 4-Bato-Balani Representative Dr. Helen D. Tobias, Board Member and SEC 5-Dalisay Representative Atty. Jonathan S. Presquito, Board Member and MMC 11-Bagwis President Ms. Fe L. Dela Cruz, Incorporator and MMC 10-Binhi President Atty. Jefferson C. Secillano, and Incorporator and MMC 16-Sangbigkis President LTC Filven S. Noche.
Batch presidents and representatives present included MMC3-Bulawan President Atty. Rex B. Paderes, MMC7-Saluysoy Representative Ms. Mary Grace Rivere-Mandigma, MMC8-Siklab President Mr. Ricardo N. Varela, MMC12-Banyuhay Representative Atty. Ariz D. Cawilan, MMC16-Sangbigkis Representative Ms. Jhamie Tetz I. Mateo, MMC17-Gandilan President Mr. Joval L. Villareal, MMC19-Hinirang President Ms. Nielette T. Balleza, SEC2-Agila President Atty. Leon T. Tapel Jr., SEC7-Tambayayong Representative Atty. Gina A. Crucio, SEC8-Awanggan President Atty. Rodolfo B. Del Rosario Jr., and SSC1-Optimus President Atty. Jay R. Villegas.
The second alumni officers meeting for the year will be held in October.