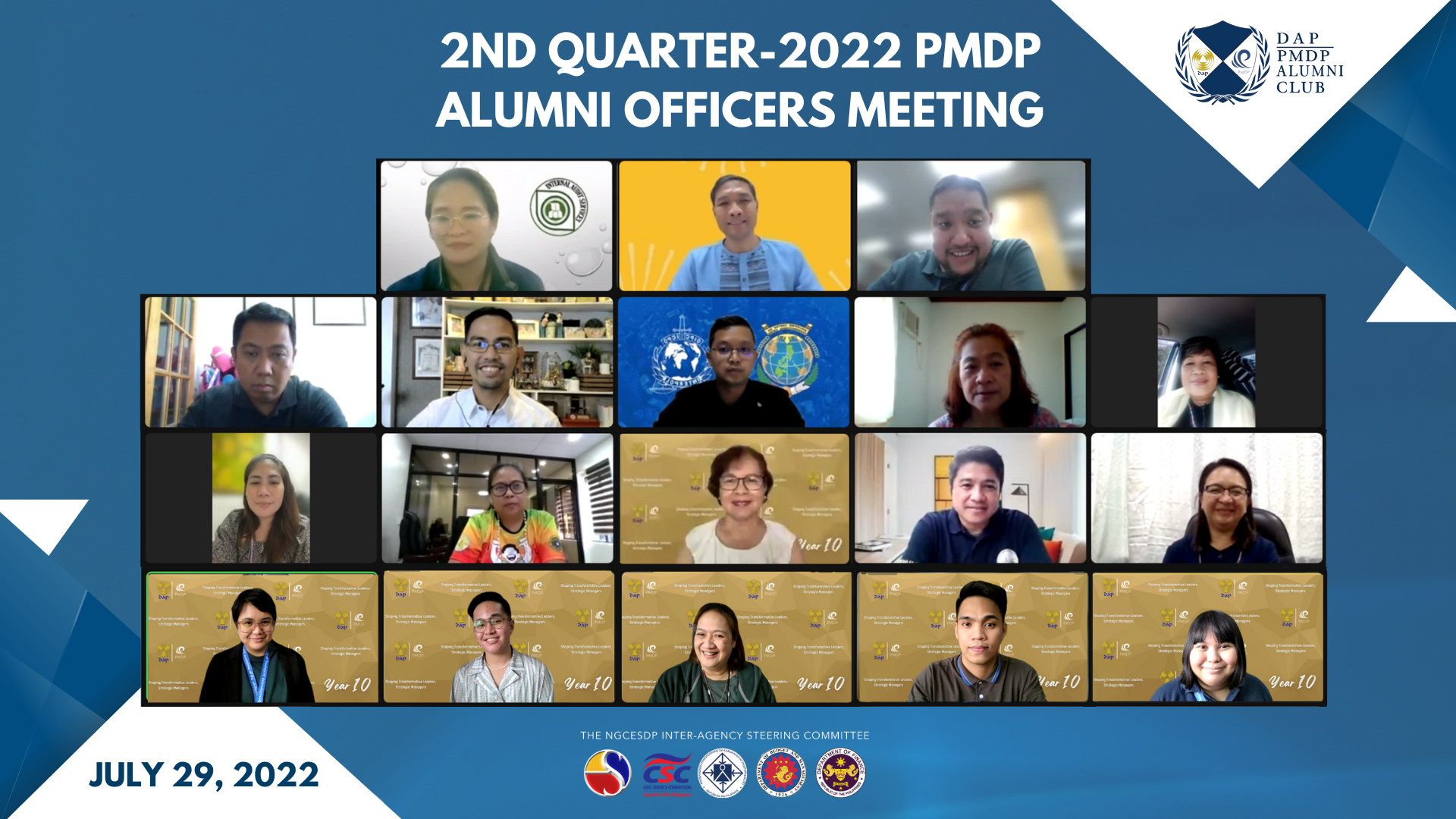 The Public Management Development Program Alumni Club (PMDP-AC) held their first regular meeting online this 2nd Quarter, 2022. Club President Judge Roselyn A. Borja presided over the activity with 11 batch presidents and representatives of the Middle Managers Class and Senior Executives Class in attendance.
The Club conducted a debriefing of the 1st Alumni Recognition Day. Matters that went well, matters that did not go so well, and resolutions to improve such an event surfaced. The following committees were also formed:
Moreover, the member brought up plans to hold an  Alumni Homecoming bundled with a conference in the 4th quarter.  Also discussed was the hiring of a seasonal club staff to handle administrative matters.
PMDP Managing Director Nanette C. Caparros presented program updates as follows:

PMDP-AC Officers in attendance were Internal Vice President and MMC5-Dagitab President Mr. Gerard Boz Tungol, External Vice President and MMC7-Salusyoy President Lt. Col. Noah Hernandez, Treasurer and MMC14-Anluwage President Atty. Jayvee Villagracia,  Board Member and MMC 4-Bato-Balani Vice President Dr. Helen D. Tobias, Board Member and SEC 5-Dalisay Secretary Atty. Jonathan S. Presquito, and Incorporator and MMC15-Enggranahe President PLTCOL Anthony Landig.
Batch presidents and representatives present included SEC3-Sinagtala President Atty. Juanita Padua-Pontanal, SEC10-Maharlika President Jay D. Telen, MMC9-Hiyas President Atty. John Paul Martin, MMC16-Sangbigkis Secretary Ms. Jennifer T. Guiang, MMC17-Gandilan President Mr. Joval L. Villareal, MMC18-Sibol Secretary Ms. Carla B. Portugal, MMC19-Hinirang Secretary Ms. Jennifer Remollo, MMC22-Uhay Auditor Ms. Maria Kathleen Barbosa, MMC23-Matatag Secretary Rousel Justimbaste, MMC24-Kawayan President Mr. Raphael Henri B. Mundo, and MMC25-Aguhon President Filbert Bryan Sollesta.
The 3rd alumni meeting for the year will be held in September.