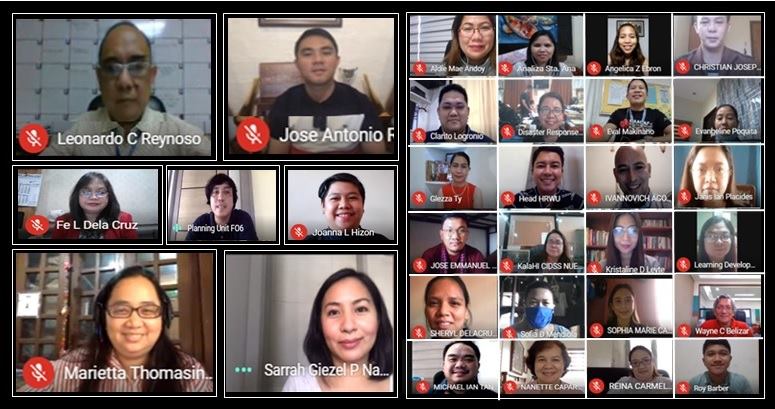 June 26, 2020 – PMDP held a virtual orientation session about its structure and classes via Google Meet as it adapts to the new normal. The online event was initiated by DSWD, one of the national line agencies that has consistently been endorsing staff members as scholars of the Program since 2012.
The event was facilitated by the agency's Personnel Development Committee (PDC) headed by Asec. Jose Antonio R. Hernandez, and its Human Resource Management and Development Service headed by Director Leonardo C. Reynoso. HRMDS Learning and Development Division Chief Ms. Marietta Thomasina Angeline T. Porio and PDC Secretariat Ms. Sarrah Giezel P. Navarro moderated the activity. 23 officials and staff from DSWD's various regional PDC counterparts as well as 16 potential applicants for both Middle Managers Class Batch 24 and Senior Executives Class Batch 9 were in attendance.
Dir. Reynoso shared some encouraging words to all aspiring scholars of the agency. With several managerial positions still vacant and the inevitable retirement of senior officials in the coming years, they are presented with a big opportunity to move up the organizational ladder according to Reynoso. He also commended DAP for the PMPD that responded to the agency's need to develop leaders who are ethical, committed and development-oriented. He concluded his speech with the hope that the event yields fruit for each person in attendance.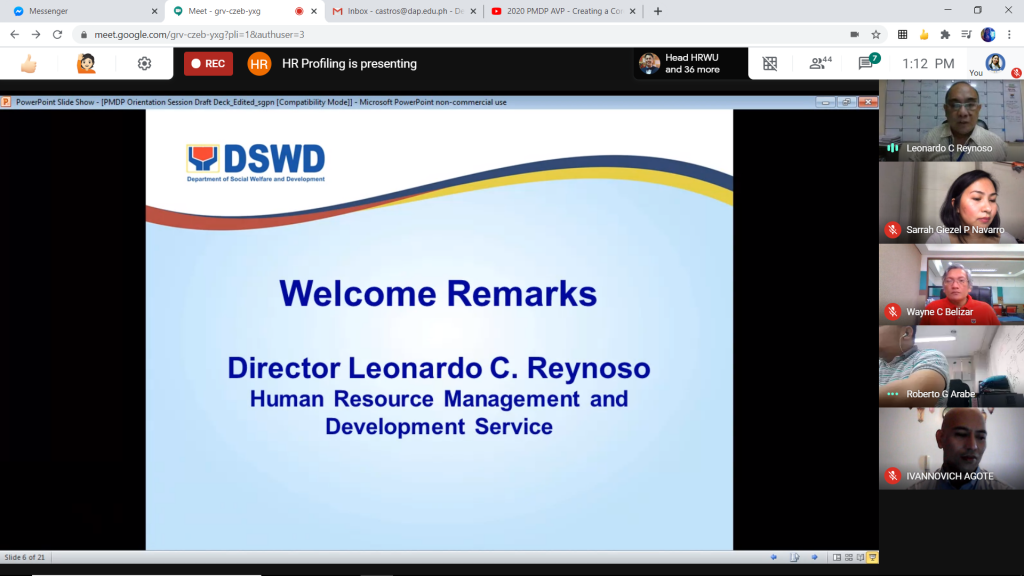 The participants were first given a glimpse of PMDP. An AVP depicted the highlights the Program's objectives and key structure, as well as accounts from several alumni about their experience with their classes. PMDP Managing Director Nanette C. Caparros then elaborated on some key points. She discussed the design, curriculum and academic equivalencies of both the MMC and SEC. She updated everyone on how PMDP has adapted its learning activities with the current situation the country is in as discussed in the HR Managers Meeting held last May 11. PMDP will continue to adopt flexible learning as its primary mode of delivery for all learning modules until face-to-face activities are deem safe according to Caparros.
Reina Carmelita F. Young, the Program Manager for Recruitment and Admissions as well as Promotions and Advocacy, discussed the qualifications for each class, as well as the new, online admission process. Project Officer Ivannovich Dmitri T. Agote sought out the agency's cooperation to further strengthen the Program's online presence.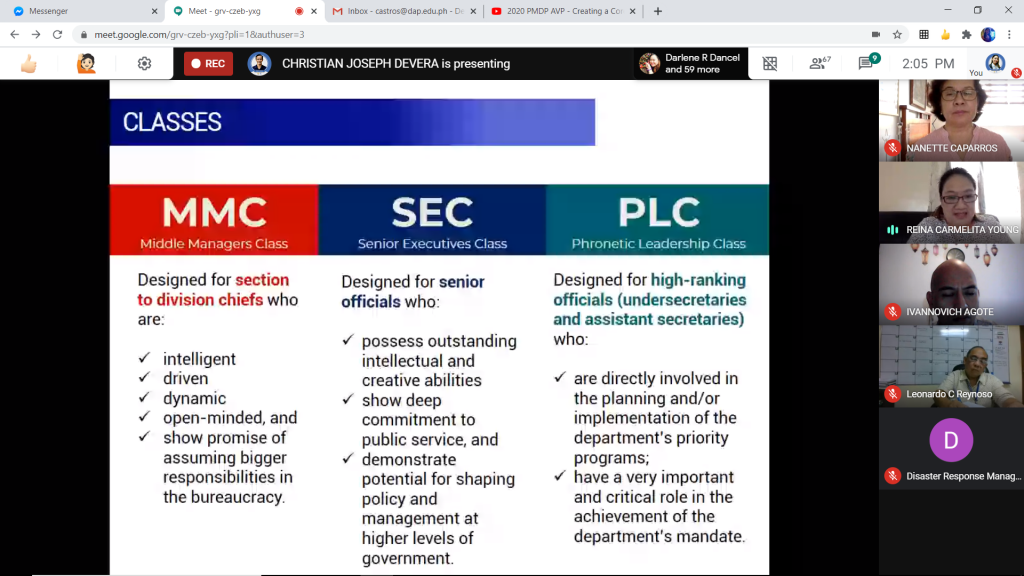 Three alumni of the MMC from DSWD were invited by the PDC to share their testimonies. MMC Batch 10-Binhi's Joanna L. Hizon presented the Capstone Project she conceptualized and implemented as part her academic requirements entitled "Elderly Leaders Delivering Resiliency in Late Years (ELDERLY) -Protective and Partiipative Committee for Senior Citizens (PPCSC)". She was awarded the "Most Collaborative Re-Entry Project". Hizon explained the relevance of her project to the work she is currently doing and walked the participants through her project, from the planning stages to its implementation.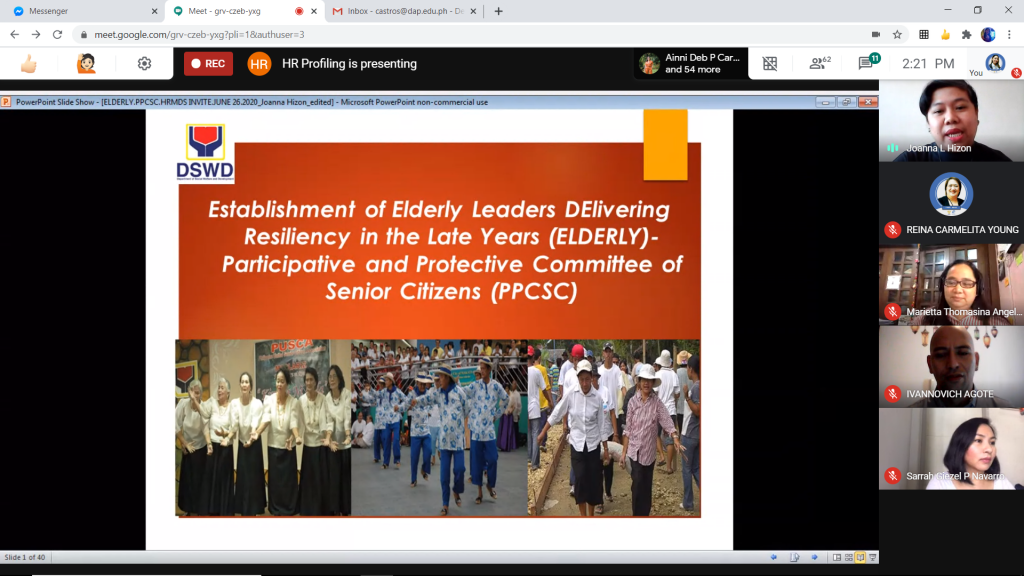 Fe L. Dela Cruz, the class president of MMC Batch 11-Bagwis who also graduated with honors, shared her expectations and gains from the Program. She narrated how she entered PMDP with a mindset similar to a "glass half-full or half-empty". She felt like she needed to empty herself to fully appreciate what the Program had to offer. She also acknowledged her takeaways from PMDP. The training enhanced her competencies founded on discipline and values, equipped her with the appropriate governance and managerial tools, and gave her better paradigms and strategic leadership skills according to her.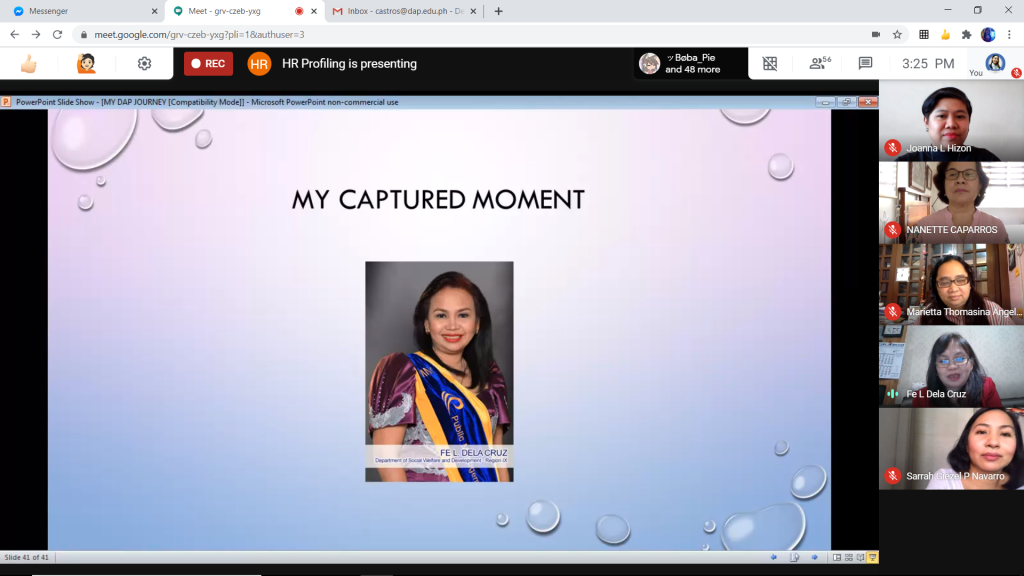 Lastly, Ryan A. De La Gente of the MMC Batch 14-Anluwage, similar to Dela Cruz' account, shared his journey with PMDP. De La Gente also graduated with honors among his batch and he recognized his valuable gains from the training he received such as learning the importance of social responsibility, developing a clear vision and understanding the significance of contribution and convergence.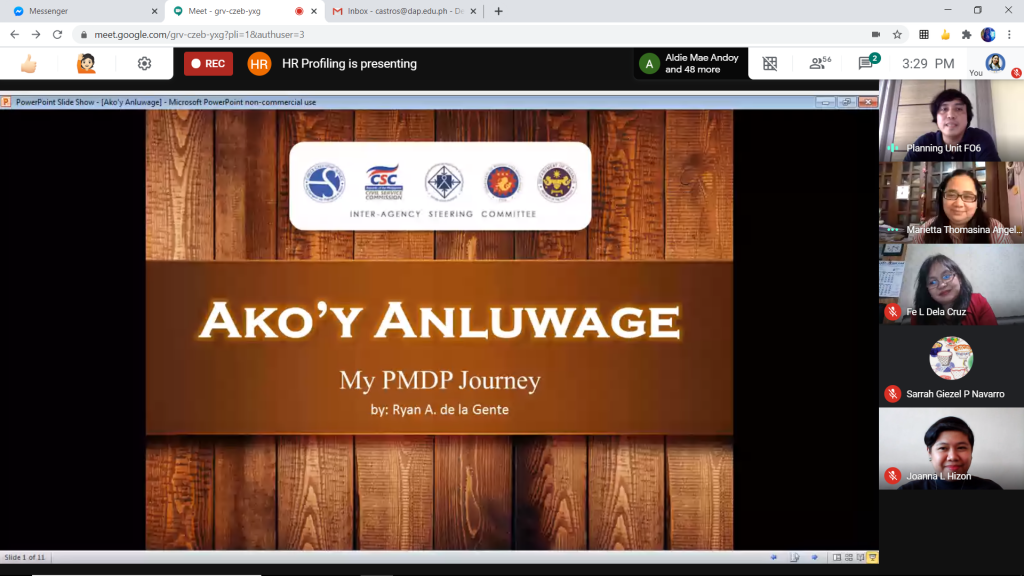 The activity concluded with PDC Chairperson Asec. Hernandez challenging the aspiring scholars to make the best out of their PMDP experience. Applying what you have learned from the Program and doing your duties as the public servant should be the most important takeaway from the experience, according to Asec. Hernandez.