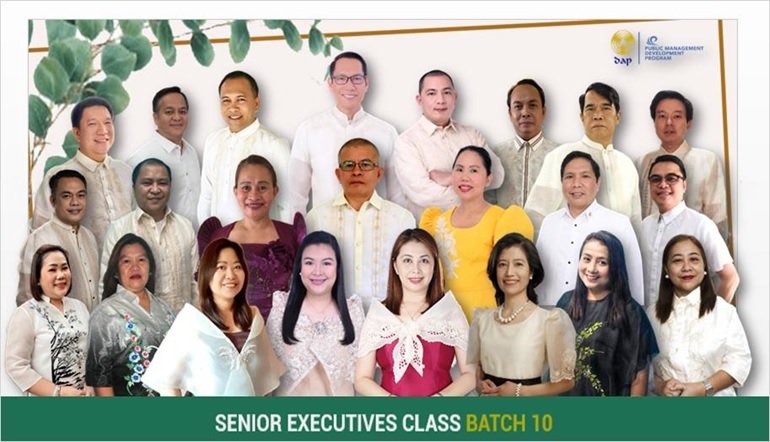 Twenty-four high ranking officials from 18 government agencies across the country are now part of the 10th batch of the PMDP Senior Executives Class (SEC10). The opening ceremony was hosted via Google Meet and streamed live on PMDP's Facebook page.
A warm welcome started the ceremony from DAP President and CEO Atty. Engelbert C. Caronan. "I hope the Academy could instill in you a clear perspective of your role as a public servant. I wish that more than fruitful, your experience with us will also be meaningful and fulfilling to you as a public servant."
The PMDP faculty, team, and the new batch of scholars were introduced by DAP Senior Vice President for Programs Magdalena L. Mendoza, PMDP Managing Director Nanette C. Caparros, and SEC 10 Class Director Ma. Noralisa C. Bite, respectively.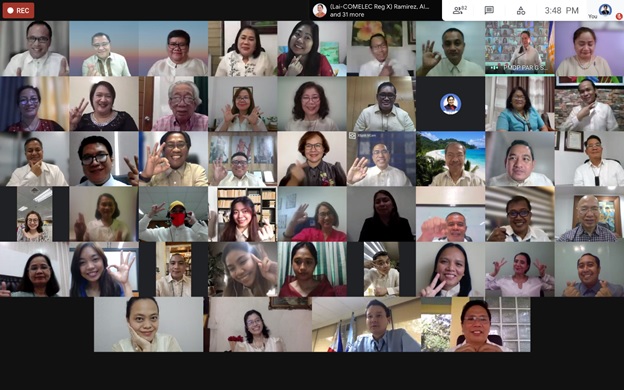 SEC Batch 9 – Punyagi's Class President Mr. Ryan R. Gabinete threw a challenge and gave an inspirational message to this year's batch. "Our advice is to make full use of your time in the PMDP to further enhance your area of specialization at the same time learn to understand the culture of each other and enjoy each other. Make friends and share with them your knowledge and best practices. This is part of the process to strengthen our government and people."
On the other hand, SEC10 represented by Mr. Alexander A. Makinano, eagerly accepted the challenge. "We pledge that we will honor the legacy by sustaining and building upon the good job of our predecessors. With sincerest hopes and earnest prayers, we are accepting the challenge to be in the program."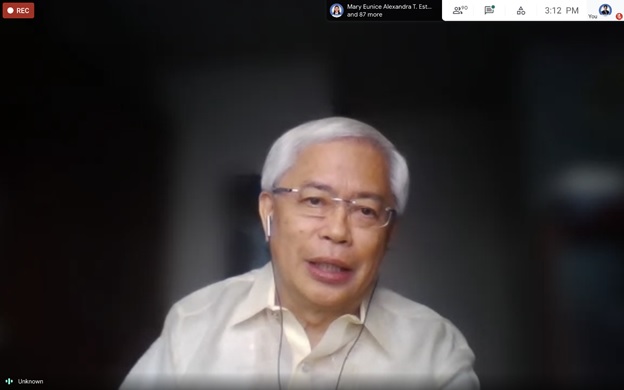 Current Executive Director of Zuellig Family Foundation and Former Undersecretary of the DILG Austere A. Panadero delivered an inspirational speech for the scholars. He said that it is time to revisit the governance models to check the assumptions about institutions; it is time to rethink the kind of governance structures and institutions fit for the next generation of Filipinos. He then left the scholars with thought-provoking questions, "What institutions of the future do you wish to shape to seize the opportunities and mitigate risk in the local environment?" "How will you design institutions that will respond to the needs and aspirations of the tech-savvy, highly mobile, and cosmopolitan Filipino wanting to emerge resilient, healthy, and with greater demands for collective wellbeing?" and "How will you work together as civil servants and career officials under complex persistent and relentless change?" Panadero also advised the scholars to define their institutional spaces, seize opportunities for reform, and continue to make a difference.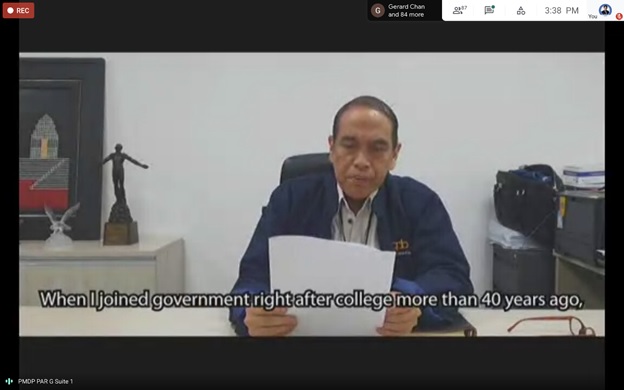 The ceremony ended with a message from the NGCESDP Steering Committee represented by Undersecretary of the Department of Finance Gil S. Beltran. He pointed out the importance to maintain civil servants' capacity both through learning by doing and formal training programs like the PMDP SEC. He also lauded the SEC10 scholars for responding to the call for greater responsibility and public service.
PMDP is currently accepting admissions for the Middle Managers Class. For inquiries, you may send an email at pmdp.admissions@dap.edu.ph or visit the following PMDP's official website and social media accounts: