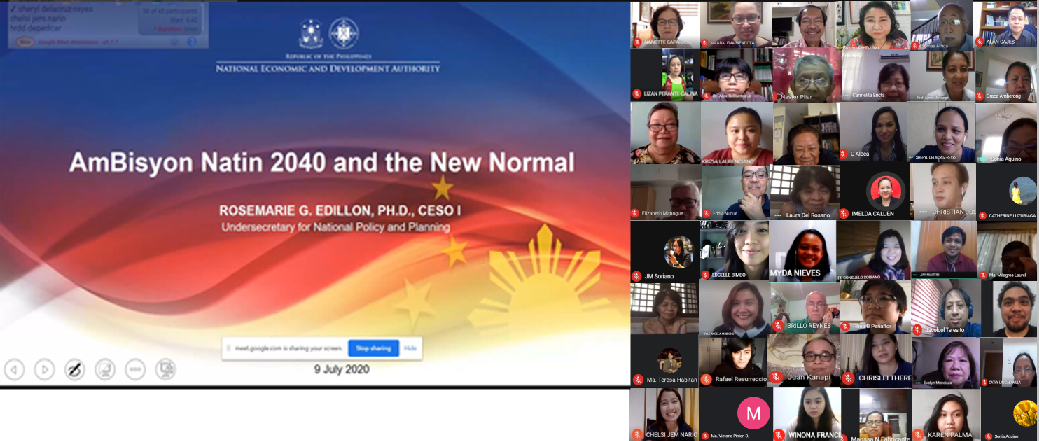 By: Fe Consuelo Y. Soriano
The Public Management Development Program of the Development Academy of the Philippines successfully mounted a roundtable discussion on the Philippine Development Plan (PDP) via Google Meet last 9 July 2020 for its eminent faculty pool.
Envisioned to update the regular faculty members and faculty advisers on revisions made in the PDP post pandemic, the PMDP invited no less than the Undersecretary for Policy and Planning of the National Economic Development Authority (NEDA), Dr. Rosemarie G. Edillon.
In her comprehensive and insightful presentation, Usec. Edillon first recalled Ambisyon Natin 2040 a collective long-term vision and aspirations of the Filipino people, which aims to serve as an anchor for development planning spanning four administrations. The original PDP 2017-2022 which has three main goals: inclusive growth; a high-trust and resilient society; and, a globally-competitive knowledge economy was crafted based on the Ambisyon.
According to Usec. Edillon, the present COVID-19 pandemic necessitated a review of the sustainable development goals and how these were impacted by the crisis. Surveys were conducted to gauge the reactions and expectations of the consumer, agriculture, and industry/services sectors to note their experiences during the enhanced community quarantine and expectations after it is lifted. It was determined that a new normal needed to be defined and corresponding government actions needed to be implemented to address it.
The updated PDP 2017-2020 is anchored on a "healthy and resilient" Philippines. It is meant to reflect the adjustments for the new normal while remaining relevant to the SDGs. The pillars "Malasakit", "Pagbabago" and "Patuloy na Pag-unlad" were retained but some nuances were added in every chapter.
Under the "Malasakit" pillar, technology-enabled and responsive governance was added; "humane" was inserted as a description to the administration of justice; and the word "bayanihan" which is meant to be the direction in promoting Philippine culture and values as well as the guiding force in rising above the pandemic by enhancing coordination and cooperation between and among the national government and local government units, together with the private sector and civil society to generate a whole-of-society response.
With the Pagbabago, these modifications were introduced: to expand economic opportunities across regions; expand access to economic opportunities including the digital economy; ensure food security and reduce vulnerabilities of Filipinos; and transform human capital development towards greater agility, as well as, to implement strategic trade and responsive fiscal policy. Among the initiatives toward these objectives are skills retraining, strengthening financial inclusion by leveraging on financial technology and education campaign on insurance policies, engaging economies across regional fora (ASEAN, ASEAN+3, AANZFTA, etc.) for uninterrupted trade, and scaling up and diversifying products to minimize vulnerability.
The third pillar, Patuloy na Pag-unlad, now feature these add-ons: to scale-up technology adoption; to stimulate innovation; and, to maximize demographic dividend across regions. Also, a new chapter on OFWs will be included which will focus on protecting the welfare of OFWs and expanding their opportunities to help contribute to the country's development and make re-integration easier.
Embodying these changes are the banner programs: Health Systems Improvement, Food Security, Digital Government and Digital Economy, Skills Re-training, Balik Probinsya Bagong Pag-asa, enhanced Build Build Build Program targeted to help attain workforce agility, business resiliency, and healthy population.
Although some technical difficulties were experienced due to the novelty of the mode of delivery by  the participants, a combination of experienced academicians and seasoned government executives,  this did not hinder  a very interactive experience. The session invited many questions which ranged from the current state of the pandemic situation  to food security and to environmental concerns. It also became a medium for some of the participants to reconnect with  their colleagues and acquaintances they have not seen for sometime.  The activity which lasted for two hours left most of the participants thankful and clamoring for more similar sessions to be held in the future.