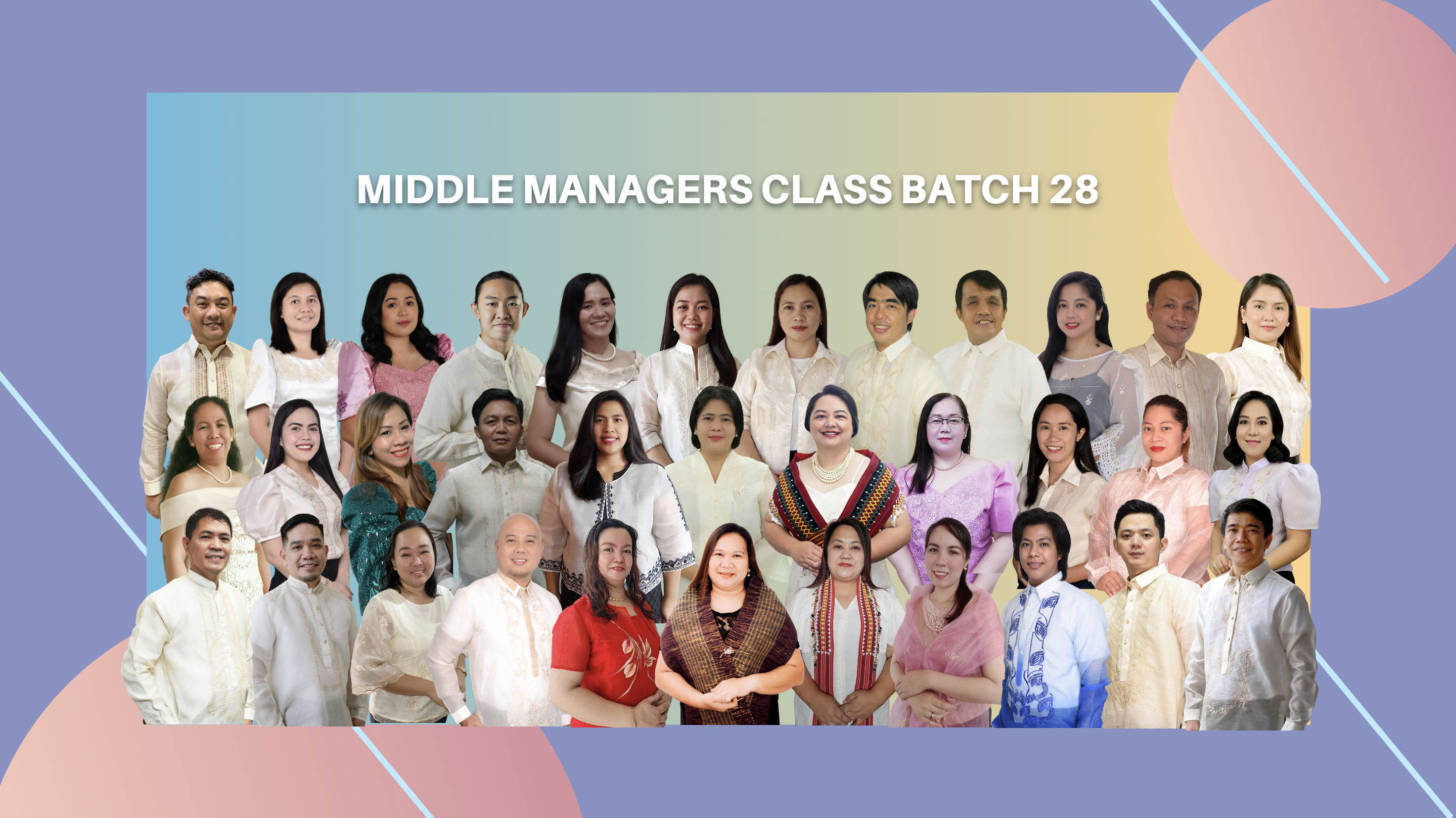 Thirty-four middle managers from as far as Lamut, Ifugao in the North and Koronadal City in the South have just joined the 28th batch of  Middle Managers Class (MMC 28) of PMDP, the opening ceremony for whom was held virtually via Zoom and streamed live on PMDP's Facebook page.
A warm welcome from DAP President and CEO Atty. Engelbert C. Caronan greeted the new scholars. He affirmed them saying that being in the program must already be taken as a recognition of what they have accomplished so far and what they are capable of accomplishing as public servants. He expressed his admiration for their humility to acknowledge that they still have much to learn, as well as his excitement at what they will gain from the program and apply them to give the Filipinos the kind of public service they deserve. He hoped that they will gain a deeper appreciation of how important their work is not just for their family, friends, and loved ones, but also for the people who find the answer to their needs through the scholars' day-to-day choices and actions.
The PMDP faculty, team, and the newest batch of scholars were introduced by DAP Senior Vice President for Programs Magdalena L. Mendoza, PMDP Managing Director Nanette C. Caparros, and MMC 28 Class Director Veneranda S. Geronimo, respectively.
The traditional challenge of excellence was thrown by MMC Batch 27 – Udaya Class President John Vincent V. Cardenas to the incoming batch. He advised that to live up to the challenge and achieve excellence in the program, they must not strive for perfection but instead, track their progress as this program will test the limits of their mental and physical abilities. Also, they should treat each other as a family that relies on each other and that they must learn, unlearn, and relearn. Lastly, they must have faith and hope, believe in something higher than themselves and put that in their hearts and minds. They have been selected to be in this program out of so many for a purpose, that someday they will bring change in the government by leading people to become the best version of themselves, steering their agencies and the government to glory.
On the other hand, MMC 28 represented by Cecile A. Basawil, eagerly accepted the challenge. "We will take to heart the advice of Batch 27 not to strive for perfection, but enjoy the process. We shall be steadfast in our faith and treat each other as a family through open communication. But more importantly, we commit to have fun!", she said. Basawil also believes that they have been chosen for the Program because they have the necessary capacities to become transformational leaders that the country needs. However, they cannot do this on their own, but with unity and trust, they can reshape the bureaucracy.
Director III of the Commission on Elections and MMC Batch 18 – Sibol alumna Atty. Elaiza S. Sabile-David delivered an inspirational speech for the scholars. She reminisced  her time as a PMDP scholar that can be described as a rollercoaster ride. She said that it was an adventure of a lifetime mixed with thrill and with hesitation which held her back at first, but with encouragement from her colleagues in COMELEC, she started to move forward. There were ups and downs, with downs outnumbering the ups, and unexpected twists and turns. But at the end of the day, all that mattered was that she was constantly moving forward. "In this Program, you got to be versatile. If you have it and the courage to flaunt it, then you are good to go. If you have it but are scared to let it out, then I am sad to say, you have no choice." Lastly, she shared that it is important to just be their best selves and not to  let negative thoughts ruin their journey, always believe in themselves, and maintain a good relationship with their co-scholars.

The ceremony ended with a special message from the NGCESDP Steering Committee represented by Department of Finance Director Alvin P. Diaz. He pointed out that as middle managers of their respective agencies, they have a very crucial role to play in making sure that they will continue to facilitate changes needed in their agencies and continue to create an effective working environment. With the current situation brought by the pandemic, it is anticipated that their role as middle managers in strategic change would be even more diverse. He aspires that their participation in the Program would further widen their horizon allowing them to broaden their perspective, see patterns in relationships and processes, and deal with the uncertainties and trade-offs that are part of the complexities of organizations. He highlighted that they are all now in the spotlight, and the calling for a strategic change is in the offing. They should be the change agent that will continue to work together to bring glory to the country.