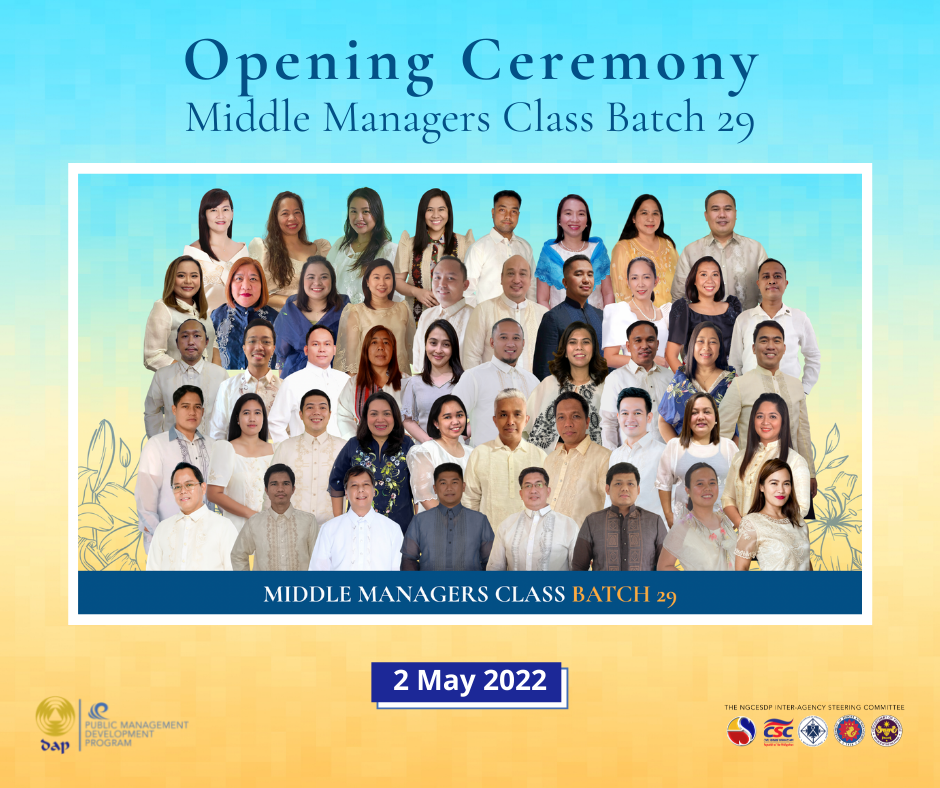 Forty-six middle managers from as far as Laoag City, Ilocos Norte in the North and Koronadal, South Cotabato in the South have just joined the 29th batch of Middle Managers Class (MMC 29) of PMDP, the opening ceremony for whom was held virtually via Zoom and streamed live on PMDP's Facebook page.

DAP President and CEO Atty. Engelbert C. Caronan opened the event with his welcome message, sharing how the first year of the pandemic was not easy for the DAP. Shifting to a new modality of service delivery, trying out platforms and applications that were unfamiliar to most, revisiting processes to see if they fit in the new normal set-up, and bringing some changes to the DAP's direction to prioritize the recovery process and adapt to this major change. These are some of the obstacles that the Academy faced. Despite all these, the DAP, through the concerted efforts of its officers and employees, continuously perseveres and adapts to what may be considered volatile, uncertain, complex, and ambiguous times. He affirmed the scholars that they are not alone as they will be guided and mentored by PMDP's esteemed faculty who are experts in their respective fields. He hopes that by the end of the program, they may find their stay in the DAP fulfilling, enriching, and inspiring.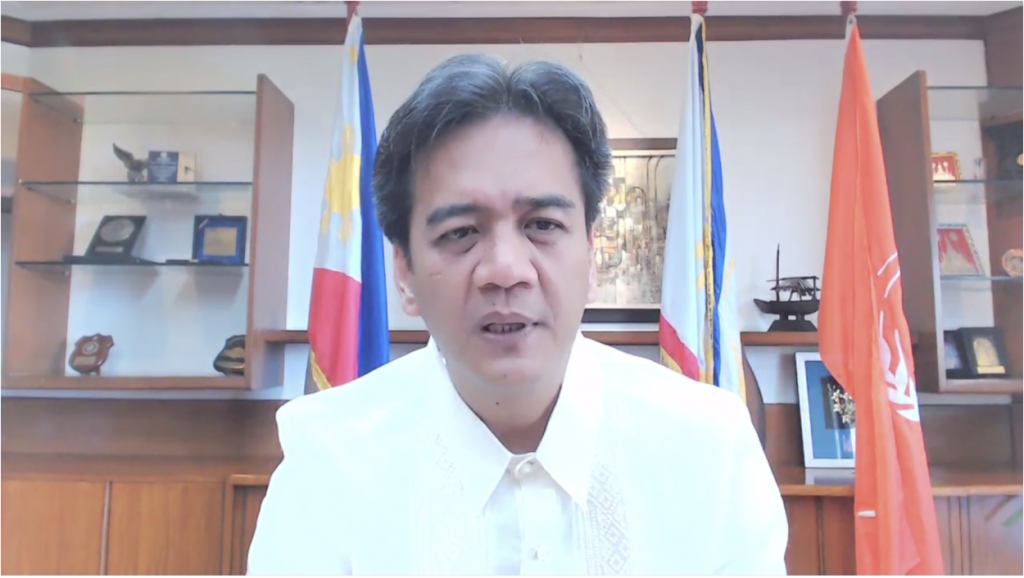 The PMDP faculty, team, and the newest batch of scholars were introduced by DAP Senior Vice President for Programs Magdalena L. Mendoza, PMDP Managing Director Nanette C. Caparros, and MMC 29 Class Director Aurma M. Manlangit respectively.

The traditional challenge of excellence was thrown by MMC Batch 28 – Hiraya Class President Glenn B. Estrada to the incoming batch. He advised them to pursue excellence, surpass expectations, be brave to empty their cup, unlearn what they already know and be open to learning new things. Explore their full potential as individuals and as a team, and most importantly as public servants working together. He described this scholarship program as not like any other scholarship they will ever receive. Aside from the usual high expectations of performing well in papers, exams, recitations, group work, and presentations, mixed emotions will arise during the course. Estrada said certainly, they will be overwhelmed, feel exhausted, pushed to their limits, but at the same time they will feel inspired, rewarded with new perspectives, and be transformed as they persevere. In the end, their reflections and realizations will allow them to realize the greater reason why they are here. It was not only for themselves but for bringing about positive necessary change.

MMC Batch 29, represented by Lordinio A. Vergara accepted the challenge saying that change itself is a challenge for which they will not back down. Their commitment is to continue to work hard with all that they will study and learn. Likewise, they shall be open to develop innovative approaches and new habits in leading and managing. He promised to unlearn old practices which hamper their growth as leaders and will not put to waste the privilege given to them. Mr. Vergara also hopes to establish connections and collaborations that can give each other support as they set their sights toward bigger goals for the country.

Assistant Secretary of the Department of Information and Communications Technology and MMC 1 – Tanglaw Alumnus Nestor S. Bongato served as the Keynote Speaker for the event urging the new scholars to maximize this opportunity and enjoy the learning sessions. He advised them to always keep in mind and heart that the government is investing a lot of people's money for them to be in the Program and that they should return the favor to the Filipino people by serving them with competence, integrity and utmost commitment.

The ceremony ended with a special message from the NGCESDP Steering Committee represented by Department of Finance Director Alvin P. Diaz. As the country continues to face challenges, he said the scholars play a crucial role in effecting changes needed in their respective agencies and to creating an effective working environment. He said that being part of the Program will allow them to broaden their perspective, see patterns in relationships and processes, and deal with the uncertainties and trade-offs that are part of the complexities of organizations. He sincerely hopes that the PMDP will help them transform to be the best version of themselves to make a positive impact for the country.