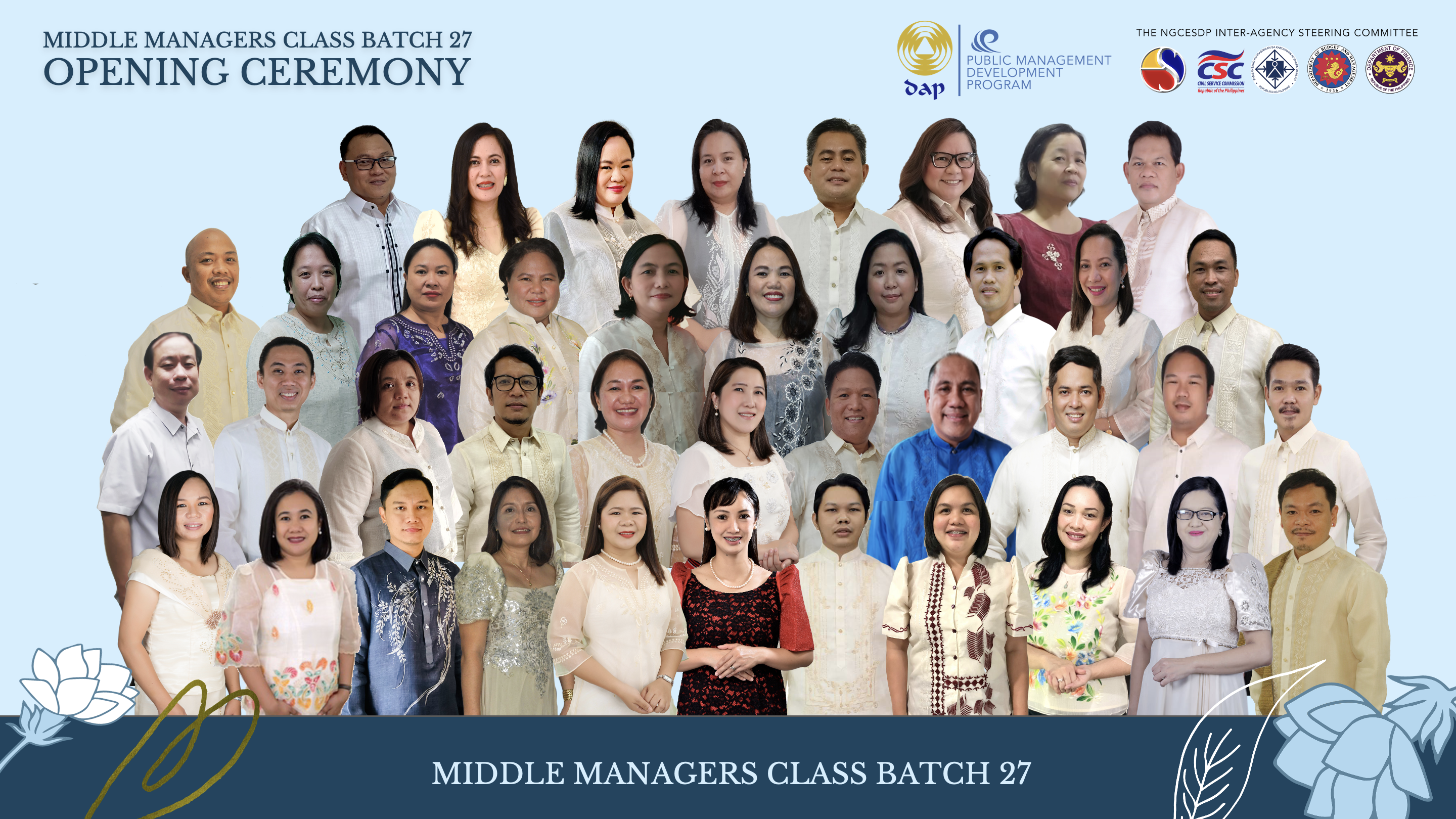 The Public Management Development Program welcomed the 27th batch of scholars for the Middle Managers Class last 2 August 2021  via Zoom and streamed live on PMDP's Facebook page.
The ceremony started with the introduction of the faculty, the PMDP team, and the new batch of scholars by DAP Senior Vice President for Programs Magdalena L. Mendoza, PMDP Managing Director Nanette C. Caparros, and MMC 27 Class Director Virginia C. Aldea, respectively.
MMC 26 – Barani Class President Sheena Anjeli M. Botiwey challenged the incoming batch by pointing out noteworthy experiences they have gone through so far. She shared that there will be times when they will feel overwhelmed in their PMDP journey and reminded them that they were chosen because they have what it takes to be a peak-performing leader in government and are deserving of this opportunity. To survive and thrive in this program, Botiwey challenged them to come with an empty cup, embrace their identity, and work as a family. Lastly, she said that as scholars of the country, they owe it to the Filipino people to excel in this program. After their PMDP journey, the bigger challenge is to be leaders of competence and integrity needed to help in the country's post-pandemic recovery.
On the other hand, MMC 26's challenge was accepted with humility and pride by the MMC 27 Class Representative Melissa T. Sena. As future leaders in the public sector, she acknowledged that there are great expectations from them and these shall fuel their pride as scholars of the nation to become stewards of good governance and social development. Sena assured that her batch came to the Program armed with determination to do better as they prepare for bigger responsibilities in their respective agencies and ultimately for their greater role in nation-building.

Head of Pathology Department of the Veterans Memorial Medical Center and MMC alumnus Dr. Godwin N. Hernaez, ceremony's inspirational speaker looked back to his time as a scholar and how the learning modules of PMDP were very extensive, covering all aspects of public management. He shared how these layers of learning helped him as a public servant. Indeed life-changing, his sacrifices in the PMDP journey really paid off, providing him with continuing opportunities and blessings. He commended the forces behind the program for developing morally upright and productive government leaders, the kind of leaders the government needs. He pointed out that the MMC27 scholars have made the right choice of seizing this once in a lifetime opportunity. He added that the PMDP curriculum does not only hone all the competencies that a public servant must possess but it also reinvents the personality and character of each scholar. Lastly, he advised them to savor the journey, develop good friendships and strong linkages along the way as they will need this in the future, and keep a focused but balanced life. Post PMDP they must always uphold the core values of competence, integrity and commitment.

The ceremony was concluded by a special message from a member of the NGCESDP Steering Committee, Undersecretary of the Department of Budget and Management, Kim Robert C. De Leon. He said that the challenge is to continue to improve themselves especially as government leaders who are to take on higher roles and steps in the ladder of leadership. He emphasized that the future of the government and public service rests upon them. He reminded them that the Filipino people deserve no less and that this training will further equip them not only to deliver the mandate they have, but also to prepare them for whatever the future may bring. Lastly, he hopes for them to continue to contribute to attain the Ambisyon Natin 2040 which aims to provide the quality of life that the people deserve.