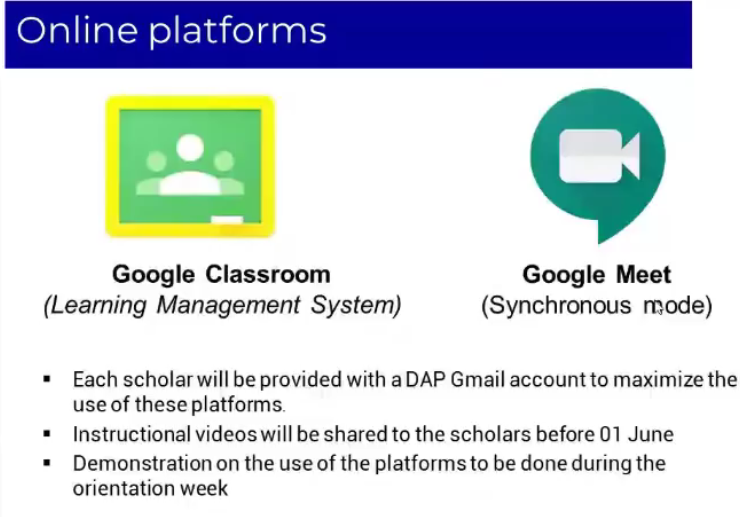 With the first confirmed case of the virus in the country reported on January 30, 2020, the Philippines began a major transition in response to the COVID-19 pandemic. Due to the rapidly increasing number of cases and the onset of community transmission, the administration placed the whole island of Luzon under Enhanced Community Quarantine to flatten the curve. Originally set to last until April 12, the ECQ was extended until April 30 while selected high-risk cities and provinces, May 15.
COVID-19 threatens not only the state of health of millions of Filipinos but also challenged our existing social systems. As mass gatherings were restricted, holding traditional classes and other academic activities were also prohibited.
To adapt, PMDP looked to distance learning as an alternative for its residential trainings for incoming batches of scholars.
"I'm thrilled about the shift in delivery mode. In a way it's some kind of a dream come true for PMDP.", says Managing Director Nanette Caparros when asked about her thoughts on PMDP's shift to Distance Learning.
She said that although many have already suggested the idea in the past, the doubt as to whether the program will be able to pull it off or not is always present. She also mentioned how revolutionizing PMDP's way of conducting its training creates "a new era for the Program which puts it at par with counterparts around the world".
In the HR Managers Virtual Meeting held on May 12, 2020, Ms. Myda Nieves, Program Manager of Training Operations, discussed how they prepared for the implementation of this mode of learning, as well as the difficulties that might be encountered. Ms. Nieves presented the result of the survey conducted on Middle Managers Class Batch 23 scholars in relation to their participation on the virtual classes. Results showed that distance learning is a feasible and safer substitute for learning. The online platforms Google Meet and Google Classroom will serve as alternative learning spaces for the conduct of online classes.
MD Caparros considers the shift of learning mode not only as totally new experience for the scholars but also an opportunity to broaden their knowledge and sharpen their skills as the experience "will force them to quickly level-up their proficiency in the use of gadgets and collaborative platforms" and "will instil discipline as they work independently on assigned tasks after online sessions".
Ms. Nieves also mentioned how this mode will be facilitated through synchronous and asynchronous learning, giving the scholars a classroom-like environment where they can interact among themselves, at the same time, allows them to catch-up on missed lessons. This is because of the scholars' concern about the internet connectivity. Even MD Caparros considers connectivity to be the leading problem when asked what challenges does she anticipates in the implementation of virtual classes.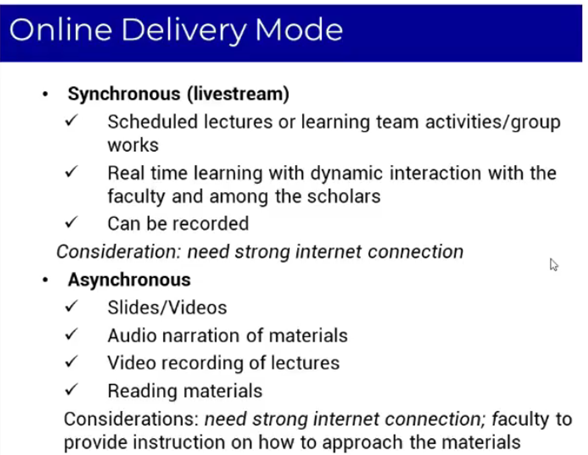 "While we wish that all scholars would be able to participate in all the synchronous sessions, internet problems may get in the way. That is why we are also using asynchronous methods as a fallback."
Senior Vice President for Programs Magdalena L. Mendoza, who is also present at the meeting, shared her thoughts on PMDP's alternative mode of learning. She mentioned how the modules were adjusted to fit into the current challenges. She also stressed the importance of tackling Strategic Foresight as part of the learning modules in order for the scholars to align their agencies' work on the country's current demands and contribute to national recovery.
Module run is set to start on the 2nd week of June wherein classes will be held from Monday to Friday and will consist of 1 and a half hour of live lecture with flexible learning options in between. Although this mode of learning works more appropriately during such situations that we have today, MD Caparros remains open to the idea of changing PMDP's mode of delivery in the long run; hoping to use "a blended, flexible delivery methodology for PMDP".
"There are modules which surely are most effective conducted the traditional way but for now the situation dares us to innovate those activities and so far it excites."