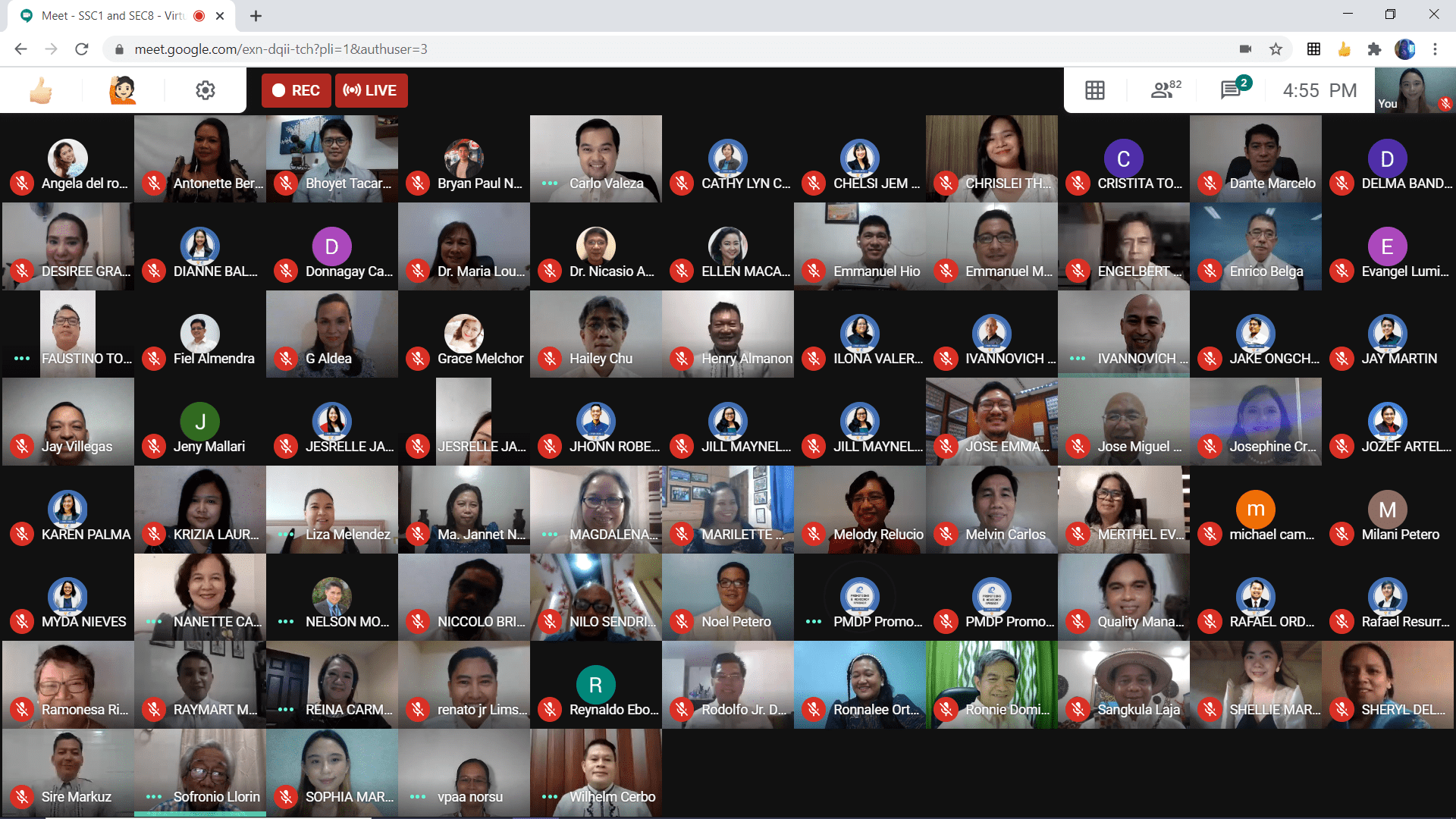 Graduation rites are perhaps the most awaited part of every academic journey. For the scholars of PMDP, it is no different; however, with the general quarantine guidelines still in place due to the COVID-19 pandemic, holding this tradition under the present circumstances has been deemed unsafe. Despite this, PMDP needed to recognize the efforts made in completing its rigorous training course hence, the Program mounted its 18th Graduation Ceremony virtually for Senior Executives Class Shuttle Course Batch 1-Optimus and Senior Executives Class Batch 8-Awanggan last 12 June 2020 via Google Meet.
A CELEBRATION OF PUBLIC SERVICE
DAP President and CEO, Atty. Engelbert C. Caronan Jr., gave his warmest welcome and congratulations to the graduates. President Caronan remarked that the event was a special moment, not only for the scholars for achieving another milestone in their lives or for DAP for successfully fulfilling its mandate, but because the event is a celebration of public service. He reminded the graduates of how big of an opportunity has been given to them for undergoing the program and that this came with expectations the scholars must meet. Caronan believes that the scholars are not supposed to be static instead, must possess the ability to accept and introduce change. He further stressed the importance of change in the government by sharing an anecdote from the movie "With Honors" that illustrated how the strength of the government and the constitution lies not on its prescription for stability but on its ability to change itself whenever it is warranted. Though applying what they have learned In their respective agencies is not going to be easy, he reminded the graduates to keep their faith as it is the price that they have to pay as public servants and that they must always keep in mind who they are doing this for—"para sa Diyos, para sa bayan, para sa mamamayan".
ACADEMIC EQUIVALENCIES CONFERRED, OUTSTANDING SCHOLARS RECOGNIZED
Senior Vice President for Programs Magdalena L. Mendoza presented the candidates for graduation while Managing Director Nanette C. Caparros and Class Director Ricardo R. Ramonesa awarded the Diplomas in Development Management and Certificates of Completion upon the Optimus and Awanggan graduates.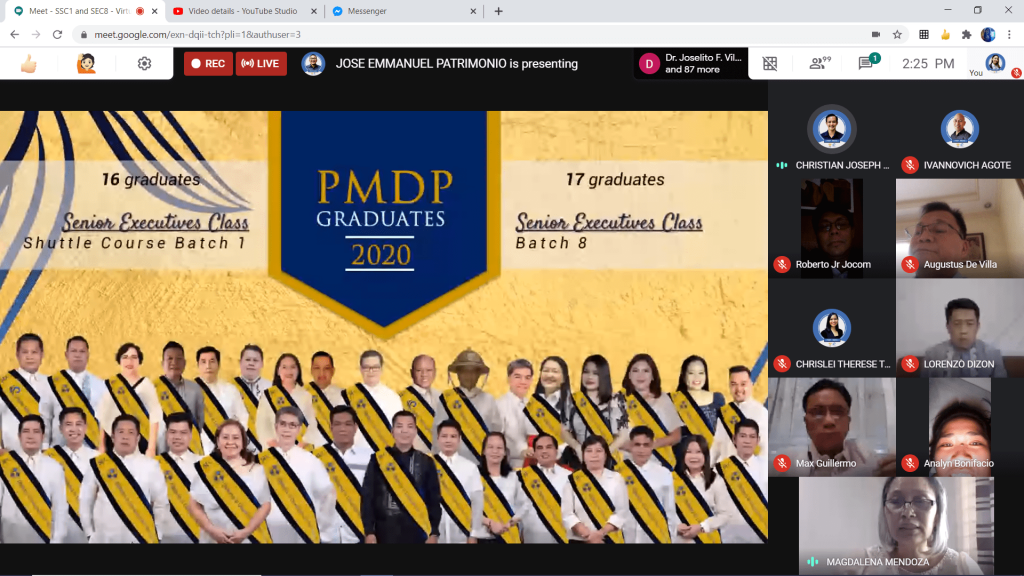 SVP Mendoza proceeded to recognize scholars who graduated with honors and academic recognitions.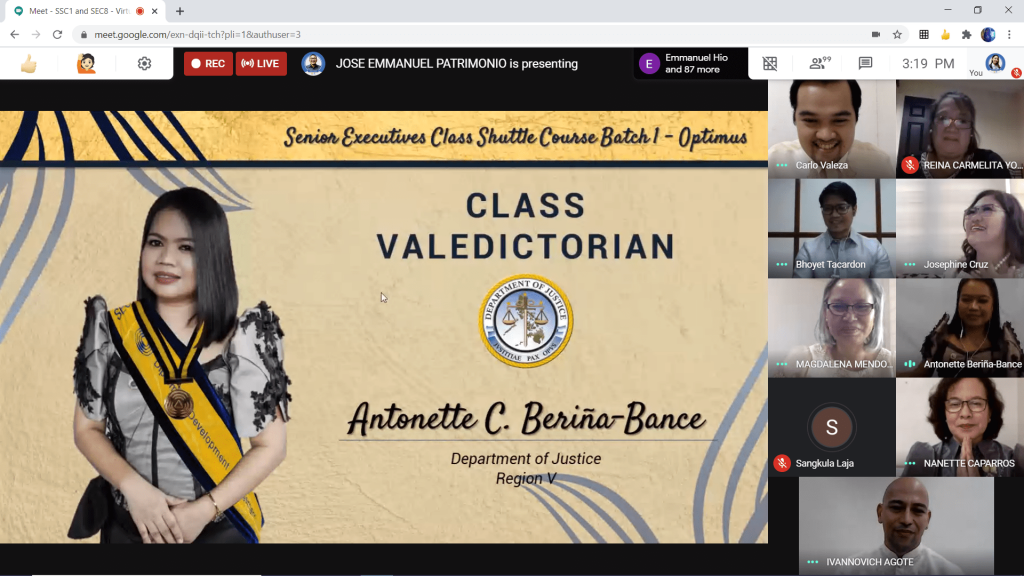 For Optimus, Atty. Carlo T. Valeza (Department of Justice-Region V), Ms. Melody E. Relucio (Department of Interior and Local Government-Region V), Ms. Ronalee N. Orteza (Philippine Science High School-Region I), and Dr. Melvin B. Carlos (Philippine Council for Agriculture, Aquatic and Natural Resources Research and Development-CALABARZON) graduated with honors while Atty. Antonette C. Beriña-Bance (DOJ-Region V) was recognized as their class' valedictorian. SSC1 Class President, Mr. Jay R. Villegas (Philippine Health Insurance Corporation), was conferred the Leadership Award, Dr. Melvin B. Carlos the Outstanding Capstone Paper Award-Policy Paper for his Capstone Paper entitled "Strengthening the Incentive System to Enhance Research and Development in the Philippines" and Ms. Merthel M. Evardome (Department of Education-CALABARZON) the Outstanding Capstone Paper Award-Management Case for her Capstone Paper entitled "Integration of Technology into the Documents Management System of SDO Quezon for Improved Delivery of Basic Education Services".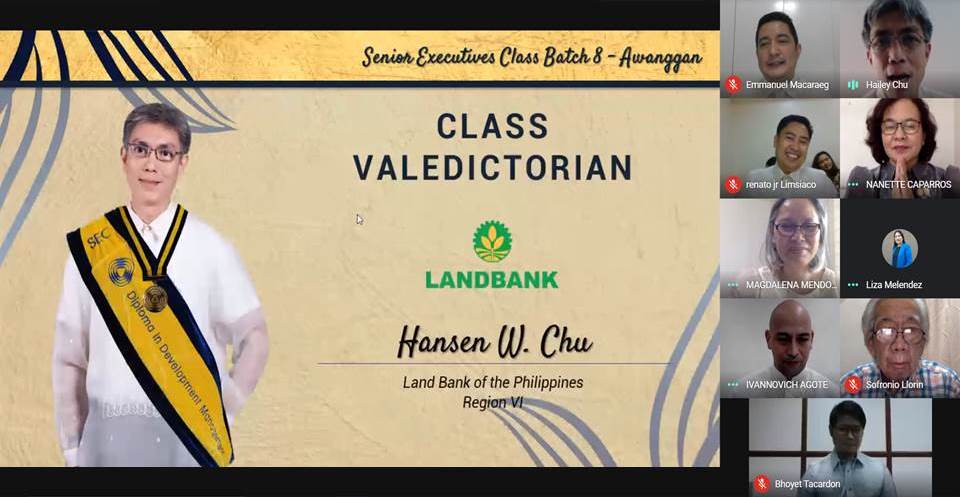 For Awanggan, Mr. Renato L. Limsiaco, Jr. (PhilHealth), Mr. Emmanuel C. Macaraeg (Bataan Peninsula State University-Region III), Mr. Lolito R. Tacardo (Commission on Population and Development), and Mr. Rodolfo B. Del Rosario, Jr. (PhilHealth) graduated with honors while Mr. Hansen W. Chu (Land Bank of the Philippines-Region VI) was recognized as their class' valedictorian. The Leadership Award was conferred to Mr. Rodolfo B. Del Rosario, Jr., the Class President of the SEC8. Mr. Hansen W. Chu with his Capstone Paper "To Lend or to Grant: In Search of a More Inclusive Mode of Landbank Assistance to Farmers" and Mr. Dante J. Marcelo (DepEd-Region II) with his Capstone Paper "Connecting with Stakeholders: Lessons from an Upland School" received the Outstanding Capstone Paper Award-Policy Paper and Outstanding Capstone Paper Award-Management Case respectively.
AN OPPORTUNITY DURING CHALLENGING TIMES
Atty. Bance remarked that the ceremony means "not the end of their journey as PMDP scholars but a reminder of [our] continuing quest as public servants to empower [our] fellow Filipinos to achieve their aspirations as individual and as nation" musing the deeper meaning of completing the PMDP training. The Optimus valedictorian reminded her fellow graduates that, through this training, they were given "a fresh perspective and a more grounded meaning of what government service is" and were "groomed and re-oriented" to be the public servants that the country needs; that the Covid-19 pandemic presented them an opportunity to respond and adapt to the challenges that were posed by today's situation and highlighted the relevance and applicability of the training under PMDP. Bance stressed that the challenge is not to be good leaders and public servants but to be able to act swiftly, be more innovative, lead with grace and kindness, and to be the beacon of light in these dark times.
EXPECT THE UNEXPECTED
Awanggan Valedictorian Hansen Chu shared his journey which he described as unexpected. He narrated the many "surprises" that defined this experience with PMDP: from his mandatory participation to the rapid compliance of requirements. Through hard work and perseverance, Chu was able to overcome these unexpected challenges. The last "surprise" of his journey he recounted was a call by MD Caparros asking him to prepare the valedictory speech he delivered. He shared this accomplishment to his learning team and the whole batch as some activities are done collectively. Mr. Chu reminded his fellow graduates of the battle cry they adapted to signify unity in the face of adversity. He challenged his fellow scholars to take the opportunity to prove themselves and give back to the country. He described the meaning of Awanggan as unity. "Awanggan is infinity. Awanggan is kawalang-hanggan" and hoped that they forever be guided by their batch' core values of integrity, accountability, teamwork and excellence. "Hand in hand, we can go beyond this pandemic. We can make the world a better place in which to live", Awanggan optimistically concluded.
7 LESSONS FROM USEC BOY'S 50-YEARS
Department of Science and Technology Secretary Fortunato T. de la Peña was asked to give a keynote message  as this ceremony's special guest. He started with some good news. He shared how the Japan Credit Rating Agency awarded the Philippines with an A-, the highest rating the country has received, attesting to the country's ability to settle debts as well as the stability of its economy. Next is the ranking of the University of the Philippines as the 60th in the rankings of top universities all over Asia. Lastly, de la Peña shared how the country move up in the Global Innovation Index Ranking from 73rd to 54th out of the 126 countries included. With these in mind, he believes that the Philippines will be able to overcome the challenges that it is currently facing.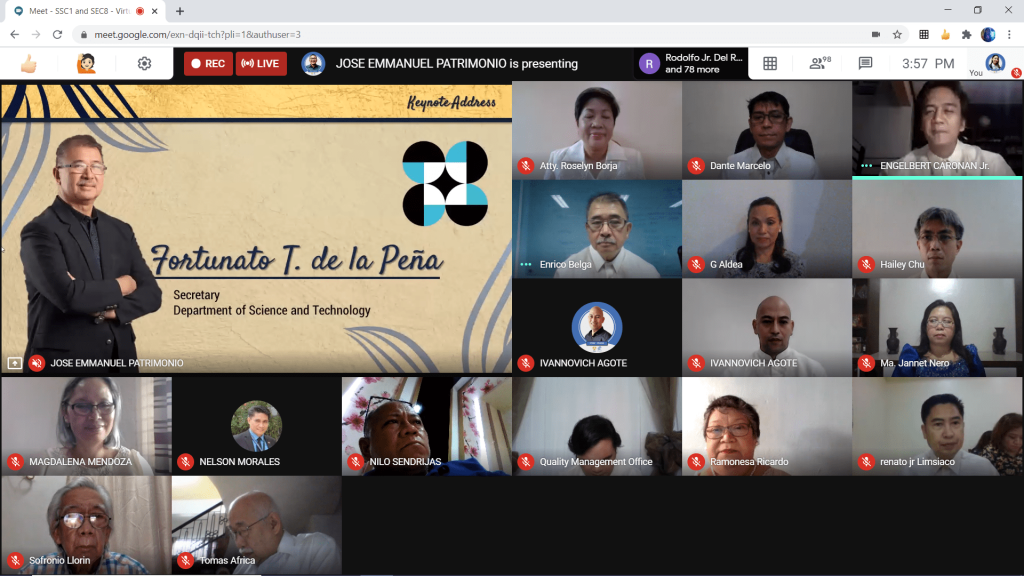 He proceeded to give the lessons that he has learned in his 50-year public service journey in the hope that the graduates will take away something they can use in their own: 1) Be clear on what you value most; 2) Find your place and do your best; 3) Accept challenges and additional responsibility; 4) Understand that there are goals that cannot be met; 5) Manage people and organizations well; 6) Develop your EQ; 7) Share your successes and burdens.
As the agencies of the graduates are facing very difficult challenges, he hoped that they can use what he has shared in tackling these obstacles. Sec. de la Peña concluded by emphasizing the importance of nationalism or doing everything for the love of the country.
This virtual graduation rite included the recitation of the PMDP Pledge led by PMDP Alumni Club President Atty. Roselyn A. Borja, pre-recorded  batch songs and the re-creation of PMDP's unique pinning ceremony and unveiling of brass markers to be installed on the grounds of DAP Tagaytay.