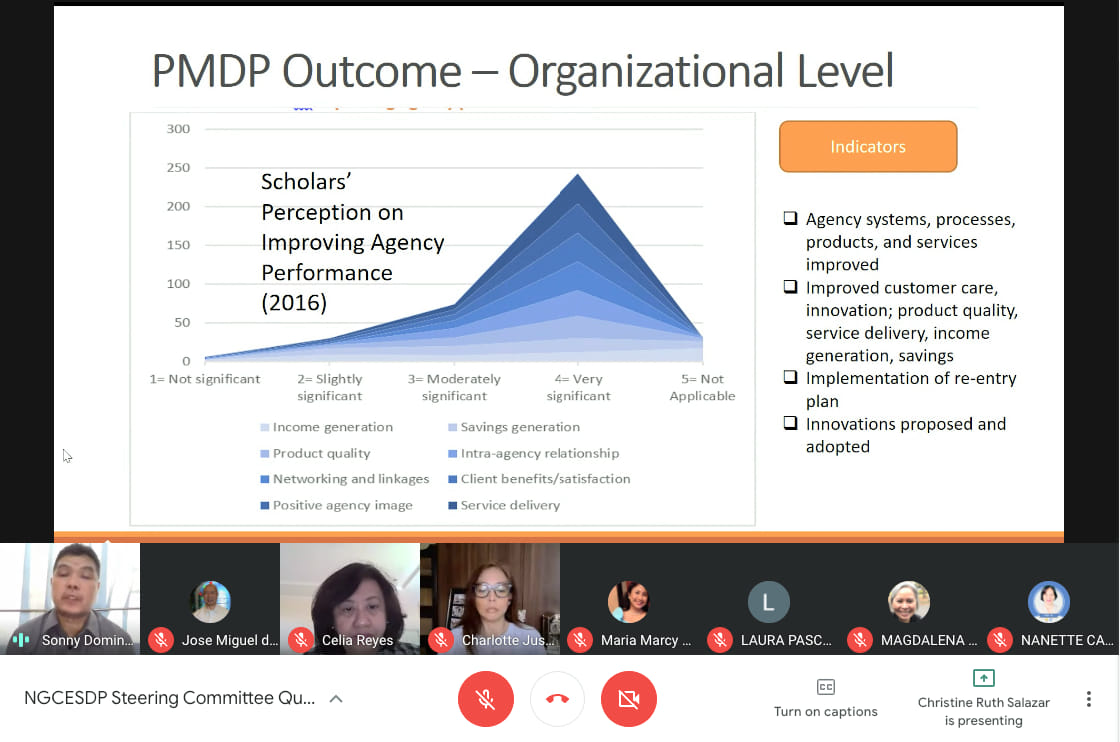 PIDS Outcome Evaluation Proposal
After 8 years of implementation, PMDP asked the Philippine Institute for Development Studies to design an Outcome Evaluation on the program. This was the main agendum during the 2nd quarterly meeting this year of the NGCESDP Inter-Agency Steering Committee Meeting held last 24 June 2020 via GMeet. PIDS President Celia Reyes and Dr. Sonny Domingo, together with their team, presented the proposal to the Steering Committee comprised of DBM Undersecretary Laura Pascua, DOF Director Alvin Diaz, and CESB OIC-Executive Director Marcy Ballesteros, and NEDA Undersecretary Mike De la Rosa, as presiding officer.
As a brief background, Dr. Domingo discussed the structure and results of the process evaluation that was conducted on the Program from 2015-2016. This evaluation looked at PMDP's implementation process versus the stated objectives to derive the indicative results of the Program.
While the first focused on the process, the second evaluation will assess the impact of the Program to its graduates in terms of their augmented competencies, work performance and their contributions to their respective agencies.
The study will take around 11 months to accomplish and will require 1,455 respondents, which Domingo mentioned as a big challenge for their team due to the large sample size required outside the PMDP continuity for the control group of the study.
After some discussion the Steering Committee gave their nod to the proposal which is hoped to start in September.
Pilot Flexible Learning Class
In the same meeting, PMDP Managing Director Nanette Caparros provided the Steering Committee with updates on the pilot flexible learning class of PMDP.  She reported that Middle Managers Class Batch 23 has already completed five modules of the Program after three months of continuous run with daily live sessions lasting six to eight hours. The pilot received very positive feedback from the scholars who gave them an average 4.8 rating out of 5.0. Among the major factors that kept the scholars involved in the discussions were the relevance of the topics being discussed, the level of engagement of the activities and exercises, and the dedication of the expert mentors. With their feedback, the scholars also proposed ways to improve their classes among which are the sharing of materials in advance, setting of various dates for deadlines of different modules and regular school breaks  for much needed rest.  Taking their queue, management promptly adjusted the training calendar to include monthly week-long breaks that consequently extended the duration of the Phase 1 of the training from 5 to 6 months.
Local Government Managers and Executive Class
DAP Center for Governance Managing Director Imelda Caluen and Ms. Jannis Montanez also provided updates on the Local Government Managers and Executives Class. The pilot class to be launched in the third quarter of this year targets 35 scholars from 1st to 6th class municipalities and will be funded mostly by the national government; however, succeeding batches will be partly bankrolled by both the national and local government.