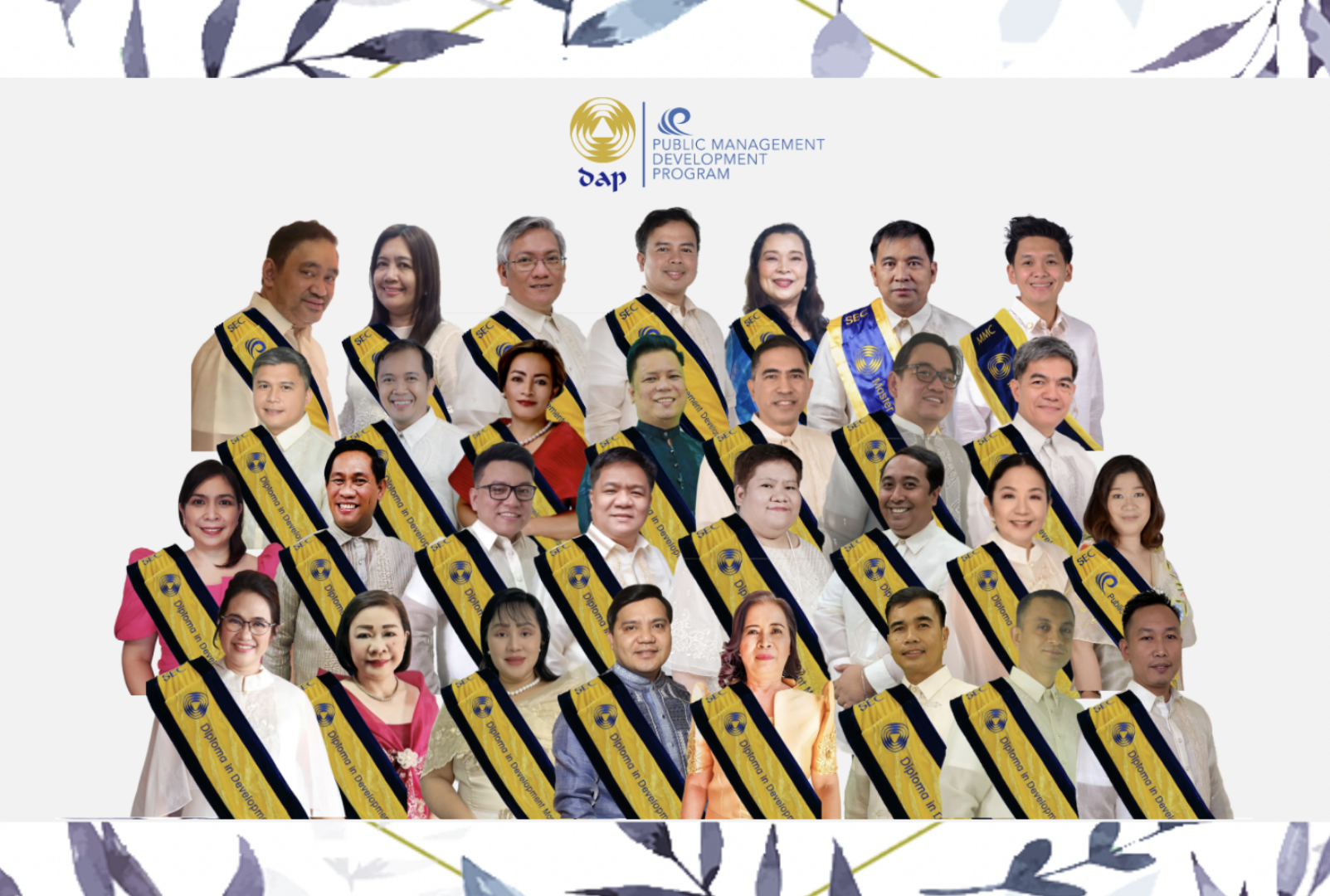 Last 15 October 2021, the Public Management Development Program virtually mounted its 21st Graduation Ceremony for the Senior Executives Class Batch 9 – Punyagi (SEC 9) via Zoom and streamed live on the PMDP Facebook page.
Formally opening the event was DAP President and CEO Atty. Engelbert C. Caronan Jr. who celebrated the fruits of the graduates' pagpupunyagi as they journeyed in the Academy as well as the time they spent working as public servants. He highlighted that the ceremony was truly a testament and recognition of their hard work and achievements despite the challenges that came their way. He also added that this graduation means much more for the people they serve, and that with the skills they have earned in the Program, they are now more enabled to perform better. President Caronan concluded his remarks with hopes that the graduates will not stop their pagpupunyagi until they enrich the lives of fellow Filipinos.
After that encouraging remark, DAP Senior Vice President for Programs Magdalena L. Mendoza came in next to present the candidates for graduation while President Caronan conferred the graduates' respective academic equivalencies. A total of 22 graduates received their Graduate Diploma in Development Management, 3 graduates for Certificate of Completion of PMDP Modules, 3 graduates for Certificate of Participation, and 2 graduates for Masters in Development Management. The diplomas and certificates were then awarded by SEC 9 Class Director Lisa Inez C. Antonio.

The coveted Academic, Leadership, and Capstone Paper awards were presented by PMDP Managing Director Nanette C. Caparros. Awarded With Academic Honors were Arnold R. Lorenzo (Tarlac Agricultural University – Region III), Vincent Aljon A. Cifra (Technical Education and Skills Development Authority – Region I), Elvie Eullaran-Albano (Development Bank of the Philippines – Region XII), El Cid H. Castillo (Technical Education and Skills Development Authority – Region X) and graduating as Class Valedictorian was Wilfredo A. Dumale, Jr. (Nueva Vizcaya State University – Region II).

Elvie Eullaran-Albano (Development Bank of the Philippines – Region XII) honorably received the Leadership Award. Meanwhile, the Outstanding Capstone Paper Award – Policy Paper was awarded to Charo Marie A. Arjona-Tena (Department of Justice – Region V), Outstanding Capstone Paper Award – Management Case to Victor C. Cañezo, Jr. (Biliran Province State University – Region VIII), and Outstanding Capstone Paper Award – Innovation Project to Wilfredo A. Dumale, Jr. (Nueva Vizcaya State University – Region II).

Double awardee and Class Valedictorian Wilfredo A. Dumale, Jr. delivered an inspiring class address. He shared how he wanted his address recorded as class Punyagi's affirmation that they are up to the challenge as they vow to help one another embody PMDP's vision of leadership in the public sector. He shared the honor with his family and his learning team Kampilan by mentioning that there was never a valedictorian without any of them. Highlighting that the current situation has become mediocre, he suggested that while the challenges of public service evolve, we would also need innovative means to respond to them–to trailblaze their handled institutions to be constantly relevant and responsive. "The PMDP is a reverberating proof that the public sector has the men and women who hunger for excellence and quality public service", he said.
As the freshest graduates of PMDP, the Class recited the PMDP Pledge as led by PMDP Alumni Club President Judge Roselyn A. Borja. The traditional pinning ceremony was held with the graduates' family members or institutional partners attaching the pins on the graduate's bodice. Afterwhich, the class rendered a heartwarming class song to remember.

Subsequently, the graduates were indulged by an inspirational message from the keynote speaker, DENR Assistant Secretary Joan A. Lagunda. Noteworthy statements like public service is a privilege became the pinnacle of her speech. She said that neither the public servants' access to government machinery nor the government's reputation as the most stable employer can affect the people more than their actions and decisions. Adding to that, she said public service is also an honor, a calling, and a noble profession. It is more than just a job, an all-encompassing position for those who want to make a difference. She advised them to never surrender their values and to retain the spirit of service and loyalty to their constituents regardless of the changes in the administration and circumstances. She also pointed out to normalize keeping the passion for genuine service thriving, and when they find their passion slowly dimming, she encouraged them to pause but not to quit because they have no idea how many people they can inspire to achieve more.

NEDA Undersecretary Jose Miguel R. De La Rosa closed the ceremony on behalf of the NGCESDP Inter-Agency Steering Committee. He said he was deeply honored to be part of the ceremony to address accomplished individuals coming from diverse backgrounds but bound by what he may refer to as an 'inner drive to service'. He said that the time and effort spent in the Academy, regardless of the monetary value of the program, are worth the investment that will surely benefit the country in the bigger picture. He hopes that the graduates will continue to thrive in the government until they retire, emphasizing that government service is service to the people. He concluded his speech with a goal that the graduates need to accomplish — to be the best version of themselves.