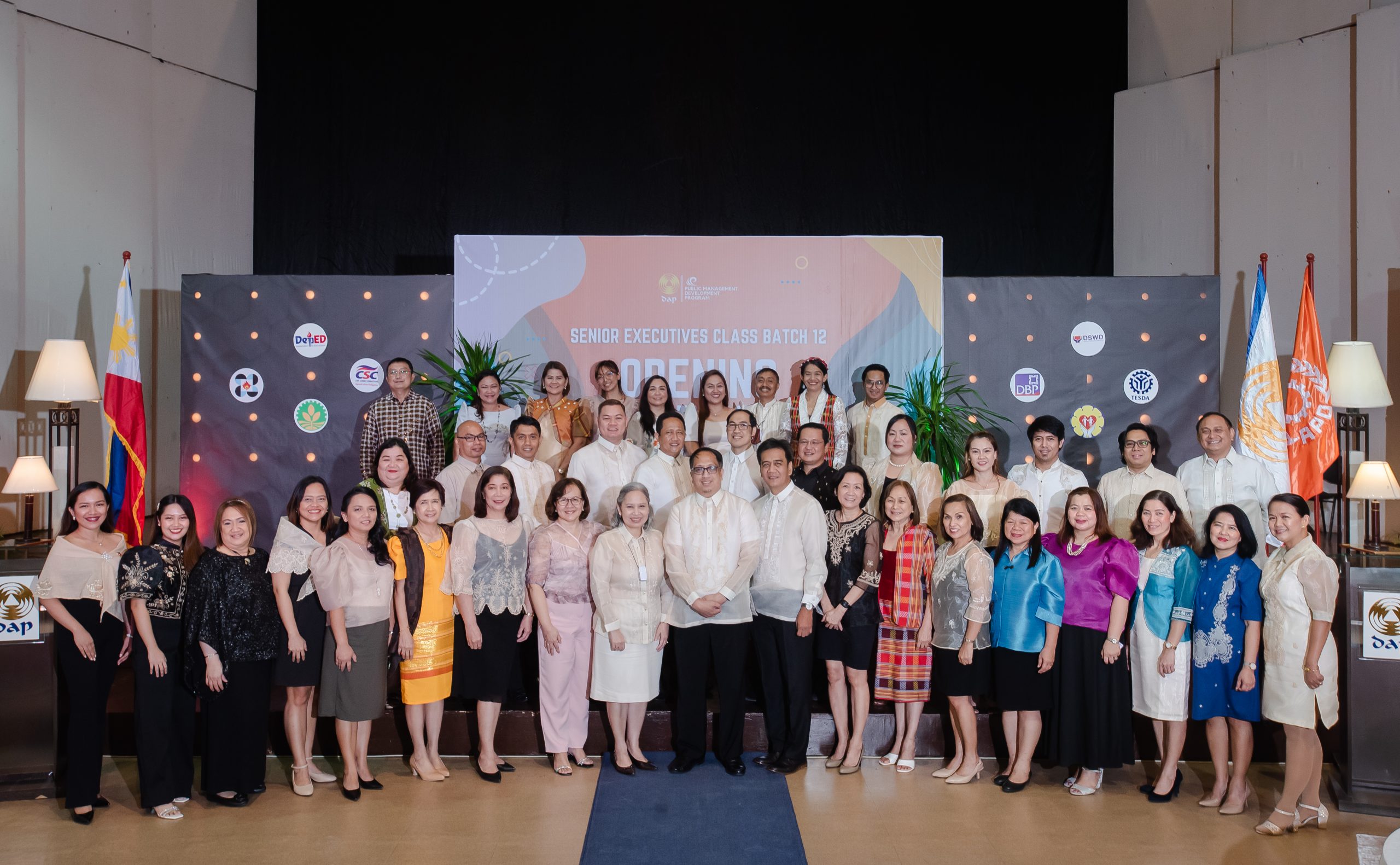 The Public Management Development Program (PMDP)  formally welcomed the 12th batch of the Senior Executives Class in an Opening Ceremony that took place at the Development Academy of the Philippines Conference Center (DAPCC) Tagaytay last 20 February 2023.
The event started with the Development Academy of the Philippines (DAP) President and CEO Atty. Engelbert C. Caronan, Jr. by welcoming the newly selected 16 "iskolar ng bayan" for making it into the Program. He congratulated them and thanked them for continuously seeking ways to refine and reignite their passion to become holistic leaders of the bureaucracy. He encouraged them to seize every learning opportunity that will come their way, take advantage of building rapport with each new person that come their way, and use it to serve their constituencies better once they finish the Program.
Meanwhile, SEC Batch 12 Class Director Ms. Ma. Noralisa C. Bite formally presented the newly selected 16 scholars originating from 8 government agencies nationwide. With each government agency called, corresponding scholars mounted their respective logos onstage as part of the rite of inclusion.

SEC Batch 11 representative Ms. Abigail N. Andres, posed the challenge for excellence to the incoming batch as part of the tradition, emphasizing that "the PMDP journey is not a walk in the park. You will be juggling work, family life (or jowa life, as the case may be), and DAP academic demands. You have to manage your time." Further adding, "and, mind you, they are serious about your class participation, they are reflected in your grades. TAKE EVERYTHING SERIOUSLY. But, the beautiful thing is that, while I said, your PMDP class is not a walk in the park, it will be all worth it. You will gain many new knowledge and learnings which you will need as you further your career in government. You will come out of the PMDP class as a totally new 'Lingkod Bayan.'
SEC Batch 12 representative Ms. Rosallini V. Moneda of the Civil Service Commission Region V accepted the challenge on behalf of her batch. She highlighted, "we know that it is not easy but we are determined to take in every detail of learnings, develop camaraderie, build partnerships, share best practices, and enjoy our stay, knowing that in the end, we are better 'Lingkod Bayanis.' " She further added, "to the Senior Executives Class Batch 11, Congratulations to all of you! Thank you for sharing with us your treasured experiences, learning insights, pieces of advice, and the reminder that this is not a walk in the park. Again, challenge accepted and we will savor the journey!"

Director of the Philippine Institute of Volcanology and Seismology and SEC 5 – Dalisay alumnus Dr. Teresito C. Bacolcol, delivered his inspirational speech to the incoming scholars and the rest of the attendees of the event. He started with, " 'with great power comes great responsibility' – Peter Parker. Concomitant with the influence and power each of you is holding as government officials is the more important responsibility to be of good service to the Filipino people."

He imparted four important lessons he learned in his almost half-a-century of existence which encapsulated different significant periods of his lifetime. "First, we have to reinvent ourselves from time to time to stay relevant. Second, our families are the most important people in our lives. The third lesson I learned is to be more open-minded. There are times that we need to relax the way we see our society. And the fourth lesson I learned is that everything happens for a reason."

And concluded his speech with, "my advice for you today as you embark on your DAP journey is, 'savor the experience.' The discipline and friendships you will forge in the next few months of your stay here at the Development Academy of the Philippines are enough to sustain you as you reach greater heights in the future. I will end my message with a quote from my favorite tv series – may you all live long and prosper! May the long life I wish for you, be a life of service to others. And may your prosperity not come from the coffers of the government, but may you be rich in friends and rich in love of a grateful nation."