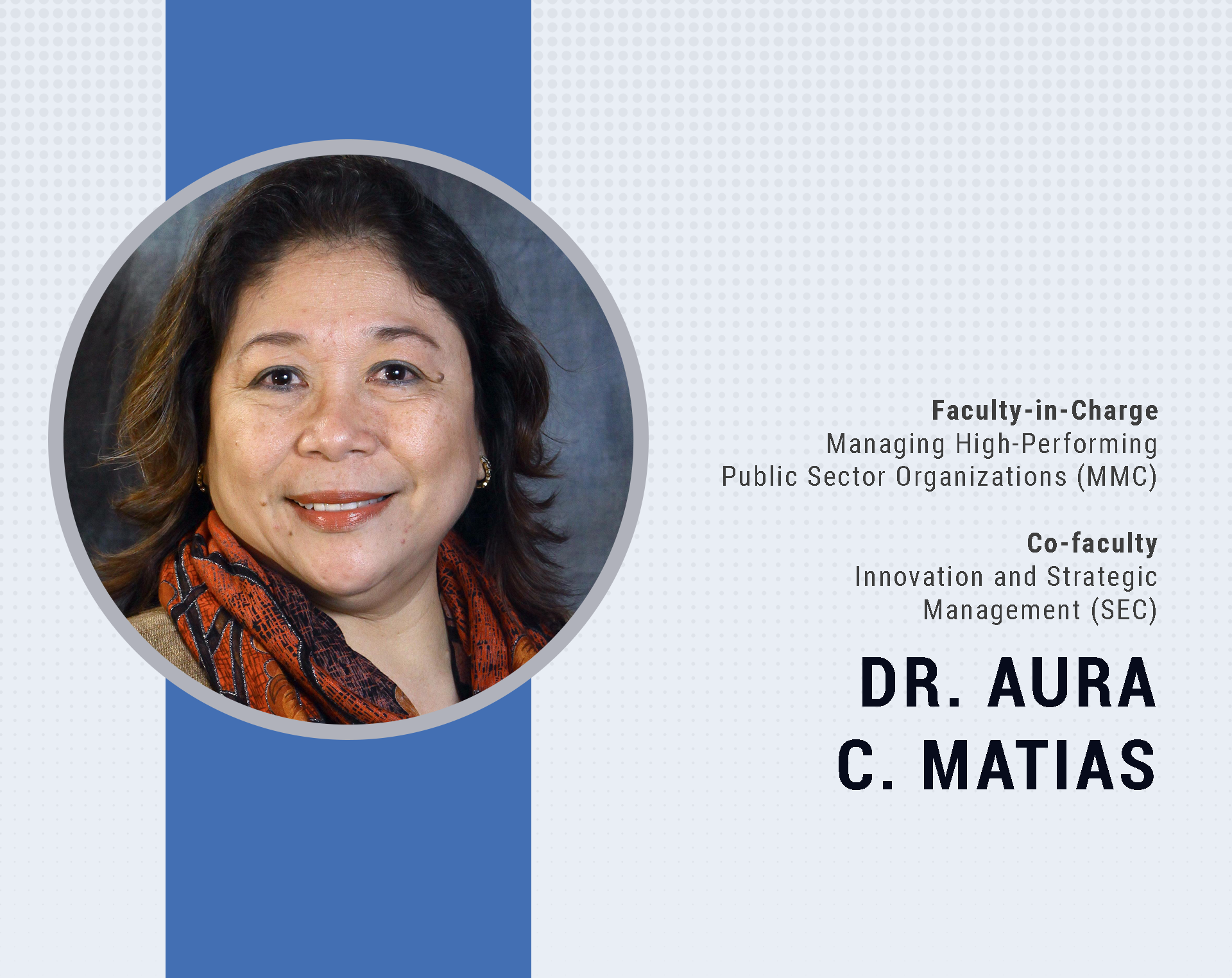 Dr. Aura C. Matias serves as the Faculty-in-Charge (FIC) of the Managing High-Performing Public Sector Organizations Module of the Middle Managers Class and the Co-faculty of the Innovation and Strategic Management Module of the Senior Executives Class.
She also teaches at the Department of Industrial Engineering and Operations Research at the University of the Philippines Diliman. She previously served as the Dean of the College of Engineering at UP Diliman and former Executive Director of the UP National Engineering Center
Her areas of interest include operations research, productivity, quality management, occupational safety and health, human factors engineering, and ergonomics.
Amidst the pandemic, she received the "2020 UPIEAA Outstanding Alumni Award" from the U.P. Industrial Engineering Alumni Association (UPIEAA) last November 28, 2020, and the "2020 National Achievement Award for Engineering Education" from the U.P. Alumni Engineers Association (UPAE) last December 5, 2020, respectively.
In recognition of her invaluable contributions as a researcher, mentor, and professional in the field of industrial engineering and for sharing her knowledge with regard to engineering education, sustainable development, and environmental management, Dr. Aura C. Matias is one of the elected members of the National Academy of Science and Technology Philippines (NAST PH). Her participation in numerous government projects has been distinguished by the use of both her talent and creativity in producing new knowledge that serves as the foundation for governmental policy development and decision-making mechanisms. Membership in the academy is determined by peer acknowledgment for individuals who have excelled in a variety of scientific and technological endeavors. 
Dr. Matias holds her B.S. and M.S. degrees in Industrial Engineering from the University of the Philippines Diliman (1982 and 1989, respectively). She earned her Ph.D. in Industrial Engineering at Purdue University (1996).
Her mentoring capabilities have been highly regarded and encompass not only the field of industrial engineering but other engineering disciplines as well.