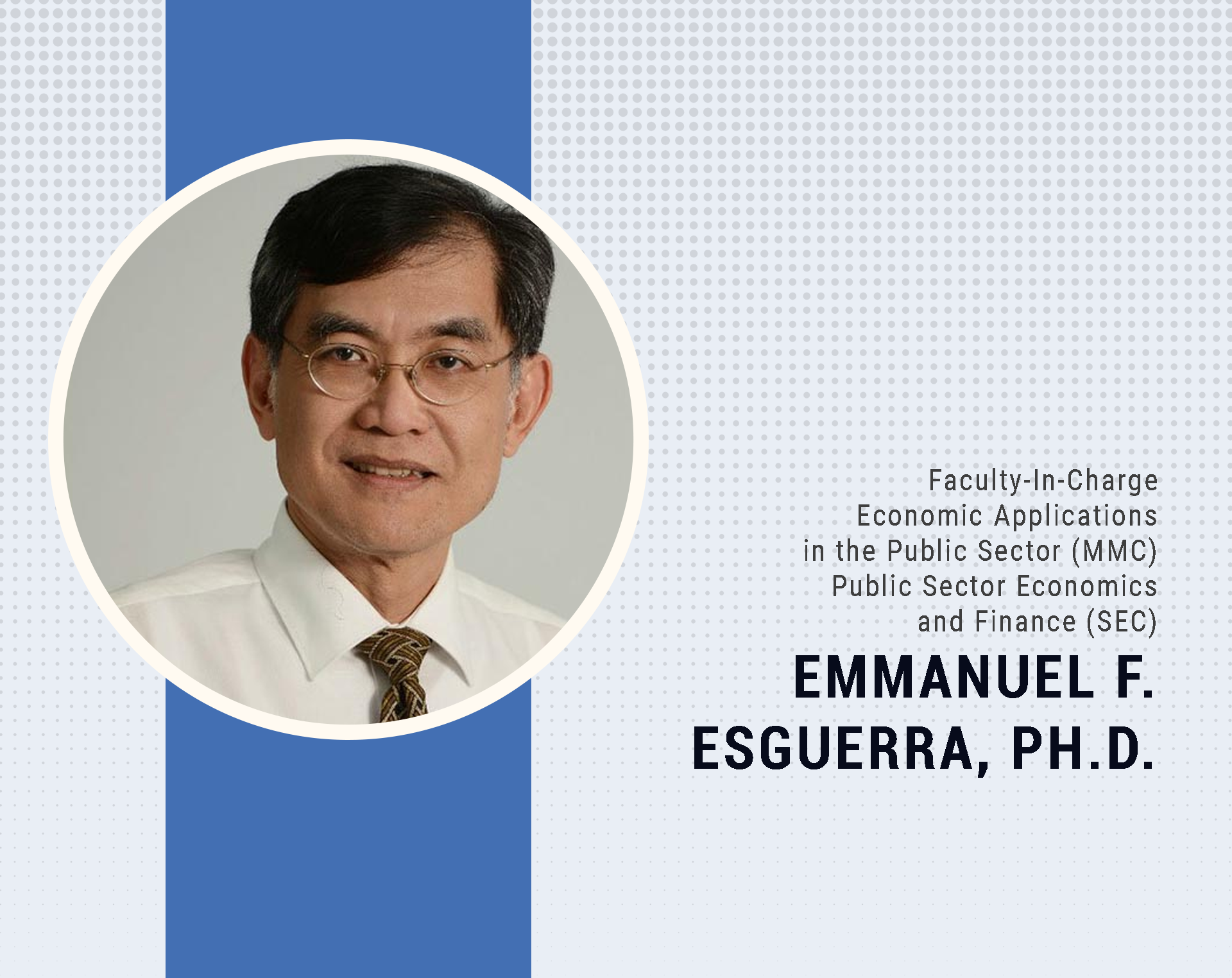 Dr. Emmanuel F. Esguerra is the Faculty-in-Charge of the Economic Applications in the Public Sector Module of the Middle Managers Class and of the Public Sector Economics and Finance Module of the Senior Executive Class.
He used to be the Acting Socioeconomic Planning Secretary and Director General of the National Economic and Development Authority (NEDA). In this capacity, he was part of numerous inter-agency committees. He was the Chair of the Technical Working Group on Macro-economy of the Development Budget Coordinating Committee, the Interagency Committee on Trade Statistics, National Statistical Coordination Board (now the Philippine Statistics Authority), the Social Development Committee Technical Board, the Interagency Committee on Trade in Services, and the Industrial Guarantee Loan Fund Review Committee. He was also a member of several committees and teams that focus on Development, Economics, Transportation, Agriculture, and Labor.
After this stint, he went back to teaching at the School of Economics of the University of the Philippines Diliman, his home for many years, where he was an Associate Professor, and much more. He was the Chair of the Department of Economics and the Director of the Economics Research Center. At some point, he was a Visiting Exchange Professor at the St. Norbert College, De Pere, Wisconsin, USA. Currently, he is a Professorial Lecturer at the same school.
His research interests include Labor Economics, Development Economics, and Public Economics, with several publications and discussion papers released under his name. Some of them include "Unemployment, Work Security, and Labor Market Policies" a chapter published in the In Search of a Human Face: 15 Years of Knowledge Building for Human Development in the Philippines by the Human Development Network and United Nations Development Programme; and "Regional Labor Markets and Economic Development in the Philippines", which was written with Chris Manning, in The Dynamics of Regional Development: The Philippines in East Asia. Other than writing, he also became an editor of the Philippine Review of Economics, and a book review editor of the Asian Journal of Agriculture and Development.
Dr. Esguerra holds a Ph.D. in Agricultural Economics from The Ohio State University. His Master's and Bachelor's degree in Economics were obtained from the University of the Philippines.