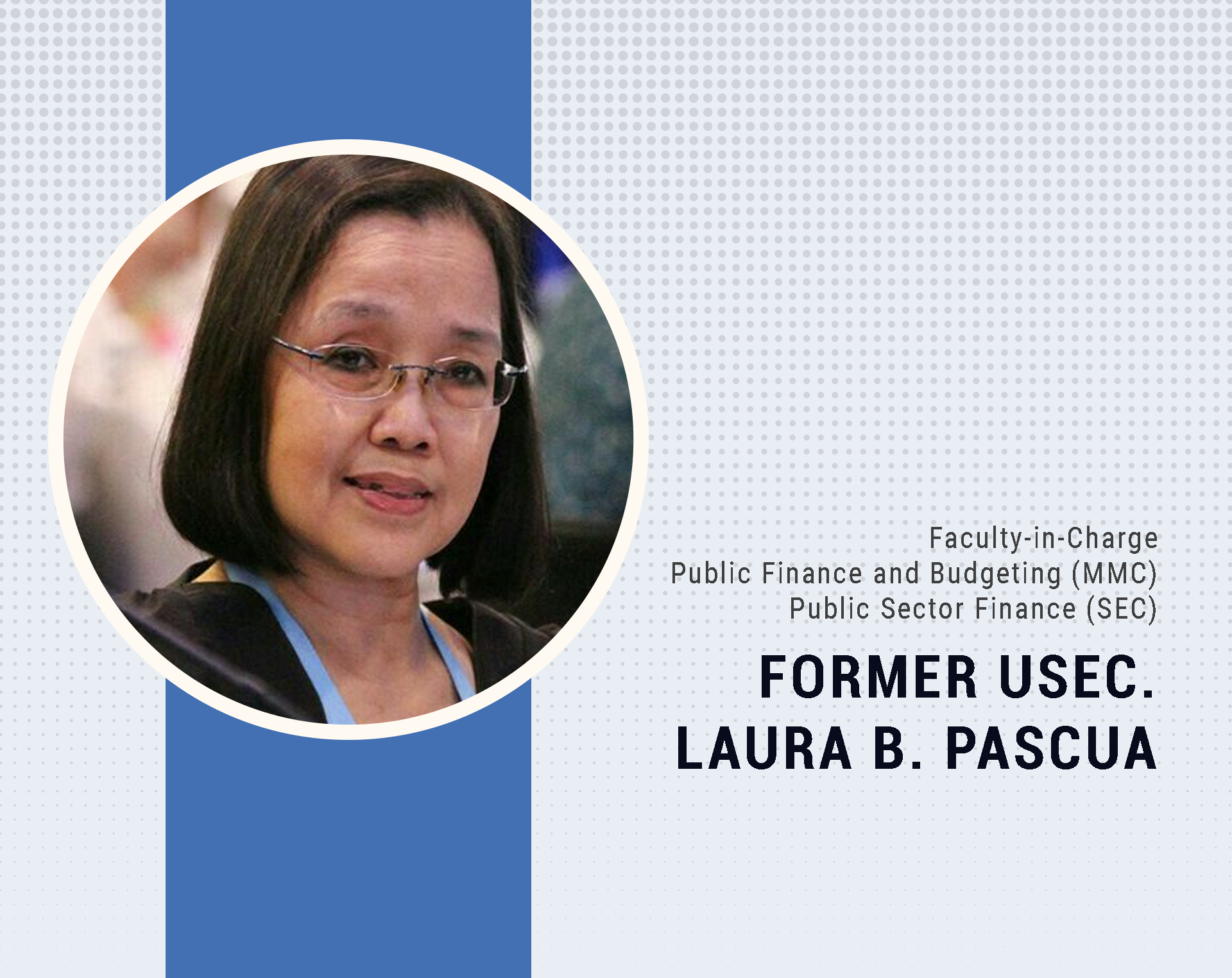 Ms. Laura B. Pascua is currently the Faculty-in-Charge for Public Finance and Budgeting of the Middle Managers Class and Public Sector Finance of the Senior Executives Class.
She is a retired Undersecretary of the Budget Policy and Strategy Group of the Department of Budget and Management. Right before her retirement, she also had roles to fulfill such as being Chairperson of the Executive Technical Board (ETB) and Development Budget Coordination Committee (DBCC), Alternate Chairperson of the Government Procurement Policy Board and reputable member of the Technical Negotiating Team with International Monetary Fund—indeed a respectable faculty lead in the Program.
Establishing her public service as Senior Consultant of the Development Budget Coordinating Committee then Chief Fiscal Planning Specialist, her career grew after being appointed as Director of Budget Planning Bureau then Director IV of Budget Planning and Research Service. Moreover, she was the Officer-in-Charge of the Fiscal Planning Bureau that paved the way for her to be Assistant Secretary for Policy and Management, and finally, Undersecretary of the same agency.
Simultaneous with her major duties in the agency, she sat as Chairperson of the Government Quality Management Committee. She also took part in various committees and Boards including the Philippine-Australia Public Financial Management Program and Privatization Council (PrC) among others. All these duties, 43 years in the works.
A High School Valedictorian, a consistent Dean's Lister and BS Statistics Cum Laude graduate from the University of the Philippines who was granted with various national and international scholarships such as NEDA and the British Council, Ms. Pascua completed her  Master of Science in Financial Studies at the University of Strathclyde, Glasgow, UK.