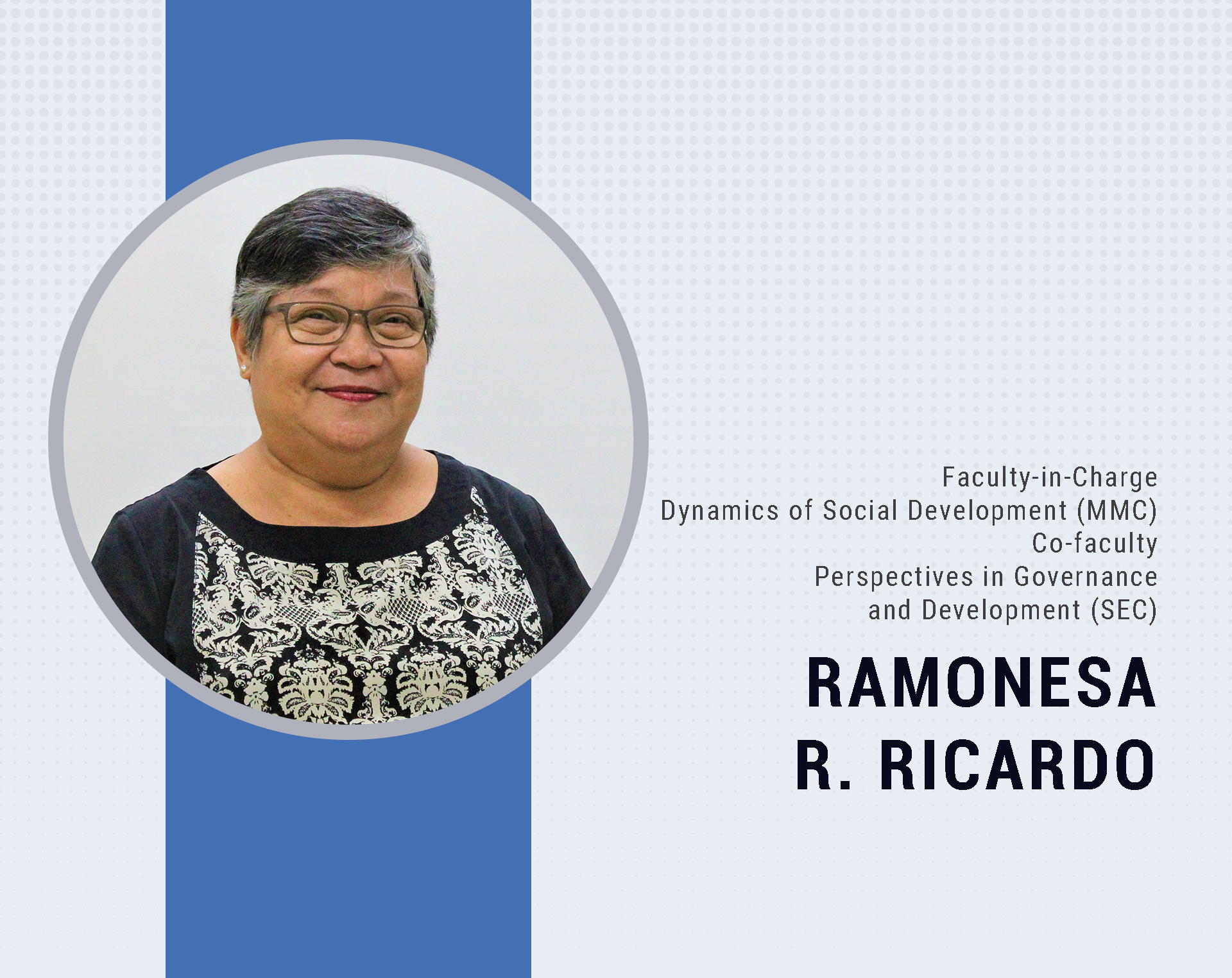 Ramonesa 'Baby' R. Ricardo serves as  Faculty-in-Charge (FIC) of the Dynamics of Social Development Module of the Middle Managers Class and Co-faculty of the Perspectives in Governance and Development of the Senior Executives Class where she handles the Sensing Journey.  Always ready to serve,  she essays other roles in PMDP such as Capstone  Project FIC and Class Director of the Senior Executives Class.  

Since 2006, Ms. Ricardo has been an Independent Management Consultant. Her area of expertise covers the fields of chemistry and the environment, leadership, and management development, and advising and consulting both government and non-government organizations.

Years back in DAP, Ms. Ricardo was Director of the Human Resource Management and Development Division while acting as Supervising Fellow to DAP sa Mindanao. She likewise served as the Officer-in-Charge of the Corporate Operations Office of the Academy, which was in charge of maintaining the management information system and the corporate planning process. She was also a Fellow for the Center of Governance, Director of the Change Management Office of the Center for Organization Development, and the Officer-in-Charge for the Public Management Training Institute of the Center for Public Management.

Possessing an impressive track record in project experiences, Ms. Ricardo has been engaged in many avenues of leadership and management work in several government agencies, such as the Commission on Higher Education, Philippine National Oil Company Management Development Program, Department of Science and Technology, Department of Health, Department of Social Welfare and Development, and even private and worldwide institutions, like the United Nations.

As a management consultant, she has extensive exposure to designing systems, policies for management and development, and being a resource speaker for leadership conferences. She was the Vice President and Chair of the Board of Trustees of the Virlanie Foundation, Director of the Center for Social Concern and Action, and Acting Associate Dean of the College of Science, both at the De La Salle University.

By education, Ms. Ricardo is a scientist, graduating with a degree in Chemistry from the University of San Carlos, Cum Laude, and a master's degree in Chemistry and Biochemistry from the University of San Carlos and the University of the Philippines, respectively. In 2011, she was awarded the Most Outstanding Alumnus in Community Service by the University of San Carlos Chemistry Department, for her dedication and commitment to serving the people.

She is also a sterling product of the DAP's Ladderized Program in Human Resource Development.