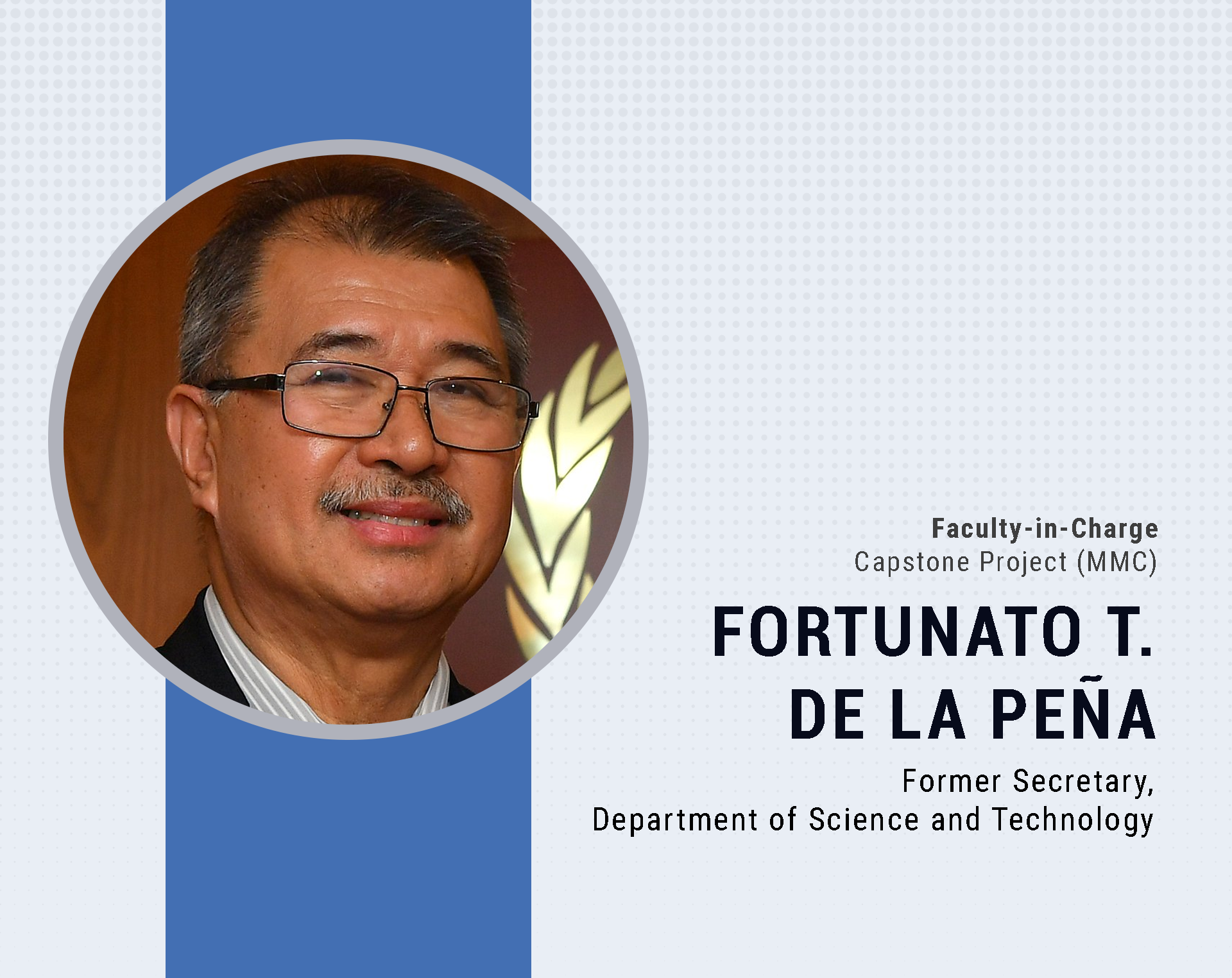 Former Secretary Fortunato "Boy" de la Peña is the faculty-in-charge (FIC) of the Capstone Project of Middle Managers Class (MMC) Batch 30. A returning faculty member of the Public Management Development Program (PMDP), he was previously in charge of the Capstone Project when it was still called "Re-entry Project" for MMC 5, 7, 9, and 11 which ran from 2014 to 2017.
In 2016, he was appointed to the Cabinet by then-President Rodrigo Duterte. He was the Secretary of the Department of Science and Technology for a full term until 2022. As with the PMDP, this too was a return engagement as years before in 1982, he joined the department as Officer-in-Charge of the Planning Service.
Sir Boy, as he is fondly called by his students, started his professional career at the Esso Standard Eastern as a cost and operations engineer and has served UP Diliman in various capacities: as a faculty member of the College of Engineering, where he taught Industrial Engineering and Operations Research, as Chairman of the Department of Industrial Engineering & Operations Research, as Assistant to the Executive Director of the National Engineering Center, as Director of the Institute for Small Scale Industries, and as System Vice President for Planning and Development. He also led a number of professional organizations as President, such as the Philippine Institute of Chemical Engineers, the Association of Management and Industrial Engineers of the Philippines, among others. Secretary de la Peña has also served as the Chair of the United Nations Commission on Science & Technology for Development.
As proof of his expertise and heart for service, he garnered several awards which include Dangal ng Bayan Award from the Civil Service Commission, the UP Alumni Association Award for Public Service, and the Ateneo Government Service Award.
Sir Boy is a graduate of the University of the Philippines, where he received his Bachelor's Degree in Chemical Engineering and his Master's Degree in Industrial Engineering. He completed his Doctoral Studies in Business Administration from the University of the Philippines, his Graduate Studies in Operations Research from the Polytechnic Institute of New York, and a Diploma in Industrial Quality Control (With Distinction) from the Bouwcentrum International Education in Rotterdam, Netherlands. The University of the Philippines conferred on him the degree of Doctor of Laws, honoris causa in 2018.